The Most Shocking Blue Bloods Moment Of Season 5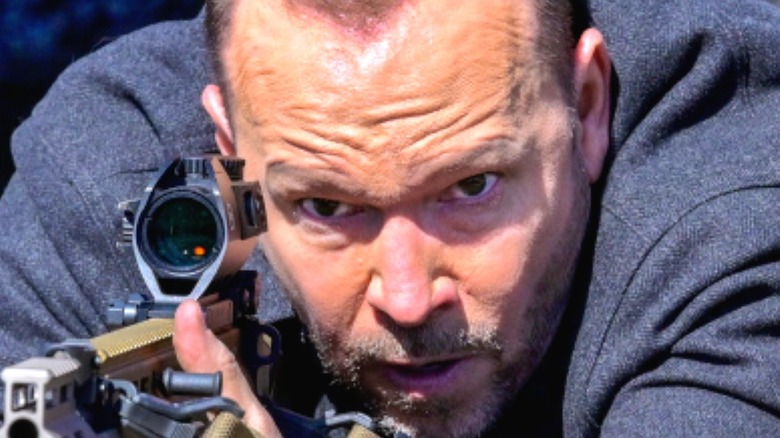 CBS
In "Blue Bloods," members of the Reagan clan break bread over traditional Sunday dinners. This is probably similar to how other families operate in the country. But the key difference between other families and the Reagans is that the Reagans will often talk about law enforcement within New York City during their grand family dinners. That's expected, as the Reagans are a multigenerational family of people who have worked in law enforcement. With its 12 seasons, fans have witnessed the funniest moments and saddest moments the series can offer. And when it comes to surprising twists or suspenseful scenes, "Blue Bloods' is also pretty heavy with its number of shocking moments, especially in Season 5.
For instance, the episode "Partners" deals with DEA Agents and double-crosses, while "Loose Lips" features Jamie Reagan's (Will Estes) life in danger as he further investigates the murder of a victim. Yet Season 5 hit its zenith of shock thanks to events involving Linda Reagan (Amy Carlson). Married to detective Danny Reagan (Donnie Wahlberg), Linda is used to her husband often finding himself in danger. It's occasionally become a point of contention between the two. However, during the most shocking "Blue Bloods" moment of Season 5, it's actually Linda's life that's in danger.
Linda's life is in jeopardy when she tries to protect a patient
Season 5 finale episodes "New Rules" and "The Art of War" both have a few moments guaranteed to elicit audible gasps. The main story arc of the two episodes deals with the NYPD tracking down the suspected murderers of Deputy Chief Donald Kent (Dennis Haysbert) and his wife, Maggie. Clues point out that the two are ultimately victims of a targeted gang hit. The only key witness of the murder is a man named Hector (Felix Solis), who also caught a stray bullet at the scene of the Kents' murders and is being treated at the hospital. Unfortunately, a hospital orderly named Curtis (Denzel Whitaker) also happens to be a member of the suspected gang and goes to Hector's hospital room with a gun in tow.
What comes next is the first tense moment as Linda also happens to be performing her duties as a nurse and treating Hector. As Curtis points his gun, Linda shields Hector. The screen goes black, and several gunshots ring out. The fact that the episode then suddenly ends after the distressing incident is enough to leave anyone's jaws agape in utter shock. And it's all because we're left horrified at the prospect of asking a terrifying question. Did "Blue Bloods" just kill off a beloved family member of the Reagan clan?
Linda is wounded from the attempted hit
At the beginning of "The Art of War," we get our answer. Despite Linda's efforts, Hector is shot, but Linda appears unwounded and tries to help save his life. Suddenly, the episode hits with a surprise gut punch. Linda's right side is covered in her own blood. It's revealed that she didn't wind up unscathed, as she caught a bullet. What's worse is that as she's wheeled off to surgery, her husband Danny walks in at the same time. Now, the case has hit new personal heights, as Linda's life hangs in the balance.
The final two episodes of Season 5 delivered the most shocking moment in the form of a roller coaster destined to run between relief and worry. Just when we think Linda has escaped the worst, we're shown that couldn't be further from the truth. The finale shocks us with the notion that the Reagan family is about to lose one of their own. Linda survives by the end of the episode, as she and Danny join in the traditional Reagan family dinner via speakerphone. However, it turns out the character could not escape a fated meeting with death. A couple of seasons later, Danny's wife was killed off of "Blue Bloods" in an offscreen helicopter crash.