The NCIS Actor You Likely Didn't Know Was In Encanto
Every Disney animated film is bound to be an event, but even by the studio's standards, it is notable how "Encanto" has been on a seemingly endless victory lap ever since it started picking up steam on Disney+. The Jared Bush and Byron Howard-directed fantasy comedy about a magical Colombian family and their run-ins with parental strife and generational trauma has been roundly well-received by audiences around the world, thanks to its winning storytelling, catchy music, and ridiculously charismatic cast of characters.
All those elements — particularly the characters — have also allowed the movie to be embraced by Latin American audiences, who have been celebrating "Encanto" for its diverse, wide-ranging, unapologetic Latinidad. It couldn't have been that way without the film's incredible voice ensemble, of course, which brings together such varied Latine stars as Stephanie Beatriz, John Leguizamo, María Cecilia Botero, Diane Guerrero, Carolina Gaitán, and even Maluma. What you may or may not know is that one of the stars of "Encanto" has also been starring on "NCIS" for the past six seasons.
NCIS' Wilmer Valderrama voices Agustin Madrigal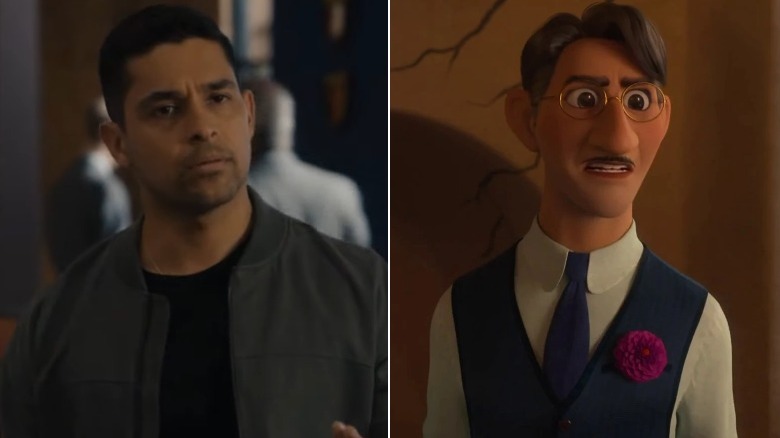 CBS/Disney
The Madrigals are a wild, colorful bunch, and, as characters, they play a variety of different roles in the movie as it transforms from a rambunctious cartoon comedy to a moving and nuanced family drama. Inevitably, one vital role that emerges during that process is, of course, the role of providing comic relief — and it is largely played by Agustín Madrigal, Mirabel's (Stephanie Beatriz) clumsy father, who married into the family and therefore lacks powers of his own.
Agustín is voiced by one of the biggest stars in the film's all-Latine ensemble: Wilmer Valderrama, the beloved film and TV star who has been knocking roles out of the park since his breakthrough as part of the ensemble of "That '70s Show." Since 2016, Valderrama has been seen in a regular capacity on network TV thanks to his role as Nicholas "Nick" Torres on "NCIS." Introduced in Season 14 as an undercover agent, Torres eventually found his way back to normal life as part of the NCIS team, and his presence helped revitalize the show's ensemble dynamic. Valderrama even won an Imagen Award for best supporting actor – television in 2019 for his work on the show (via IMDb).