Greg Berlanti's Live-Action Titans To Launch DC Digital Service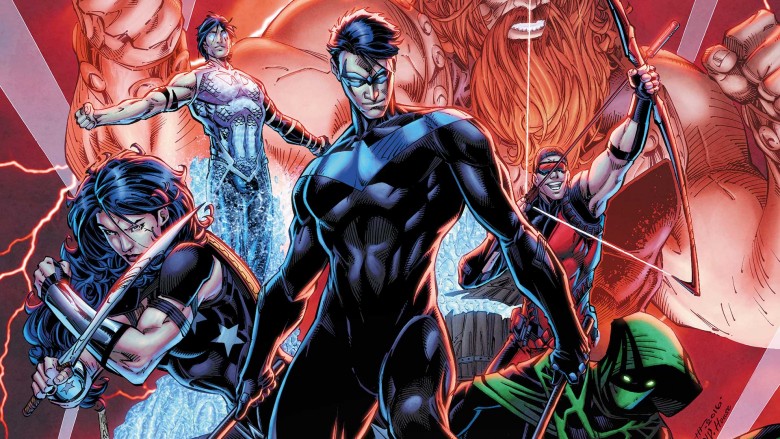 DC is betting on digital content in a big way.
Deadline reports that the comics giant will launch the new DC Digital Service with Arrow-verse creator Greg Berlanti's live-action Titans series at the head. The service will also feature the revival of the animated series Young Justice in the form of Young Justice: Outsiders.
Titans, which comes from Berlanti, Akiva Goldman (Star Trek: Discovery), and DC Comics chief creative officer Geoff Johns, will follow the popular young superhero team, led by Dick Grayson and featuring heroes like Starfire and Raven. The series was first ordered to pilot at TNT in 2014, with Goldsman writing, but the pilot never moved forward. It was then handed over to Berlanti, who teamed up with Johns and Goldsman to provide a new take on the characters. Deadline reports that there was a lot of interest in the project from other networks and streaming services, but the producers decided to keep it to launch the long-gestating digital platform.
Young Justice: Outsiders will see the young superhero team take on meta-human trafficking and "the terrifying threat it creates for a society caught in the crossfire of a genetic arms race spanning the globe and the galaxy." Sam Register (Teen Titans Go!) will executive produce, while the original show's creators Brandon Vietti and Greg Weisman will produce. The continuation of the well-loved series was also shopped around, but Warner Bros. decided to keep it for the DC Digital Service.
The service will be an "immersive experience" featuring content surrounding DC Comics along with the TV series. Both shows are expected to debut in 2018. In the meantime, take a look at some characters that DC stole from Marvel and renamed.