Where Is Grey's Anatomy Actually Filmed?
Ever since the series premiered in 2005, "Grey's Anatomy" has made its mark with memorable characters, iconic romances, and creative storytelling. "Grey's Anatomy" has been on for so long that one of the best parts of being a longtime fan is debating which version of the ever-changing cast is the best, or which storyline is the most shocking. Whether you're discussing which character death is the most frustrating or ranking the best "Grey's Anatomy" episodes, the series has remained popular for over a decade. The show even broke records in 2019 when it became the longest running medical drama in television history (via People). "Grey's Anatomy" was the springboard that launched series creator Shonda Rhimes into mega-stardom, leading her to create shows like "Scandal," "Station 19," "How to Get Away with Murder," and "Bridgerton." 
After 18 dramatic seasons, the hospital has become a character all its own. The building has a lot of history. Many characters have passed through its halls, doctors and patients alike. While only a handful of the original cast remains, Meredith Grey (Ellen Pompeo) has spent practically her entire career there, as well as part of her childhood. Seattle Grace Hospital, later known as Seattle Grace/Mercy West and now called Grey-Sloan Memorial, has gone through just as many changes as the characters it houses. If you've ever found yourself wondering whether or not you can visit the hospital from "Grey's Anatomy" in real life, then we've got you covered.
Grey's Anatomy is filmed in Los Angeles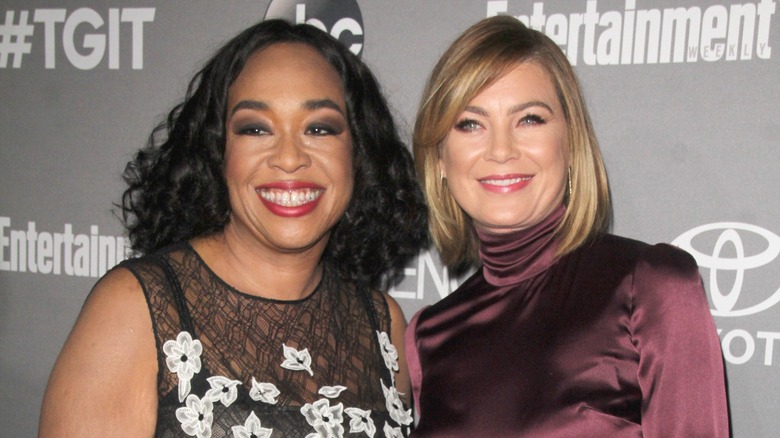 Kathy Hutchins/Shutterstock
Unsurprisingly, "Grey's Anatomy" uses a bit of movie magic to make it appear as though the hospital and those who work there reside in Seattle. "Grey's Anatomy" is actually filmed on sound stages in Los Angeles, California. Scenes that include the hospital's exterior are shot at the VA Sepulveda Ambulatory Care Center in North Hills, California. The West Los Angeles College is another location that's utilized for exterior shots. All scenes that take place inside the hospital, including operating stages, corridors, on-call rooms, patient rooms, and reception areas, are filmed on elaborate sets at Los Feliz's Prospect Studios (via POPSUGAR). However. some outdoor scenes are really filmed in Seattle; the roof of KOMO-TV in Seattle doubles as the hospital's helipad, for example.
Since the series revolves around the lives of doctors and their patients, it's easy to make it seem like sunny Los Angeles is actually the more temperate Seattle. The characters basically never leave the building! In any case, if "Grey's Anatomy" was filmed at a real hospital, there would have to be quite a bit of security. Fans of the show would probably try to sneak in to find their very own McDreamy.