The Impractical Jokers Confirm What We Suspected About Filming Without Joe
The news that Joe Gatto was leaving "Impractical Jokers" in December 2021 was likely a big surprise to anyone who had ever seen more than an episode or two of the popular hidden camera series. The four main cast members — real-life friends Gatto, James Murray, Sal Vulcano, and Brian "Q" Quinn — had worked and joked together on the show since its debut in 2011 on TruTV. The foursome practically became the faces of their network, with "Impractical Jokers" episodes replaying constantly, and the crew expanding the "Jokers" franchise with "Jokers Wild," "Impractical Jokers: After Party," and "Impractical Jokers: Dinner Party." For many years, it was safe to say the pranksters were going nowhere and may have just eventually been responsible for TruTV's entire schedule.
The show is returning now, however, with an extended special, and it will be the first without Gatto. Little is still known about Gatto's departure, with the comedian citing personal reasons in his Instagram statement. Quinn admitted that even he was "shocked" by the news when discussing the casting change on an episode of the podcast "Tell 'Em Steve-Dave," which he co-hosts.
Gatto was an essential part of this crew, seemingly always willing to take a joke an extra step or commit to a bit longer than his counterparts. Now, with his exit finalized, the remaining Jokers recently opened up on what it was like filming without the fourth part of their crew, a man who seemed integral to the show and the wild antics from the beginning.
Filming without Joe Gatto was tough, but there will be new guests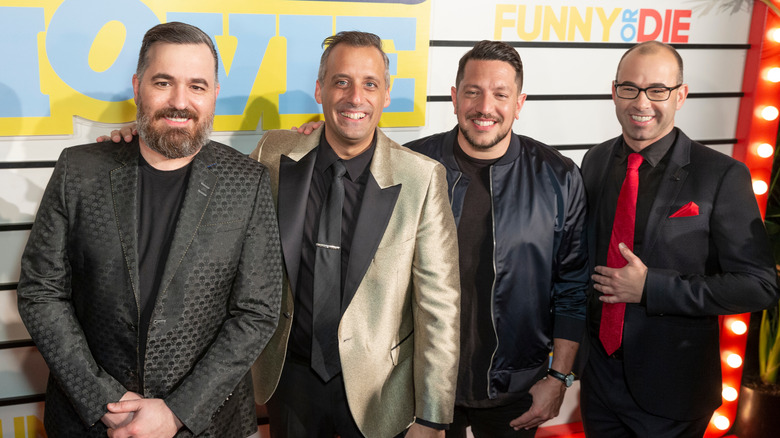 lev radin/Shutterstock
Joe Gatto, James Murray, Brian Quinn, and Sal Vulcano aren't just members of The Tenderloins comedy group — they've also been friends since childhood. This connection, Vulcano said, made it "tough" to return to the set of "Impractical Jokers" without Gatto. "We're doing the show together [for] almost 10 years, we're friends [for] 30 years, so it was tough to lose him. We didn't want to see him go, but we had to give him his space ... We miss him and we love him, we still talk to him all the time," the comedian and podcaster told People.
Quinn added that "we love him, he's our guy," and said Gatto's decision to leave had to be respected. The fact that the rest of the crew of "Impractical Jokers" remains the same helped the boys fall back into a rhythm. Vulcano added, "We're here to make a comedy, so if we can't get on set and be in good spirit and start laughing, then what are we doing?"
To fill the void left by Gatto, who has continued touring podcasting and touring as a comedian, "Impractical Jokers" will now invite special guests to take part in the shenanigans. The first special guest will be comedian Eric Andre. They don't plan on skimping on big-name guests either, with everyone from Rob Riggle to Method Man set to appear, according to the trailer for the show's upcoming new season (via YouTube).