The Real Reason Ethan Cutkosky Almost Left Shameless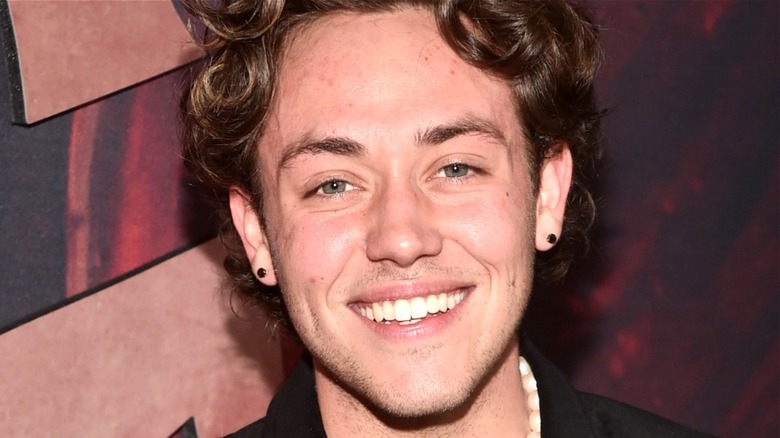 Alberto E. Rodriguez/Getty
Between 2011 and 2021, you'd have been hard-pressed to find a television series quite as unapologetically in your face as Showtime's bracing family dramedy "Shameless." The family in question was Chicago's infamous South Side hustlers the Gallaghers. And over the course of the series' 11-season, 134-episode run, the "Shameless" creative team utilized a savvy mix of heavy-hearted drama, and laugh-out-loud comedy to put that motley crew through trials and tribulations the likes of which the small screen has rarely seen.
While no Gallagher was spared those vintage "Shameless" degradations throughout the series' insightful, if often cringeworthy exploration of life on the wrong side of the economic divide, by the time "Shameless" aired its series finale, most of the family had found some level of peace in their lives. That was especially true of Carl, who spent the early days of the show indulging in all manner of foul, frequently illegal behavior before shocking one and all by hitting the straight-and-narrow to become one of Chicago PD's finest.
Seems, however, that Carl almost never got to see that surprisingly satisfying narrative arc to fruition, because Ethan Cutkosky, who played the character in all 11 seasons of "Shameless," came very close to departing the show midway through its run. Here's why Ethan Cutkosky almost left "Shameless." 
Cutkosky took a Shameless hiatus so he could be a normal high school student
Carl was, of course, one of the youngest members of the Gallagher clan. As such, Ethan Cutkosky joined the cast of "Shameless" when he was only 12-years-old. Seems after a few seasons in the small screen spotlight, a high school-bound Cutkosky was not only questioning his future as an actor, but aching for a traditional high school experience. And he inherently knew starring in a hit TV show would hardly allow for that.
Regarding his acting career, Cutkosky spoke frankly about the possibility of throwing in the towel in a 2014 interview with the Chicago Tribune, telling the publication, "I don't see myself as an actor ... I still want to come home and be that regular kid." Indeed, Cutkosky's desire for a normal life almost led him leave "Shameless" altogether after its fourth season. And per longtime "Shameless" producer Mark Mylod's comments in that Tribune piece, Cutkosky's near-exit had a lot to do with wanting a proper high school experience, "He wants to have a balanced life ... He is a good, grounded Chicago kid who wants that whole high school experience, and hats off to him for that."
Thankfully, Cutkosky found a sympathetic ear in Mylod, who tasked the "Shameless" writing team with conjuring scenarios (i.e. a stint in juvie and a trip to military school) to explain Carl's often extended absences from the Gallagher household. In doing so, he allowed his young actor to both keep his lucrative "Shameless" gig, and experience high school the way everybody should — as just another kid trying to get by. And that no doubt helped Cutkosky make Carl a more well-rounded character for the rest of his "Shameless" run.