How Much Ethan Cutkosky From Shameless Is Really Worth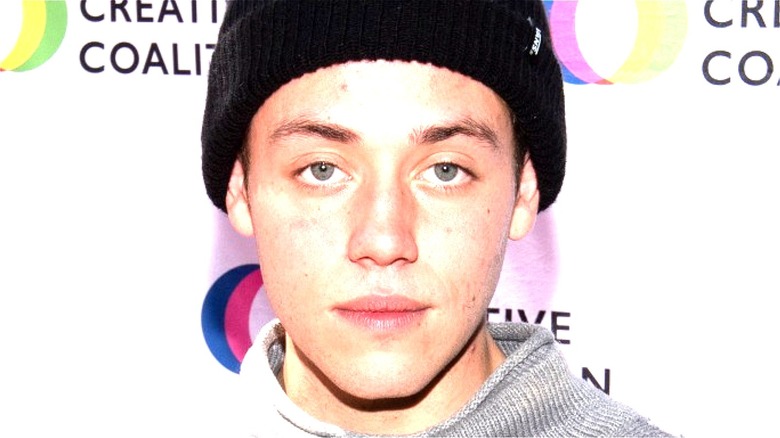 Vivien Killilea/Getty
When people talk about Showtime's long-running dramedy series "Shameless," they tend to talk about its piercing wit, its unapologetically blunt discourse on political issues, and its fearless depiction of violence, addiction, and life on the wrong side of the socio-economic divide. They also talk a lot about the series' talented ensemble cast, who pushed themselves over the series' 134-episode run to ensure every heartfelt, harrowing, and hilarious moment lands with a certain degree of authenticity.
That authenticity is achieved largely because — save for the early departure of Emmy Rossum — "Shameless" producers managed to keep the bulk of the show's central cast together from the series' 2011 debut all the way to its 2021 finale. That's especially impressive because some of those cast members were pre-teens when they joined the ensemble. That includes Ethan Cutkosky, who grew up before our very eyes playing Carl Gallagher over all 11 seasons of "Shameless." The young star made quite a chunk of change doing it too. Here's how much Cutkosky from "Shameless" is really worth.
Cutkosky has done pretty well for himself to date
Carl Gallagher eventually finds his calling in law enforcement in "Shameless," but the character is a hustler of the first order for much of his storyline. The actor who plays him, Ethan Cutkosky, is estimated by Celebrity Net Worth as being worth a cool $1 million these days. It's not entirely clear how much of this fortune came directly from Cutkosky's "Shameless" gig, but he certainly built an impressive little nest egg for himself early on in his career. Assuming the young actor isn't out there throwing bills around the way Carl does during his early days, Cutkosky will likely be living comfortably for the foreseeable future.
As it happens, "Shameless" wasn't Cutkosky's first acting job, with the actor landing spots in the Vince Vaughn holiday comedy "Fred Claus" and the horror hit "The Unborn" years before breaking out in "Shameless" (via IMDb). Cutkosky also landed a couple of interesting jobs during his "Shameless" tenure, one of which found him playing a deeply troubled kid turned murderous young adult in a pair of lauded "Law & Order: Special Victims Unit" episodes that were actually filmed eight years apart (via TV Insider). With Cutkosky continuing to line up acting gigs in his post-"Shameless" life, his fortune will only grow from here.