Sylvie Brett's Worst Season On Chicago Fire
Sylvie Brett (Kara Killmer) has been a staple on "Chicago Fire" since joining Firehouse 51 in Season 3. As the replacement of Shay (Lauren German), Sylvie had some big shoes to fill, but she instantly won over her co-workers and the viewers. The paramedic-in-charge has found herself in some over-the-top situations over the years, which included narrowly escaping death several times.
Outside of her professional duties, Sylvie's personal life has often taken center stage in "Chicago Fire." Most of the time, these storylines revolved around her complicated love life, as she seemed to jump from one co-worker to the next. As of Season 10, Sylvie has been romantically linked to Joe Cruz (Joe Minoso), Greg Grainger (Jon-Michael Ecker), Antonio Dawson (Jon Seda), Kyle Sheffield (Teddy Sears), Dr. Pete Calhoun (Nick Jandl), and of course, Matt Casey (Jesse Spencer).
These relationships were peppered throughout the last seven years, and when you mix those with some of the tales of Ambulance 61, Sylvie definitely had some seasons that were worse than others — but only one can be at the bottom.
Season 8 was not the best for Sylvie Brett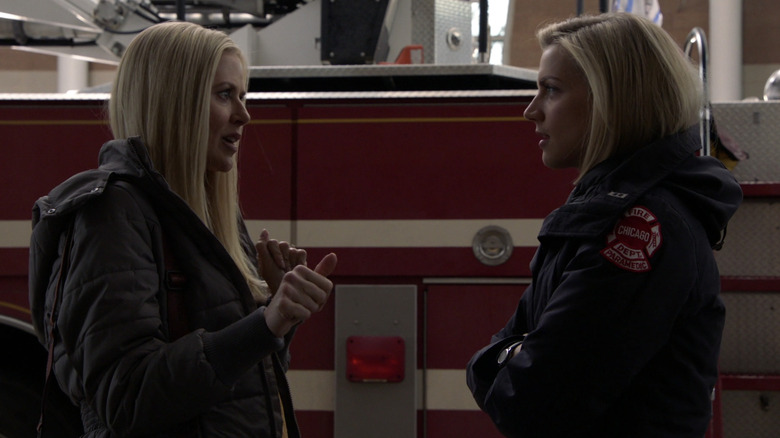 NBC
Out of the seven seasons that Sylvie Brett has appeared on "Chicago Fire," something about Season 8 was not quite right. One of the biggest Sylvie storylines that bothered fans was the introduction of her birth mother, Julie (Kelly Deadmon), which landed smack dab in the middle of Season 8. Many felt this plot point was totally useless and didn't make much sense. It was hard to tell if Sylvie could trust Julie, and she seemed too good to be true. Fans feared that Julie would do something to hurt Sylvie, or she was looking for something from her daughter. It turns out the reconnection was sincere, but it didn't matter because Julie was killed off due to complications during the birth of her daughter. Why Julie was written in just to be killed off and to break Sylvie's heart made no sense to fans and put a significant damper on her Season 8.
Additionally, Sylvie makes the ridiculous decision to marry Kyle Sheffield after a brief relationship despite her starting to develop feelings for Matt Casey. She packs up and leaves everything behind in Chicago and moves to her hometown, where Kyle got a new job. It was a wildly weird storyline that was fun for no one. Eventually, she comes to her senses and breaks things off with Kyle, but so began the constant will they, won't they storyline with Casey, which went on for entirely too long.
A season full of pointless storylines resulted in Sylvie's worst year on the show to date. Here's hoping it doesn't get worse than that.