The Chicago Fire Season 3 Scene That Went Too Far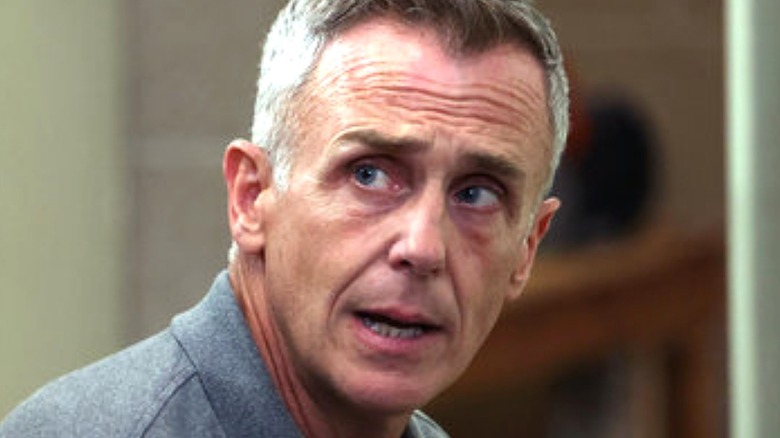 S. Burrows Sr./NBC
Premiering in 2012, Dick Wolf's "Chicago Fire" introduced the world to the "One Chicago" universe of shows. It also set the bar for the franchise's penchant for balancing first responders' often hazardous work with their dramatic personal lives. "Chicago Fire" has plenty of scenes that show off brave firefighters dealing with many dangerous blasts and blazes. But the series also doesn't shy away from showing off romantic tensions and entanglements, sometimes right within the halls of Engine 51.
Lieutenant Kelly Severide (Taylor Kinney) may have proved himself in the series as one of Chicago's best when being a firefighter. But fans also know the main character for his ladies' man status throughout the early seasons of the series. Before his stable relationship with Stella Kidd (Miranda Rae Mayo), Severide's only long-lasting relationships throughout the series seemed to be his friendships. And, in Season 3, the loss of a best friend and Severide's tendency for brief flings surprisingly combined to produce one of his most impulsive moments and a ludicrous scene that went too far.
Severide gets married in Vegas
When we last see Severide in the episode "Madmen and Fools," his life seems to be on the up, thanks to a meeting with a mysterious lucky lady at a Las Vegas craps table. When he strolls into the Engine 51 Firehouse full of wide smiles and giddy excitement in the following episode, "Nobody Touches Anything," we expect that those good vibes have a lot to do with his solo Vegas Trip. And the good news is that's true. However, as he reveals in the episode's too-far moment, the bad news is that his outing led to one of his most rash decisions. While talking to Chief Boden( Eamonn Walker) and Mouch (Christian Stolte), Severide reveals that he got married in Vegas to that lucky lady stranger, who is actually named Brittany Baker (Serinda Swan). He proudly flashes a wedding ring on his finger as proof, leaving us shaking our heads in utter disbelief.
What helps make the scene outlandish, besides the wacky premise, is the way that Severide delivers the news to Boden and Mouch. He buries the bombshell news behind other everyday tourist activities such as tanning and gambling. The marriage is understandably met with much skepticism from his colleagues. And some even bring up that Severide's sudden marriage is his way of coping with the tragic Season 2 death of his best friend Leslie Shay (Lauren German). A character dealing with such a traumatic loss through impulsiveness could make for an intriguing plot moment. However, saddling Severide with a typical 24-hour Vegas wedding pulls more from the sitcom playbook. His Vegas marriage is arguably ridiculous, and as cliché as having an Elvis impersonator officiate it. Also, the relationship only lasts a few episodes, to the surprise of perhaps no one, because sudden Vegas marriages in TV and film don't have the best track record for longevity.