What Happened To Krystal Hall From My 600-Lb Life?
Over the course of 10 seasons, bariatric surgeon Dr. Nowzaradan has helped dozens of people dealing with morbid obesity on the TLC medical reality series "My 600-lb Life." Patients travel from all over the country to visit Dr. Now at his Houston, Texas, office in the hopes he'll accept them into his calorie-restricted diet and exercise program, and eventually receive weight loss surgery. For most, Dr. Now's program is their last chance to reclaim agency over their lives and bodies.
In Season 9, 34 year-old Ohio native Krystal Hall knew she needed to make drastic changes if she was to enjoy life with her husband and watch her son grow up. Despite her relative youth, Krystal's body was already breaking down, unable to support the accumulation of excess weight. After a multi-day drive from Ohio to Texas, Krystal and her family reached Dr. Now's office to begin her journey to a healthier life.
Childhood trauma triggered Krystal's food addiction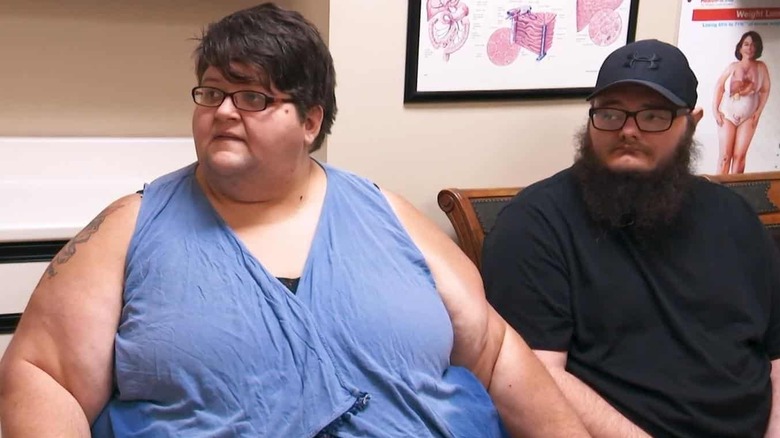 TLC
The following includes mentions of sexual assault and abuse
Like many of the show's participants, Krystal's weight gain began after multiple men in her family physically and sexually abused her from the age of five to 13. Not only did she find comfort in food, she also found that her abusers were less interested in assaulting her as her weight increased. By the time she was 10 years old, Krystal weighed 250 pounds. She added another 100 pounds by the time she turned 13, and was over 400 when she graduated from high school.
At her first weigh-in with Dr. Now, Krystal's body was supporting a debilitating 618 pounds. During that appointment, Dr. Now set her a goal of losing 40 pounds in one month by following his rigid diet program. Though she didn't hit the mark, Krystal did lose 27 pounds by her second visit. Her next goal was 80 pounds in two months, which she came close to meeting with a loss of 64 pounds. Thankfully, the progress was enough for Dr. Now to approve Krystal for surgery.
If you or anyone you know has been a victim of sexual assault, help is available. Visit the Rape, Abuse & Incest National Network website or contact RAINN's National Helpline at 1-800-656-HOPE (4673).
COVID-19 severely impacted Krystal's weight loss journey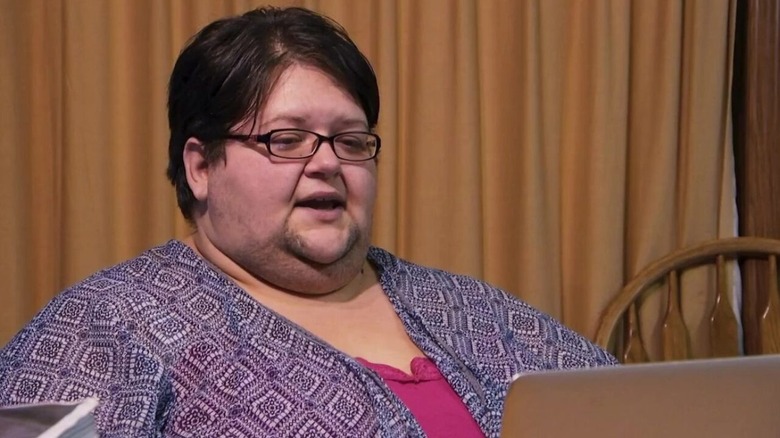 TLC
Unfortunately, Krystal's journey was derailed by the COVID-19 pandemic. With stay-at-home orders in place, she could not return to Houston for the surgery. Seven months passed before Krystal was able to head back to Texas. Not surprisingly, the delay had a negative impact on her progress. Eleven months into the program, Krystal had regained 53 of the 91 pounds she'd lost. Given the situation, Dr. Now expressed disappointment, but understood the challenges Krystal — and most people in quarantine — faced. While her surgery would be postponed, the doctor told Krystal to move to Houston, and if she lost the weight she had regained, he would re-approve her for surgery.
Krystal closed the episode in good spirits, excited to once again be moving forward, and already down 24 pounds. As the episode only covers the first year of a patient's journey, we don't know if Krystal ever received weight loss surgery. Her Facebook profile doesn't provide any updates, though that's not uncommon with patients still actively in Dr. Now's program. Hopefully, she'll be featured in "My 600-lb Life: Where Are They Now?" — a spin-off series that follows patients into the second year (and beyond) of the program.