The '90s Will Smith Commercial That Aged Poorly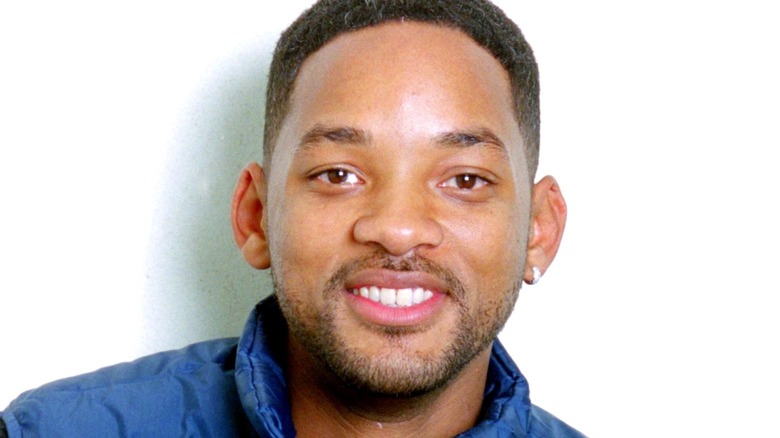 Dave Hogan/Getty
Will Smith is in the news a lot these days, and it isn't for his riveting performances in "After Earth" or "Wild Wild West." Originally a hip-hop artist with DJ Jazzy Jeff with the stage name of 'The Fresh Prince,' Smith went on to greater recognition for his role on the show "The Fresh Prince of Bel-Air," which become a pop culture sensation of the 1990s (via Biography). From the springboard of that early series, Smith became a prolific Hollywood movie actor with mega-hits like "Independence Day" and the "Men in Black" franchise, appearing in films that have grossed well over $9 billion in total (via The Numbers). He most recently starred in "King Richard," for which he won his first Oscar for best actor.
However, Smith recently struck Chris Rock at the 2022 Academy Awards because of a joke at his wife Jada Pinkett Smith's expense, and The Slap Heard Around The World has come to absolutely dominate internet discourse. Several celebrities have shown their support for the actor, while others have levied admonishment for his actions, and discussions about whether or not violence is ever appropriate abound. Considering these events, an early PSA-style commercial from Smith has garnered a second look, and it definitely hasn't aged very well in light of recent events.
A PSA with Smith talking about violence has aged poorly
One of the most famous types of commercial from the 1990s, and one that is still lampooned to this day, are the public service announcements with the format of "The More You Know." The first one of these commercials involved Tom Brokaw in 1989, and from there several other "The More You Know" commercials were created with many different celebrities and politicians (via The Atlantic).
In a 1992 "The More You Know" commercial, Smith is shown in glorious '90s fashion, and the nature of the PSA is about violence. Smith talks about a scenario where you are out and about with friends and somebody wants to fight. He then goes on to explain that violence is not the proper response and that a calm and cool demeanor is the appropriate action. Smith then elaborates and says, "The person that uses their head can always defeat the person who is just trying to use their hands."
This message of course is still a potent lesson, and the only reason it has aged poorly is due to the hypocrisy involved with the actor, which has not gone unnoticed by the denizens of the internet. Twitter user @JDFinsFan stated, "This 'More You Know' with Will Smith aged really poorly. I mean REALLY poorly." Twitter user @LaPrensaSD also brought up the Smith PSA, and added, "Seems that last night he forgot his own lesson. Today he apologized. No place for violence." The reoccurring trend here is that Smith should have heeded his own words, which people have been eager to highlight.