The Chicago P.D. Season 9 Scene That Went Too Far
Over the years, the officers in "Chicago P.D." have been tasked with solving plenty of horrifying crimes and have faced more than their fair share of hardships.
The 9th season of the NBC procedural series even begins with two of its central characters seriously struggling to recover from the events of its eighth. Officer Kim Burgess (Marina Squerciati), for instance, is forced to try and move on from her kidnapping and assault at the end of "Chicago P.D." Season 8 when the show's 9th season begins. Detective Hailey Upton (Tracy Spiridakos), meanwhile, similarly struggles at the start of "Chicago P.D." Season 9 to come to terms with her role in the death of Kim's attacker, Roy Walton (Michael Maize).
Unfortunately for them, "Chicago P.D." Season 9 never really gives any of the show's characters much time to rest. As has always been the case with the NBC series, every episode of "Chicago P.D." brings new problems and crimes for its characters to try and solve. However, one of the season's cases takes things just a little too far when it forces Kim and her colleagues to uncover the truth behind several truly grisly crime scenes.
Chicago P.D. goes darker than it should in Blood Relation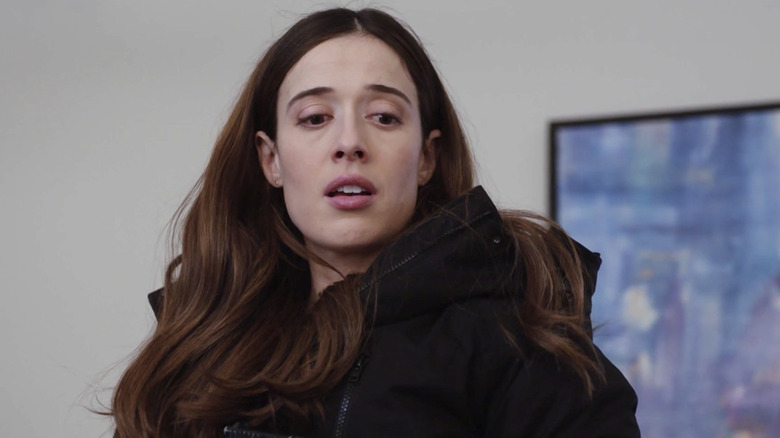 NBC
Episode 14 of "Chicago P.D." Season 9 sees some of the show's central officers stumble on the trail of a sadistic serial killer. The episode, titled "Blood Relation," opens with Marina Squerciati's Kim Burgess being called to investigate a home invasion, which leads to her discovering the body of a dead man in the house in question. In case that wasn't shocking enough, Kim not only finds the man lying dead in his own bedroom, but also sees the words "let it be" scrawled in his own blood on the wall above his bed. As Kim looks on in horror, the episode shows a close-up shot of the man's bloodied throat as well as the part of his arm where his hand was brutally cut off.
To say that the scene makes an immediate impression would be an understatement. The sequence makes "Blood Relation" feel like a homage to serial killer movies like "Se7en," and the episode follows through on its opening's gruesome promise by later taking Kim and co. to another similarly horrifying crime scene.
However, it's safe to say that "Chicago P.D." takes its violence and gore a little too far throughout the episode. While both elements do a lot to make "Blood Relation" feel like a dangerous, tense hour of television, the episode's gore is so shocking that it often detracts from its actual story. Suffice it to say, "Chicago P.D." didn't have to actually show viewers multiple shots of severed limbs and mutilated dead bodies in "Blood Relation" in order to communicate the horror of the episode's central case.