The Best Stellaride Moment From Chicago Fire Season 10
Stellaride has come a long way since Season 4 when Stella Kid (Miranda Rae Mayo) was introduced to Firehouse 51. In Season 4, Episode 15 ("Bad For the Soul"), the audience gets a feeling there is a romantic history between Stella and Kelly Severide (Taylor Kinney), and the two aren't able to leave their past behind them. Fast forward to Season 6, and Stellaride officially becomes a couple, and by Season 9, they're engaged.
Season 10 is where things start to get a little shaky. Stella takes off to promote her passion project — Girls on Fire — but for some reason, decides not to stay in touch with her fiancé while doing so. This only proved to doubters of Severide why the couple has no chemistry, but diehard stans of the couple knew they'd pull through. They did, but things didn't smooth over as one would have hoped. When Stella returns in Episode 10 ("Back With a Bang"), she has to prove to her understandably upset fiancé that she's all in. He buys it, and that's when we get the best Stellaride episode of Season 10.
Kelly Severide puts a ring on it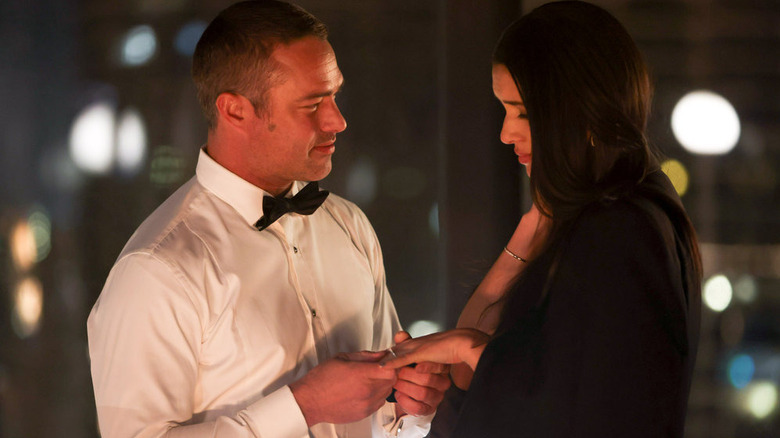 Adrian S. Burrows Sr./NBC
In Season 10, Episode 12 ("Show of Force"), the officers of the Chicago Fire Department attend an officer's ball. We should have seen an ultra-romantic moment coming as Stella and Severide were dressed to the nines and had just gotten back into their rhythm. After telling Stella how brave she is for standing up for Pelham (Brett Dalton), Severide says he's the luckiest man in Chicago. He pulls out a ring and puts it on her finger, and the two embrace.
Despite proposing to her the season prior, Severide cements their bond in this Season 10 episode, making it the best Stellaride moment of the year — so far. Some are suspecting we're going to get the much-looked-forward-to Stellaride wedding this season, but it hasn't been confirmed just yet. At the time of this publication, we're only 16 episodes in, and most "Chicago Fire" seasons have somewhere in the low 20s. Whether it's breakups, makeups, proposals, or weddings, Stellaride always knows how to bring the romance and the drama — and we're ready for more.