The One Chicago Characters Who Should Appear At The Stellaride Wedding
When it comes to romantic hooks ups — past, present and/or future — in NBC's action-drama hit "Chicago Fire," the pairing of Stella Kidd (Miranda Rae Mayo) and Kelly Severide (Taylor Kinney) has to stand out as one of the most-fan-shipped of all ships in the entire "One Chicago" line-up.
As dedicated viewers know, the two first responders have basically been on each other's radar since their training days at the firefighter academy. In the many episodes and seasons that followed, loyal fans have watched and wondered about the couple as they established a solid friendship that over time grew into something much more intense. And while at various points Stella made it clear to Kelly that she was open to deepening their relationship, and Kelly has been open about his feelings toward her, it hasn't always been smooth sailing for the two, especially with Stella's recent extended absence making Kelly wonder how solid her commitment was.
But with the couple finally taking the plunge and getting engaged after Kelly's epic, burning-building-proposal in Season 9, we can now expect a wedding, right? And with nuptials on the horizon, it's the perfect time to check fan opinions about which "One Chicago" characters should be in attendance when the Stellaride unit seals the deal.
Fans have thoughts about the Stellaride wedding guest list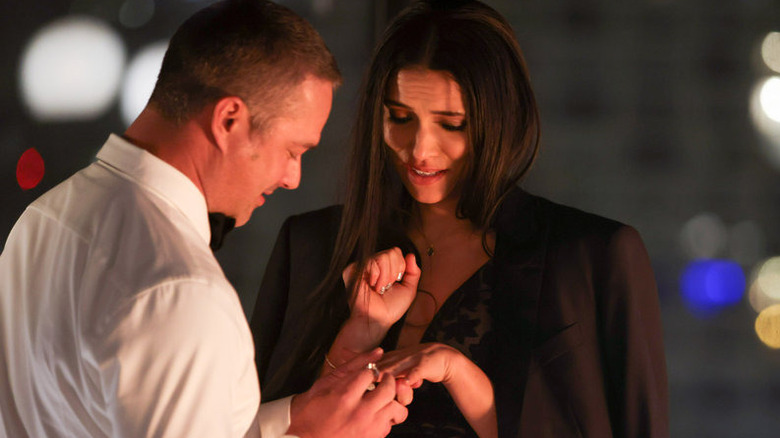 Adrian S. Burrows Sr./NBC
With the expansive, multi-character "Chicago"-verse slate of shows encompassing all of "Chicago Fire," "Chicago P.D.," and "Chicago Med," it could be tough to narrow down who among the many firefighters, paramedics, detectives, beat cops, doctors, nurses, and assorted support staffs ought to be included in a Stellaride marriage celebration. The series' Chi-hard fans, however, are apparently up for the challenge.
On a Reddit discussion about the Stellaride wedding, user u/Possible-Ad8762 suggested: "Gabby, Pelham, Foster, Casey, Kelly's mom, People from [P.D.] and [Med], Maybe Tyler, Any of Kelly's friends from past seasons that have left."
And on another Reddit thread, u/rochedale11 offered, "My imaginary guest list for the Stellaride wedding," with suggestions for Stella's bridesmaids that included, "Violet, Dawson perhaps making a return??, Rafferty maybe (she's on first shift), Foster and Mackey. Maid of Honor – Brett." The same poster also had options for Kelly's groomsmen: "Mills if he makes a return, Cruz, Tony, Boden assuming that fact he would both be up for it and be able to attend, and Capp. Best Man – Casey (I think him returning for the wedding would be really likely)."
It must be noted that with the unexpected and even shocking plot twists the franchise is known for, it's not 100% certain that this relationship will get the marriage it so richly deserves. But, if it does, these fan picks are a reasonable starting point for the "One Chicago" characters who should appear at the eagerly-anticipated Stellaride wedding.