The Best Bensler Moment In Law & Order: SVU Season 23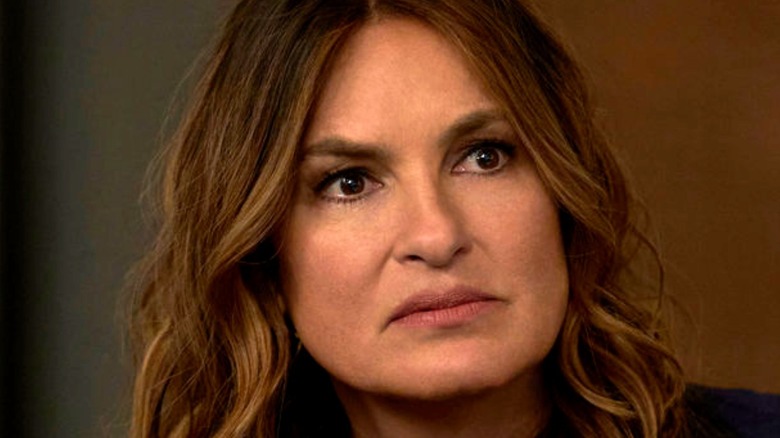 Michael Greenberg/NBC
There are two guarantees in life when one is a "Law & Order: Special Victims Unit" fan: a parade of thought-provoking cases involving sex crimes, and the possibility that someday Olivia Benson (Mariska Hargitay) and Elliot Stabler (Christopher Meloni) will finally give in to their crackling chemistry and finally get together as romantic partners instead of just work partners. 
The Bensler flame has been a difficult one to keep over the years when one takes Meloni's decade-long break from the "Law & Order" franchise into account. And don't get fans started on Stabler's long-lived marriage. But with the recent death of Stabler's wife Kathy (Isabel Gillies) – and the revelation that she co-wrote the infamous "letter" which lead to Benson and Stabler's long estrangement — hope has sprung anew in the hearts of "SVU" fans everywhere. Unfortunately, Benson and Stabler have remained star-crossed, as Stabler is now a part of the series' spin-off "Law & Order: Organized Crime." Though the shows are set in the same city and the programs have crossed over a number of times, the twosome have met sparingly onscreen since "Organized Crime" launched.
But even with those restrictions in place, there have been plenty of Bensler moments to go around during the current season of "SVU." Which moment between Stabler and Benson takes the cake as the very best one of Season 23?
Bensler and Stabler flirt... at Kathy's graveside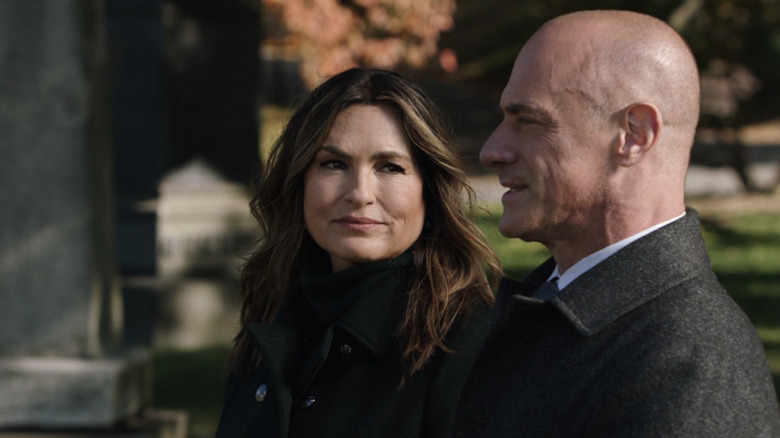 NBC
Thus far, "Law & Order: Organized Crime" and "Law & Order: SVU" have participated in only one crossover event during their concurrently running 23rd and 2nd seasons: the "SVU" episode "People vs. Richard Wheatley" covers the trial of the man accused of killing Kathy Stabler and it leads directly into the "Organized Crime" installment "The Christmas Episode." It's not the most romantic of episodes; Benson and Stabler deal with the agony of the jury in Kathy's trial deadlocking, and some very personal legal betrayals followed by the nightmare of Eli Stabler (Nicky Torchia) getting tangled up in a murder investigation. 
Even among all of that heartbreak and angst, the twosome manage to carve out some time together — though they have to spend it visiting Kathy's grave on the late woman's birthday along with Stabler's kids. But there's some gentle flirtation and a lot of warmth to the scene, even under those strained circumstances.
"You shaved. It's nice to see your face," Benson notes. The last time she and Stabler met, it was when he was sporting a full beard while undercover as Eddie Ashes. "It was time," he replies. The easy familiarity and warmth between them definitely defines who the two are as both partners and friends. As of press time they haven't smooched yet, but the easy camaraderie that pops up in this moment definitely gives Benson and Stabler fans a reason to keep on hoping for more.