The Major Regret Freya Allan Has About The Witcher Season 1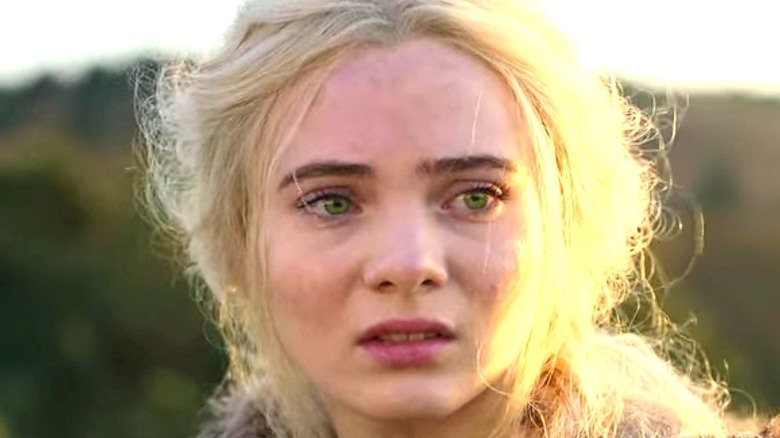 Netflix
"The Witcher" has become one of the most popular series on Netflix. During the premiere week of Season 2, "The Witcher" drew 2.2 billion viewing minutes (per Variety), which is an astronomical figure. Season 2 of the show saw Geralt's (Henry Cavill) and Ciri's (Freya Allan) storylines finally converging, with the former taking the latter to the Witcher headquarters of Kaer Morhen to protect her. These elements mostly worked for critics, who responded positively to Season 2, which currently sits at an extraordinary 95% on Rotten Tomatoes.
While it's clear that "The Witcher" really found its footing in Season 2, Season 1 of the show isn't quite as fondly remembered by critics, though that was more due to the worldbuilding aspects feeling thin and the time-jumping narrative being confusing to critics and certain viewers. It's not difficult to wonder if the cast had their own reservations or regrets when it comes to Season 1, especially given its more mixed reception. As it turns out, Allan has one major regret about Season 1 of "The Witcher."
Freya Allan regrets feeling self-conscious over Ciri's Season 1 look
During an interview with Radio Times in late 2021, Freya Allan revealed that she held some regret over how she internally felt over Ciri's appearance in Season 1 of "The Witcher." It boiled down to her own struggles with growing into an adult woman while seeing that Ciri had been made to look younger — as well as how viewers would respond to that.
"I think before [Season 1] came out, I got very harsh on myself. I was growing into a sort of woman, basically, and I think that I wasn't very confident," Allan said, going on to describe how Ciri's makeup knocked years off her appearance. "I didn't feel great about myself. I think when you're sort of turning into an adult, and you've got that, and everyone's about to see it — I think that did knock me a little bit beforehand."
Allan expressed regret that she not only felt the way she did, but also that she never really reached out to anyone about it. In fact, if she could go back, she would tell her younger self to reach out and communicate those fears and doubts with others. This makes sense, as Allan's concerns are probably not entirely unheard of in the world of performing arts — it wouldn't be surprising if many actors had their doubts over a role in some way or another. 
Regardless, Allan definitely seemed more comfortable and confident as Ciri in Season 2 of "The Witcher," and while she's not certain how long she will keep playing the part, it looks like her regrets with Season 1 haven't put a dent in her desire to see where Ciri goes next. "For now it's still exciting. There's still so much story left to tell," she said.