Jerry Lewis Died Of Cardiac Disease, Coroner Confirms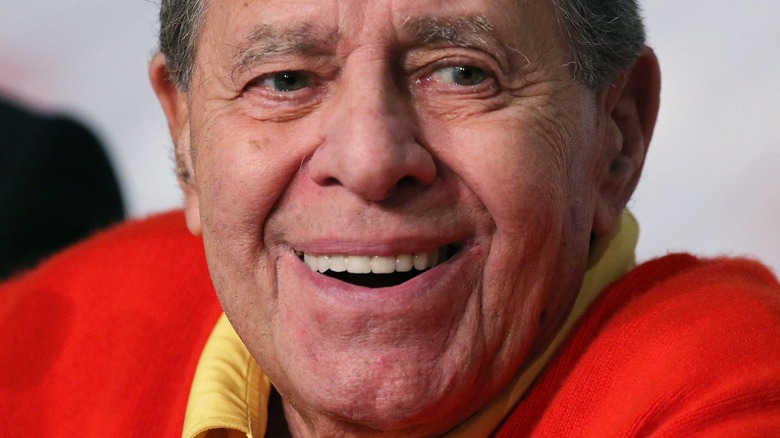 Getty Images
Comedy legend Jerry Lewis died at the age of 91 on Sunday, August 20. At the time of his passing, his cause of death was entirely unknown, though it was common knowledge that Lewis had suffered from a number of health ailments over the years. People magazine has now reported that Lewis' death was caused by heart failure. 
The Clark County Nevada Coroner confirmed to the outlet that doctors have attributed Lewis' passing to "end stage cardiac disease due to peripheral vascular disease." According to his daughter Danielle, Lewis "passed peacefully at home of natural causes with his loving family at his side."
As aforementioned, Lewis struggled with numerous health-related issues throughout his life. His most recent affliction was a urinary tract infection in June of this year, but his illnesses began many years ago. In 1982, Lewis underwent open-heart surgery, which was followed by battles with prostate cancer, diabetes, and viral meningitis. He suffered from what's been referred to as a "debilitating depression" brought on by the steroid drug Prednisone, which was prescribed to Lewis to treat his chronic lung disease, pulmonary fibrosis, which causes scarring of the lung tissue. 
Lewis' face and body swelled up while he was taking the steroid, with many pointing out his drastic change in appearance. "I put on 56 pounds," Lewis revealed to People in 2002. "Because of the swelling, you can't bend over and tie your shoe. I needed to exercise, but I'd get up and walk 20 feet, and I needed oxygen." The weight gain put strain on his spine, aggravating the chronic back pain with which he had been dealing for decades. "It got so bad, I went upstairs, and I was sitting in the master bedroom and thinking I know where the gun is and it would be over in a minute," Lewis said of a particularly dark moment spurred by the excruciating pain. 
Lewis' death has impacted Hollywood tremendously, with countless celebrities and fellow comedians expressing their condolences and honoring his memory. His close friend Steve Lawrence told People, "Jerry will be noted in the halls of show business because he was involved on every level, from television to records to motion pictures. He contributed as a director, as a writer, as a comedian and to arguably the best duo in comedy that every existed. I don't think we'll ever see the likes of Martin Lewis again."
Marlon Wayans remembered Lewis, writing on Instagram: "Man... I'm just floored. Growing up, all kids have super heroes... Jerry Lewis was mine. Such a funny man. A brilliant physical comedian. My brother Shawn and I grew up watching Jerry Lewis and Dean Martin. These two helped us dream. He was hilarious and charitable. You will forever be remembered with a smile. We can look at your films and your work and we can momentarily feel better about life. That is why I work as hard as I do. I'm a fool, I'm a clown, I'm a crusader for people's smiles. We do what we have to do to make the world feel better. Thank you for the many smiles you put on my face and thank [you] for being a light for a little boy with big dreams to follow. Rest well. Make God laugh." 
Jim Carrey called Lewis "an undeniable genius, an unfathomable blessing, comedy's absolute." Josh Gad wrote that Lewis was "one of the greatest of all time. A legend. A showman. A comedic icon. A movie star. An activist. A one of a kind." Larry King remembered how great a friend Lewis was to him: "I mourn the passing of my friend Jerry Lewis. He was the Friars Club's Abbott and I, its Dean. He could always make me laugh."
Many more have spoken out about Lewis' passing, showing how large a legacy he left behind. 
Lewis is survived by his second wife, SanDee Pitnick, and his daughter and former manager Danielle.