Jerry Lewis Dead At 91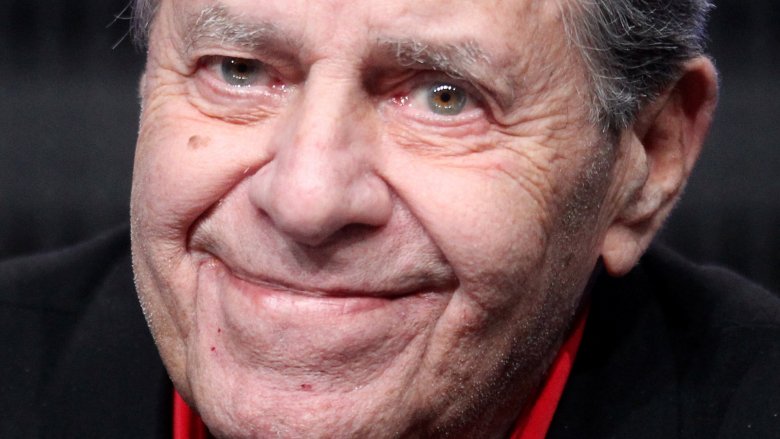 Getty Images
Jerry Lewis, the comedy legend known for his brash slapstick humor and his roles in The Nutty Professor and The Bellboy, has died. John Katsilometes of the Las Vegas Review-Journal produced a statement from Lewis' family (via The Hollywood Reporter) that confirms Lewis passed at 9:15am on Sunday, August 20 in his Las Vegas, Nevada home. He was 91. 
Lewis faced a number of health complications over the years, including open-heart surgery in 1983, prostate cancer surgery in 1992, treatment for dependence on prescription drugs in 2003, and a heart attack in 2006. He also suffered from a long bout with the chronic lung disease pulmonary fibrosis. In order to treat the illness, Lewis took Prednisone, a drug that caused his face and body to swell up. 
Lewis gained recognition for his teaming with Dean Martin, which began in 1946. The two collaboration on television, stage productions, and movies, imbuing each performance with their signature improvisational push-and-pull. Producer Hal Wallis saw Lewis and Martin performing at the Copacabana and at Slapsie Maxie's in Hollywood, California, and believed the pair to be something of a new Bob Hope and Bing Crosby. Lewis and Martin were signed to a Paramount Pictures contract and continued to work together for the next ten years. 
During his run with Martin, Lewis cranked out silly flick after silly flick, a line of succession that began with My Friend Irma in 1949. Other entries include The Caddy, The Stooge, Artists and Models, and Pardners. Each of their films earned more than $5 million, a sizable sum at the time. Unfortunately, the premises of the movies grew tired after a while, and Lewis and Martin began appearing disparate the more they worked together. The pair called it quits in 1956 following the release of their film Hollywood or Bust, and ended their collaboration with a dual appearance at the Copacabana. 
Shortly after Lewis and Martin parted ways, Lewis filled in for Judy Garland in Las Vegas. That gig was the start of Lewis' development into a slicker and more sophisticated on-stage performer, a metamorphosis that would see him playing Las Vegas stages until 2013. 
With his solo career blossoming, Lewis popped up in films like The Delicate Delinquent and Rock-a-Bye-Baby, and even tried his hand in the music world with his million copy-selling single in the "Rock-a-Bye Your Baby" title track. That song led to several albums with Decca Records. 
Lewis branched out to writing, producing, and directing films in the early '60s. His best efforts were seen in 1961's The Ladies Man and 1962's The Errand Boy, but his biggest success ever was 1963's The Nutty Professor. The pic grossed a staggering-for-the-era $19 million.  
A deal with Columbia saw Lewis churn out Three on a Couch, The Big Mouth, Don't Raise the Bridge, Lower the River, which didn't really stick with American audiences. However, Lewis found a following at French film journals Cahiers du Cinema and Positif. He was awarded the country's Legion of Honor award in 1983, an accolade that became a joke in the United States after his style of comedy fell out of fashion. France's Cannes Film Festival screen Lewis' final film Max Rose in 2013. 
The 1970s saw Which Way to the Front? and The Day the Clown Cried, as well as a pair of Broadway musicals Feeling No Pain and Hellzapoppin. These efforts were largely failures, and the decade of big hair and big dreams only got worse for Lewis. After lending his name to a move theater deal with Network Cinema Corp., Lewis filed for bankruptcy in 1974. It's here where he began developing stomach ulcers and drug dependency. 
1982 was a high point for Lewis, as it was the year legendary director Martin Scorsese stepped up and roped in Lewis' cynicism for the role of a held-as-hostage late night talkshow host in The King of Comedy. The film is often regarded as some of Lewis' best work, despite Lewis reportedly resenting co-stars Robert De Niro and Sandra Bernhard for "upstaging" him. Another peak performance was as a deadly underworld figure in the television series Wiseguy. 
Things went downhill again later in life, with films like Cookie, Slapstick of Another Kind, and American Dreamer failing to impress. 1n 1996, Lewis executive produced the remake of The Nutty Professor, which starred Eddie Murphy in the lead role. Sources state that Lewis was, for quite some time, unsure of how he felt about the film. Ultimately, he commented that the reboot wasn't as "perfect" as the original. 
In 2003, Lewis lent his voice on an episode of The Simpsons. Three years later, he appeared on Law and Order: SVU as the insane, confused, but strangely kind uncle of Richard Belzer's Detective John Munch. 
During the last decade of his life, Lewis' reputation grew sour. He made a gay slur on camera during a 2007 telethon, repeatedly made racist jokes into his 90s, and was often aggressive in sharing his political views. However, due to his charitable work, which included donating an estimated $2.6 billion for the Muscular Dystrophy Association, he was awarded the Academy of Motion Pictures Arts & Sciences' Jean Hersholt Award in 2009. In 2014, Lewis added his footprints to the rest of the screen icons at the Chinese Theatre. 
Lewis' final screen appearance was in Max Rose. He played a jazz pianist who had recently become a widower. The film, written and directed by Daniel Noah, also starred Claire Bloom, Kevin Pollak, Kerry Bishe, and Mort Sahl.
Lewis was married to former band singer Patti Palmer, with whom he had six sons: Gary, Ronnie, Scott, Anthony, Christopher, and Joseph. Sadly, Joseph died by suicide in 2009. Lewis and Palmer were married from 1944 to 1982. He married his second wife, SanDee Pitnick, a year after divorcing Palmer. Together, they adopted a daughter, Danielle. 
Lewis is survived by wife Pitnick and daughter Danielle.