The Most Shocking Blue Bloods Moment Of Season 7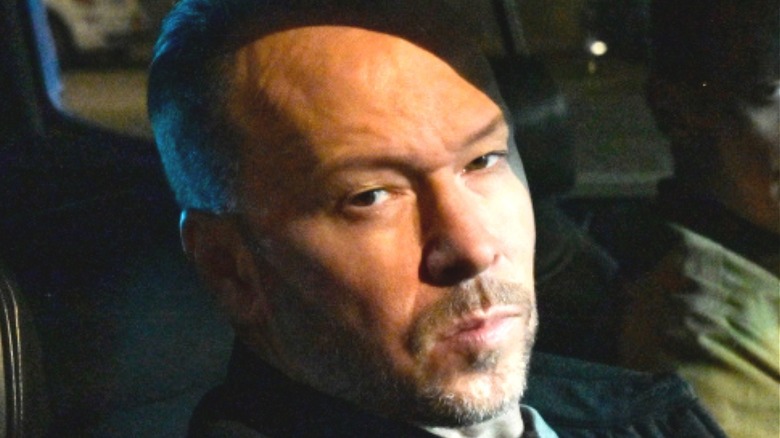 John Paul Filo/CBS
Over the course of its run, there have been hundreds of storylines on "Blue Bloods." Everything from major cases involving Danny (Donnie Wahlberg) and his partner Baez (Marisa Ramirez) to political superstorms raging through 1 Police Plaza push episodes forward throughout each season. Season 7 was, of course, no different, as it provided a litany of storylines to keep viewers enthralled.
The season begins with Danny facing down accusations that he was not acting in self-defense when he fatally shot serial killer Thomas Wilder (Louis Cancelmi), which throws him in the crosshairs almost immediately. Erin (Bridgette Moynahan), meanwhile, finds herself embroiled in an adoption case, something she claims to try and avoid at all costs because they are an "emotional minefield." Jamie (Will Estes) and Eddie (Vanessa Ray) have to dodge their newly confessed feelings for each other (not sure how they didn't see it, not a revelation for all of us!), and Frank (Tom Selleck) finds himself between the widow of a police officer and her son, who wants to join the NYPD.
These storylines quickly got the first half of the season off to an intense start and kept viewers glued to their screens every week. However, there was one particular moment in Episode 13 that not only raised the bar after everything that came before it, but would also not be topped by anything in the nine episodes that followed. 
Here is the most shocking moment in Season 7 of "Blue Bloods."
A case stalled by diplomatic immunity ends in violence
In the 13th episode of "Blue Bloods" Season 7, titled "The One That Got Away," each character faces their own challenges, as is typical of the show's structure. Jamie and Eddie are trying to deal with the awkwardness following the expression of their feelings for one another, a situation they make worse with a disastrous double date. Meanwhile, Frank is navigating a potentially tricky situation after being invited to the wedding of his late son's fiancé and her new police officer partner. But as uncomfortable as both of those storylines are, they are nothing compared to the case worked by Danny and Baez in the episode. 
The pair's case involves them discovering a child who is being abused by his father. When Danny goes to arrest the father, though, the man claims diplomatic immunity, meaning he cannot be arrested. Frank gets involved but is shut down, which forces Danny and Baez to come up with a plan to get the child taken from the diplomat and put in foster care to try and remove him from the situation.
Of course, that ends up being complicated, and at the end of the episode, the diplomat's wife ends up shooting and killing him. Ironically, the same diplomatic immunity that protected him from facing legal justice in regards to his child resulted in him facing a much less formal kind of justice. The ending was a heavy moment that showed the real world is a complicated place with shades of grey much more challenging to navigate than the ideal black and white.
If you or someone you know may be the victim of child abuse, please contact the Childhelp National Child Abuse Hotline at 1-800-4-A-Child (1-800-422-4453) or contact their live chat services.