Eddie's Best Moment Ever On Blue Bloods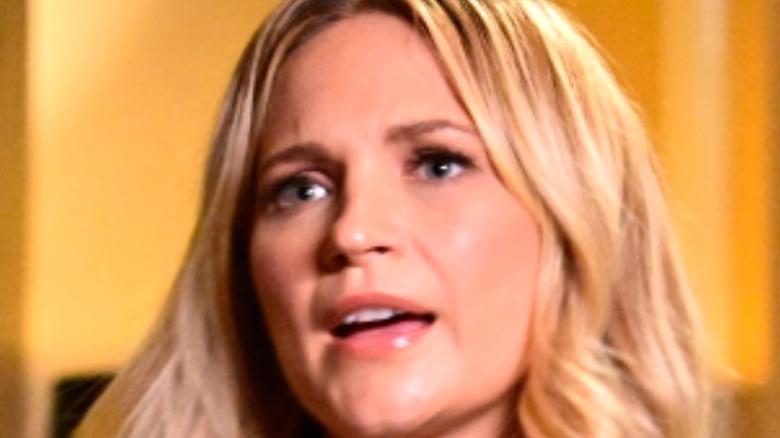 John Paul Filo/CBS
Being a police officer is not easy. Being a cop in New York City is even more difficult. And being a female cop creates a new set of obstacles not seen by others. Officer Edit "Eddie" Janko (Vanessa Ray) of "Blue Bloods" takes all of that in stride as she navigates her way through the life of a female officer in the New York City Police Department.
She appeared on the show in Season 4, Episode 1, "Unwritten Rules," as Jamie Reagan's (Will Estes) new partner and has spent most of the last decade watching his back and snuggling up to his front as his partner at work and his life partner at home. She faces everything you would expect a woman to face in law enforcement, from being underestimated and the butt of sexist jokes to being sexually assaulted and feeling the need to solve the crime and deal with it herself. Even Jamie crosses the line by protecting her on the job, unintentionally implying she needed his protection.
One thing she proved in her time as an NYPD cop is that she doesn't need protection. She continues to show over and over that she is a strong and capable officer with a bright future in the department. She has a list of great moments throughout that time, but one of her earliest stands above the rest as the best of them all.
If you or anyone you know has been a victim of sexual assault, help is available. Visit the Rape, Abuse & Incest National Network website or contact RAINN's National Helpline at 1-800-656-HOPE (4673).
She stepped up without hesitation
Undercover isn't a new experience for Eddie Janko. She has gone undercover multiple times in her tenure as a police officer. She went undercover for Erin Reagan (Bridget Moynahan) and Anthony Abetemarco (Steve Schirripa) in "The Price You Pay" to infiltrate a wellness group where people were disappearing; and in Season 4, Episode 5, "Lost and Found," she got her feet wet in the world of undercover by posing as a customer in a jewelry store that had seen a string of robberies.
However, her best moment came in Season 5, Episode 18, "Bad Company." When Danny Reagan (Donnie Wahlberg) and Maria Baez (Marisa Ramirez) catch the case of missing Serbian women, they trace them back to a phony hostel luring the unsuspecting travelers into a sex trafficking ring. Due to her similar appearance to the victims and her Serbian background, Janko was the perfect choice to go undercover and take them down. It was her first true undercover mission, and she signed on without hesitation. While most of us would have at least a little regard for our own safety, Janko saw this as simply the first step in her advanced career with the NYPD.
This was her best moment because it set her apart as not just a pretty face sitting next to Jamie Reagan in the patrol car. While most of the series focuses on the Reagans and their law enforcement superpowers, Janko proved that she was more than his future love interest (who didn't see that coming?) and showed that she has superpowers of her own. Sitting alongside a Reagan invites enough scrutiny to scare off police officers, but taking the last name of one takes that scrutiny to a whole new level. Janko set the tone early in proving she had what it took to be a Reagan.