August 2017 Trailers That'll Blow You Away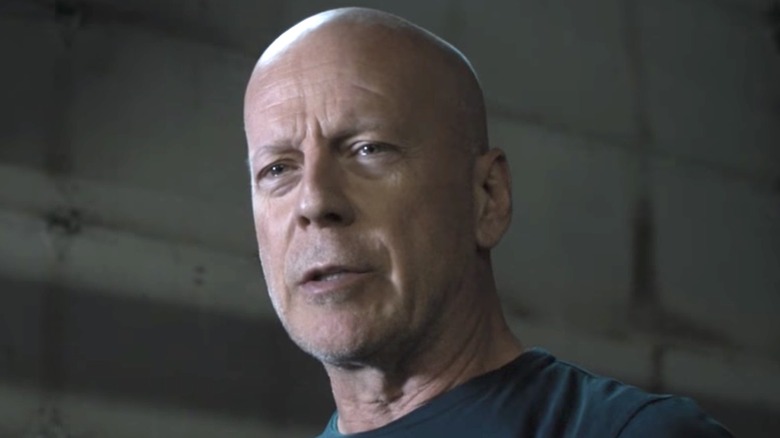 August might seem like a slow month for movies, but that doesn't mean there isn't plenty of entertainment available. One of the best ways to occupy the slow winding down of the summer box office is by watching trailers for what's ahead—glimpses of the horror, romance, action, and more that's set to arrive in theaters over the coming months. These are all the biggest trailers released so far this month, and they're guaranteed to blow you away. 
mother! - Sept. 15
Jennifer Lawrence has to deal with unexpected guests in the first trailer for Darren Aronofsky's mother!. The secrecy-shrouded movie, written and directed by the Black Swan helmer, features Lawrence and Javier Bardem as a couple whose peaceful existence is disturbed when guests show up in their home—a simple premise that, as the trailer suggests, may not actually be so simple.
The trailer offers a thrilling and terrifying glimpse at Aronofsky's newest attempt to mess with our heads, featuring some creepy imagery—and some hyperventilating so intense that Lawrence actually dislocated a rib in real life. However, it's the deeper hints at the film's disturbing plot that make the trailer so enticing, with Bardem's character offering the tantalizing detail that the guests (played by Ed Harris and Michelle Pfeiffer) are, for some reason, there to see him. Sign us up for whatever nightmares mother! has to offer. 
The Wilde Wedding - Sept. 15
Basically the only thing you need to know about The Wilde Wedding is that Patrick Stewart has hair, but if you want the full plot summary, here goes: Stewart plays Harold, a renowned writer preparing to marry retired film star Eve, played by Glenn Close. The guests at their assumedly wild wedding include John Malkovich as Eve's ex-husband, as well as Minnie Driver, Grace Van Patten, Orange is the New Black's Yael Stone and The Americans' Noah Emmerich. 
Once you get past Stewart's hairdo, there's a lot to enjoy in the trailer for The Wild Wedding. Malkovich plays unhinged and jealous well, and Stewart is also game for the movie's awkward humor in the too-small amount of screen time he gets. Close grounds these few moments well, although we're betting she gets into more hijinks in the final product than she does in the trailer. The Wilde Wedding looks like a movie we're willing to get hitched to for a couple of hours. 
Killing Gunther - Sept. 22
Arnold Schwarzenegger is the most feared hitman in the business in the upcoming action comedy Killing Gunther, written and directed by Saturday Night Live alum Taran Killam. Schwarzenegger stars as the titular Gunther, who has the tables turned on him when he becomes the target of an assassination plot from his fellow hitmen.
The crack team looking to take out Gunther is led by Killam's Blake, with Bobby Moynihan's explosion expert Boom Boom, Hannah Simone's precocious Sanaa, Amir Talai's crusher Izzat, and two Russian assassin twins played by Allison Tolman and Ryan Gaul filling out the group. The trailer spends most of its time introducing this motley crew using a documentary type format, with Gunther revealing he was "pissed off" to learn about all the assassins coming his way.
Killam is always impressive on SNL, and his directorial debut seems both stylish and funny. Schwarzenegger, while only appearing briefly in the trailer, is great in his role as a ridiculously skilled assassin, and, if you aren't already sold in this clip's early moments, hold out for a Terminator reference you'll want to keep coming back for.
Mark Felt: The Man Who Brought Down the White House - Sept. 29
Liam Neeson is Deep Throat in the trailer for Mark Felt: The Man Who Brought Down the White House. The movie dramatizes the true story of Felt, an FBI agent who'd acquire his famous nickname after he became the Watergate whistleblower for Washington Post reporters Bob Woodward and Carl Bernstein.
The trailer begins by setting up Felt as "the G-man's G-man," known for his integrity and loyalty to the bureau. It then goes on to lay out why, exactly, Felt decided to go to the press, showing him as a man conflicted between his obligation to his job and his duty to his country. While it's heavy on the bureaucracy, the trailer ramps up the tension through ominous warnings to Felt about the potential consequences of his work and a taut soundtrack.
The trailer's decision to end with Felt's moniker makes viewers familiar with the case eager to see more, while those who don't know the story should still be drawn in by the ample drama—and a talented cast that's rounded out by Diane Lane, Tony Goldwyn, Josh Lucas, and Michael C. Hall. We're definitely ready to head to class for this history lesson.
Literally, Right Before Aaron - Sept. 29
Justin Long has to endure his ex's wedding in the trailer for Literally, Right Before Aaron. In the film, Long plays Adam, a man still reeling from his recent break-up with Allison (Cobie Smulders). When Allison calls him to let him know she's getting married to Aaron (Ryan Hansen), Alex says yes to an invitation to the wedding; predictably, things quickly go awry. 
Long is adorably awkward in every part he plays; that works well for him here, with his interactions with the alpha male Aaron particularly entertaining throughout. (One scene featuring some not-so-great tennis playing will leave you reeling.) The trailer also ends with a clip hinting that this could escalate, with Adam standing up to interrupt Allison's wedding. Also, for 90210 fans, the movie marks the writing and directorial debut of Ryan Eggold, which should get many a formerly teen heart fluttering. 
The Florida Project - Oct. 6
Sean Baker's Tangerine follow-up The Florida Project has all the heart and beauty shown in his earlier work, albeit in a new setting. This time, Baker investigates the lives of those living in an extended-stay motel in Orlando, focusing specifically on a precocious six-year-old named Moonee (Brooklynn Kimberly Prince) and the motel's owner Bobby, played by Willem Dafoe. 
Dafoe is the grounding force of the trailer, but the child actors are given the chance to shine as well. Their interactions are highlighted immediately from the trailer's opening scene, a hilarious and extended bit featuring the kids attempting to eat ice cream in Bobby's lobby. Moonee then gives an emphatic tour of the motel, showing the less than glamorous setting through the excited eyes of a child. Already enjoying rave reviews, The Florida Project looks like a beautiful, touching exploration of childhood.
Brawl in Cell Block 99 - Oct. 6
It's Vince Vaughn like you've never seen him before in the trailer for Brawl in Cell Block 99, the latest action outing from Bone Tomahawk director S. Craig Zahler. Vaughn plays Bradley Thomas, a former boxer who resorts to drug running in an effort to keep on his feet and save his marriage after losing his job as a mechanic. Things quickly go wrong when a drug deal turns deadly, putting him behind bars, where his enemies force him into doing violent deeds that turn the prison into a battleground. 
Zahler knows how to depict brutal violence, and while that's definitely a big feature in the Brawl in Cell Block 99 trailer, it isn't everything. The trailer deals heavily with Thomas' conflict between right and wrong, setting him up early on as a good man who's been tempted by bad things. His humanity is further underlined through a montage contrasting images of his life at home with images of his life of crime.
While Vaughn hardly speaks in the trailer, this looks like a role very different from his standard comedies. He also sells what looks like tough fight choreography well, with Zahler's directorial eye helping to make the short bursts of action engaging and memorable. With Vaughn and Zahler, Brawl in Cell Block 99 looks like a solid one-two punch.
Goodbye Christopher Robin - Oct. 13
Meet the inspiration behind Winnie the Pooh in the new trailer for Goodbye Christopher Robin. The movie stars Domhnall Gleeson as A.A. Milne, the author who dreamed up the famous bear for his young son Christopher Robin (Wil Tilston). Margot Robbie takes on the part of Milne's wife Daphne in the film, which is directed by My Week with Marilyn's Simon Curtis. 
The trailer deals heavily with Milne's struggle with PTSD, with the former soldier turned playwright saying he's had enough of making people laugh. Deciding that he instead wants to find a way to make people see, he takes his family out to the countryside, where he and his son begin to develop some of Winnie the Pooh's most classic elements. It intercuts this childlike imagery with flashes of Milne's time in the war, showing how his trauma informed his experiences.
Another layer of the movie deals with the struggle Christopher experienced in suddenly becoming world famous after the book's publication, showing the young boy's difficulties balancing all the attention against his home life. While there's a lot going on, the trailer shows an ability to balance drama, humor, and heart in a way that will hopefully translate into an affecting biopic.
Batman vs. Two-Face - Oct. 17
Adam West's final performance as Batman is teased in the trailer for Batman vs. Two-Face. The movie features the former Batman TV star reprising his role alongside Burt Ward's Robin, with the two facing off against Star Trek's William Shatner as Harvey Dent in a straight-to-DVD sequel to 2016's animated Batman: Return of the Caped Crusaders.
West's take on Batman still stands out, and it's on display once more in the Batman vs. Two Face trailer, which features lots of hilarious quips and one-liners from the actor and his co-stars. West's goofy version of Batman will be sorely missed by many, and we're already lining up to get our copy of his last outing under the cowl. 
Suburbicon - Oct. 27
Suburbicon has already made it onto our list of the best movie trailers in the past, but this new trailer might be even better than the first. The movie (which is definitely not a comedy, according to writer/director George Clooney) stars Matt Damon as Gardner Lodge, a man dealing with the violent advances of a loan shark in his small, 1950s-era American town.
The new trailer tops the first thanks to a healthy dose of Oscar Isaac and Julianne Moore, who were not very heavily featured in the first clip. Isaac is both charming and slimy as insurance claims investigator Bud Cooper, who hints (with a wink, of course) that Moore's Aunt Margaret may have had something to do with the death of Lodge's wife.   
All the hallmarks that made the first trailer so engaging are there again, with the trailer still tying in an engaging score with footage that seems exactly like the type of dark and bloody fun that non-horror fans will be looking for around Halloween. With so many huge names attached, it seems Suburbicon is a town audiences won't want to leave—even if the residents most definitely do.
Last Flag Flying - Nov. 3
Break out the tissues before you watch the trailer for Richard Linklater's Last Flag Flying. Steve Carell leads the dramedy as former Navy Corps medic Richard "Doc" Shepherd, who recruits two of his Vietnam buddies, played by Bryan Cranston and Laurence Fishburne, to help him bury his son after he's killed in Iraq. 
Linklater, Carell, Cranston, and Fishburne make a team with quite a few accolades, and that talent quickly becomes clear in the trailer, which combines heart and humor with Linklater's signature precision. The three leads have great chemistry, and their growing bond helps anchor the cross-country journey.
However, it's Carell who really sticks out. Proving once again that his acting capabilities go far beyond Michael Scott, the actor is able to encapsulate an impressive range of emotion in a few moments of screentime. Amazon Studios has already shown their ability to pursue Oscar gold with Manchester by the Sea, and it looks like Last Flag Flying could be another big awards season win. 
Death Wish - Nov. 22
Bruce Willis is out for vigilante justice in the first trailer for Eli Roth's Death Wish remake. The movie, a remake of the 1974 film of the same name, follows Willis as Paul Kersey, a doctor who seeks revenge after the violence in the streets of Chicago spills into his own home.
It's no surprise that Willis can play a tough guy, and it looks like he's in particularly great form in Death Wish. This is especially apparent in a scene in which he brutally dispatches an ice cream man who shot a kid on his way to school, telling him that he's his last customer. (One-liners are also a well-known Willis strong suit.) The trailer also shows that the movie won't hold back on the violence, and highlights Willis' creative ways of disposing of his enemies. While remakes are old hat at this point, Death Wish looks like it could be worth a trip to the theater.
Molly's Game - Nov. 22
Don't call Jessica Chastain a poker princess. She stars as the smart, straight-talking Molly Bloom in the first trailer for Aaron Sorkin's directorial debut Molly's Game, which tells the true story of the Olympic-class skier who ran the world's most exclusive high-stakes poker game. As the trailer shows, the movie follows Molly on her way up in the poker world while also showing her downfall.
Chastain has some impressive backup in the movie, including Idris Elba as her reluctant lawyer Charlie Jaffey and Michael Cera as one of the high rollers who frequents her game. However, it's the star herself who really shines throughout the trailer, playing Molly perfectly in the different stages of her life. Chastain once again proves worthy of all the awards, and we can't wait to see the game she plays on the big screen this fall.
Call Me By Your Name - Nov. 24
The first trailer for film festival darling Call Me By Your Name will take your breath away. The movie stars Armie Hammer as Oliver, an American professor who travels to northern Italy in the summer of 1983. While there, he falls into a relationship with the precocious 17-year-old Elio, played by Homeland's Timothee Chalamet. 
Hammer and Chalamet's chemistry is electric, and the trailer takes the time to let their romance build in a way that seems natural and organic. The love story is also backed by a beautiful setting in the Italian countryside, which the trailer takes full advantage of through gorgeous, colorful shots. There's also the impressive supporting cast, including Michael Stuhlbarg and Amira Casar, and an original soundtrack from Sufjan Stevens. With an early 100 percent on Rotten Tomatoes, Call Me By Your Name clearly isn't a movie you want to miss. 
Super Troopers 2 - April 20, 2018
It's been a long, long time coming, but the first trailer for the upcoming Super Troopers 2 is finally here...and it's awesome. The sequel to the cult cop comedy features the group of Vermont state troopers fighting with Canada over the borderline, setting up a new Highway Patrol station right in the conflicted zone. 
While the trailer doesn't reveal much, it does show that the whole gang is back in action—including Jim Gaffigan, who finds himself getting pulled over once again in a gag at the end of the trailer. Considering the fact that the original writers, directors, and cast are all on board, this reboot should be well worth the wait.
Gemini - Spring 2018
Explore the dark side of celebrity in the trailer for Gemini. The movie stars Lola Kirke as Jill, an assistant to Hollywood starlet Heather, played by Zoë Kravitz. When Heather is murdered, Jill learns she's a suspect, causing her to reevaluate her own views of friendship, truth, and fame.
The trailer hints that there could be more to Heather's murder than meets the eye, with the nervous starlet asking Jill for a gun the night before her death. However, it also seems to suggest there could be something off with Jill, with John Cho's detective suggesting she may have a memory better than other people—perhaps powerful enough to include some hints as to what may have happened. It's the film's visuals that really have us sold, though, with the gorgeous cinematography and noir color scheme causing the whole thing to pop and glow. With already stellar reviews from its film festival premieres, Gemini is a stylish murder mystery we're happy to take the time to figure out.
The Death of Stalin - No U.S. release date
Veep's Armando Iannucci looks to satirize another country's government in the first trailer for The Death of Stalin, which, as the title would suggest, takes place just after the death of USSR dictator Joseph Stalin. The movie shows the mad rush for power after Stalin's passing, with Jeffrey Tambor, Steve Buscemi, Jason Isaacs, and more playing characters looking to take charge.
While the movie takes place in Russia, it (thankfully) doesn't ask its mostly American cast to put on fake accents, instead using their absence to add further to the movie's sheer ridiculousness. Quick pacing is put to great use throughout the trailer, which moves back and forth between the different power seekers, pitting one against another and then another and then another, all to great comedic effect. It may not be a Game of Thrones-level fight for power, but we're on board to watch this not-so-historical comedy.