Jennifer Lawrence Had A 'Kardashian Tent' To Deal With The Stress Of Mother! Filming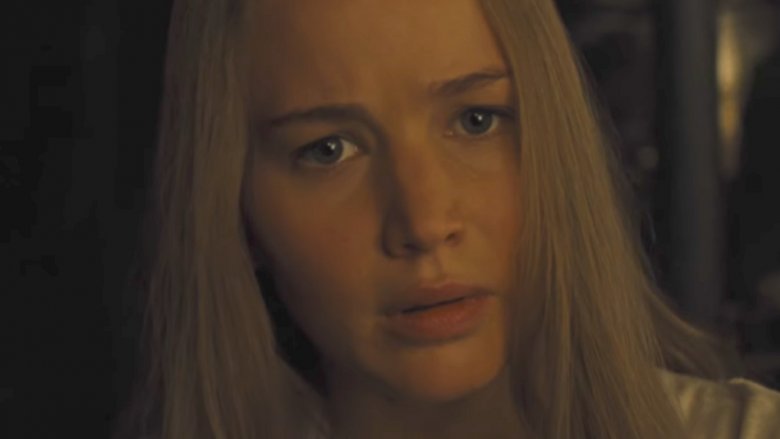 Starring in horror movies has been known to mess with some actors' heads, and it looks like Jennifer Lawrence learned about that first hand while filming her upcoming thriller Mother!. Lawrence revealed in a recent interview with Vogue that crew members made her a "Kardashian tent" to help her de-stress as she filmed the terrifying movie, which at one point made her hyperventilate so hard that she dislocated a rib.
Mother! comes from Black Swan and Requiem for a Dream's Darren Aronofsky, who says that he penned the script in just five days. The movie stars Lawrence and Javier Bardem as a couple whose relationship is tested when uninvited guests show up in their home, disturbing their peaceful existence. While the plot details have been intentionally vague, the eye-opening trailer for the film featured a terrified Lawrence amid some creepy and disturbing imagery.
"The themes are just huge," Lawrence said carefully about the film, trying her best to keep tight the secrets surrounding it. "I can't use the word I want to use, but the movie is unique." Added Aronofsky, "I think [Mother!] works as a truthful, realistic relationship movie... but also works on an allegorical plane. Different people will see it different ways, and I'm always inspired by films you remember and are still talking about a few days later." 
Lawrence went through three months of rehearsals with the rest of the film's cast, which also includes Javier Bardem and Ed Harris, before filming began, something which is unusual for actresses of her fame. Aronofsky called the long rehearsal process "an amazing luxury," while Lawrence said that the time helped her to get the most "in tune" with her character that she's ever been. 
"She's in a very Zen, peaceful gear," Aronofsky said of Lawrence in rehearsals, adding that she doesn't go for the full performance until the cameras are on. "It's such a raw, natural talent she has. I always kind of compare her to Michael Jordan." 
It makes sense that Lawrence holds her full performance until the cameras are rolling, especially considering how intense she gets. Lawrence said that she had to "go to a darker place than I've ever been in my life" for the movie, hence the hyperventilation. "I ended up getting on oxygen," she said of the moment. "I have oxygen tubes in my nostrils, and Darren's like, 'It was out of focus; we've got to do it again.' And I was just like, 'Go f*** yourself.'"
Lawrence said she was unsure if she would come out okay from the movie, but crew members ended up coming up with a smart way to help, fixating on the actress' well-documented obsession with reality TV to create a haven for her to go to off set. The "Kardashian tent," which Lawrence described as her "happy place," featured gumballs, pictures of the famous family, and episodes of Keeping Up with the Kardashians playing on loop.
Mother!, in all of its creepy glory, hits theaters on Sept. 15.