Cheaper By The Dozen Director Gail Lerner Thought This Improvised Gabrielle Union Moment Was 'Hilarious' - Exclusive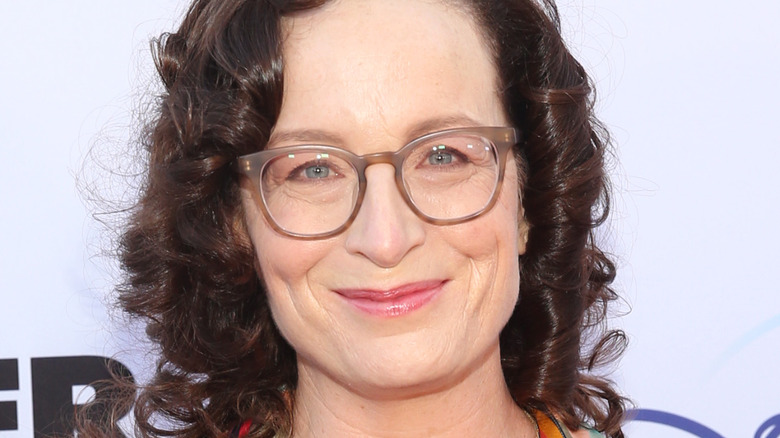 Jesse Grant/Getty Images
Gabrielle Union has tried her hand at all sorts of film and TV genres, having gotten her big break in 2000's "Bring It On." Since then she has starred in "Bad Boys II," "Think Like a Man," and 2016's "The Birth of a Nation," among dozens of other credits. Her latest project, the "Cheaper By the Dozen" reboot now streaming on Disney+, brings her back to her comedic roots, playing a mother of 10 alongside Zach Braff ("Scrubs").
Directed by Gail Lerner ("Black-ish," "Happy Endings"), "Cheaper By the Dozen" follows the multi-racial, blended Baker family as they run their own restaurant and bottle their own "Hot, Sweet, and Savory" sauce while navigating everything life throws at them. As Zoey Baker, Union must buoyantly jump through hoops while juggling work, family, and an ever-present ex-husband.
In fact, dealing with husband Paul (Braff) and ex Dom (Timon Kyle Durrett) often leaves Union's Zoey stuck between a rock and a hard place. But that tension, according to Lerner, is exactly what led to one of the funniest lines in "Cheaper By the Dozen." During an exclusive interview with Looper, Lerner revealed the improvised line that Union dropped that was "hilarious."
Gabrielle Union jokingly referred to herself as an 'idiot'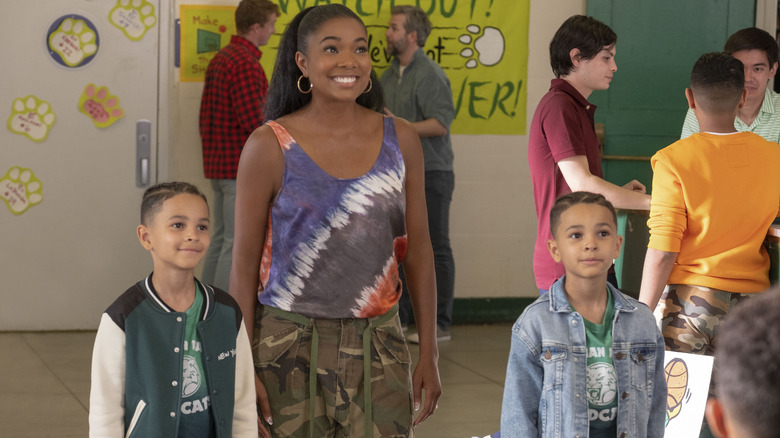 20th Century Studios
During the very memorable dance battle scene in "Cheaper By the Dozen," where Paul and Dom inadvertently wind up showing off their best moves at halftime of their daughter's basketball game, Zoey is left sitting in the stands watching it all go down.
"There's sometimes a moment when you're working with an executive ... and they'll say 'trailer moment' when they see something they think will definitely go in the trailer," says Lerner. "When we were shooting the dance-off scene and I was telling them to improv their mortification ... Andre [Robinson], who plays DJ, leans over and goes to Gab, 'Mom, make them stop.' She improvised: 'What am I supposed to do? I'm the idiot who married both of them!' And I just remember thinking to myself 'trailer moment.'"
Despite the laugh-out-loud line making it into the film, it didn't make it into any of the trailers, to Lerner's dismay.
"When they cut together the trailers and it wasn't in there, I was like, 'Guys, we need this,'" she says. "They said they didn't want to show anything negative in the trailer — even though ... it's a joke and it's hilarious in the movie, I think they literally didn't want to hear the word 'idiot.' They didn't want to bring any vibe down, but it's such a funny line in the movie. It was such an on-point improv. I was like, 'How did we not script this? This is too good to be true.'"
"Cheaper By the Dozen" is now streaming exclusively on Disney+.