The Surprising Cheaper By The Dozen Scene That Made Zach Braff 'Really Nervous' - Exclusive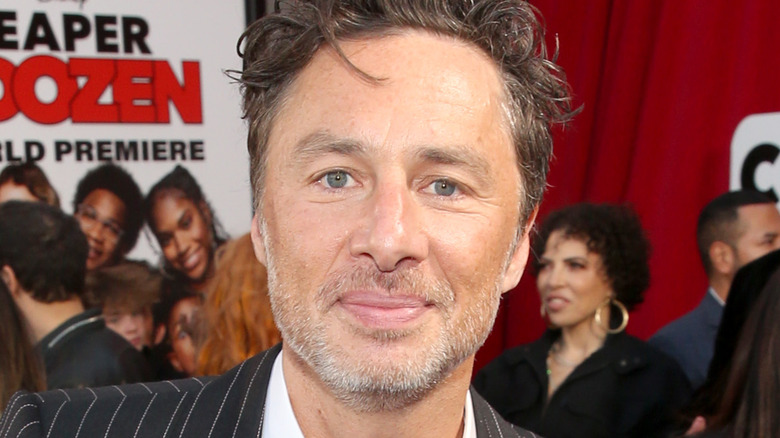 Jesse Grant/Getty Images
Zach Braff may be best known as J.D. from "Scrubs," but recently he has taken on a new role — father of 10. Well, at least in his latest film, "Cheaper By the Dozen," which piggybacks on both the 1950 and 2003 films of the same name.
Currently streaming on Disney+, the 2022 iteration of "Cheaper By the Dozen" follows the Baker clan, a multi-racial, blended family that runs their own restaurant and sells their own "Hot, Sweet, and Spicy" sauce. Starring Braff and Gabrielle Union as heads of the household, the pair takes on anything and everything that life throws at them. That includes dealing with each other's exes, played by Erika Christensen and Timon Kyle Durrett, respectively.
Braff's Paul Baker character particularly has a strained relationship with his wife Zoey's ex-husband Dom (Durrett), who's a famous football player trying to re-connect with his children. It's an onscreen rivalry that leads to a hilarious scene where Paul and Dom go head-to-head. And it's a scene that Braff admitted made him "really nervous" during an exclusive interview with Looper. Here's why.
Braff spent weeks rehearsing for the big dance battle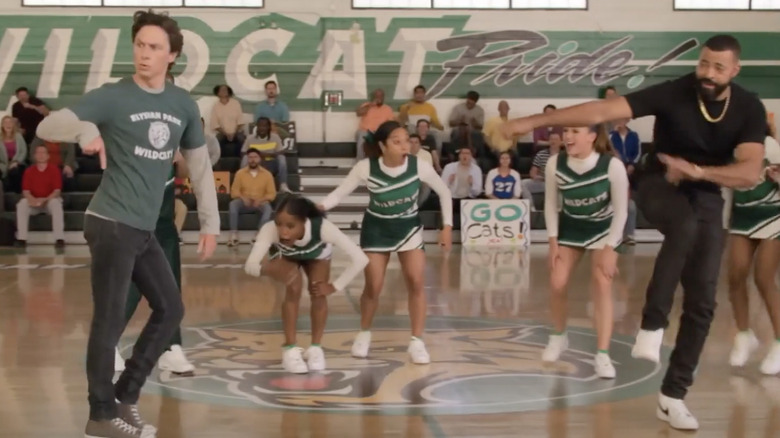 Disney+
Midway through "Cheaper By the Dozen," Paul and Dom both attend their daughter's basketball game, where they each try to one-up the other while cheering her on. This leads to an epic dance battle, where Zach Braff busts out his best skills, including TikTok-inspired moves, the moonwalk, and even a full-blown split.
But just how did Braff get so good? "I could not dance at all," he recently admitted to Looper. "I said to the producers, 'I need to start early.' They sent a hip-hop coach — which, of course, exists in Hollywood — and this amazing choreographer came over my house and she just started cranking music, and we were dancing around my gym and just feeling it out. Some of that stuff takes practice, like learning the moonwalk."
It took weeks of preparation for Braff to look as nerdy as he did on the "Cheaper By the Dozen" dance floor. After some one-on-one time with the hip-hop choreographer, he said, "We went into a full two weeks of dance rehearsal for the whole enchilada, with the real professional dancers." Braff added, "Even though we had practiced so much, I was still really nervous when we had to do it in front of all the background [extras] and the crew. I practiced a lot."
The only thing he didn't do himself? The split. "I have to admit ... The double did the split," he said. "They were like, 'Do you think you could do the split?' I was like, 'No, no, no. That's going to be the dance double.'"
"Cheaper By the Dozen" is now streaming exclusively on Disney+.