How Kevin Feige's Personal Life Inspired Moon Knight's Plot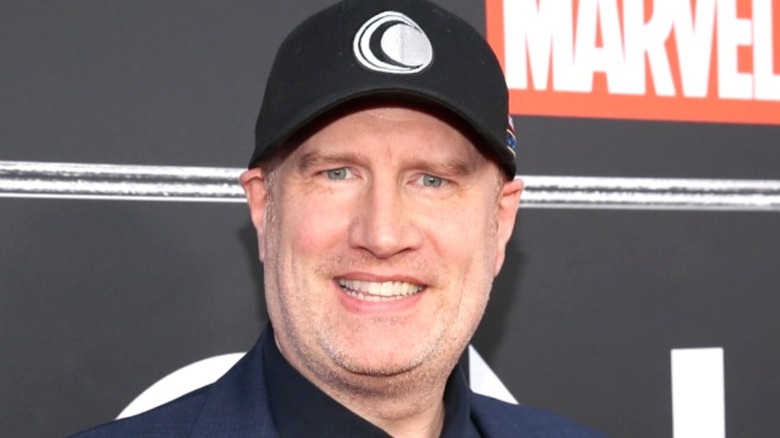 Jesse Grant/Getty
"Moon Knight" introduces a brand-new vigilante to the Marvel Cinematic Universe's pantheon of heroes in Marc Spector (Oscar Isaac) — a former mercenary with dissociative identity disorder (DID) who serves the Moon God Khonshu (F. Murray Abraham) and becomes embroiled in a plot to stop a dangerous cult. The group is led by the mysterious Arthur Harrow (Ethan Hawke), though at this time, it's not clear what Harrow's ties to the supernatural are. 
"Moon Knight" marks the latest live-action Disney+ show from Marvel Studios, after the likes of "WandaVision," "The Falcon and the Winter Soldier," and "Loki" have proven huge successes. "Moon Knight," though, rather than using an existing MCU character, is leading the charge for new characters to step into the spotlight. Following Spector will be Iman Vellani's "Ms. Marvel," and then Tatiana Maslany's "She Hulk" — so it's clearly a great time to be a Marvel fan. 
In the grand portrait of Marvel characters, though, Moon Knight's quirky and dark mythos stands out from the rest. The footage released so far has shown the hero mercilessly beating up giant monsters and using his crescent moon shaped knives against his enemies, as well as giving glimpses into the show's focus on mental health — and also notably, an intriguing look at the role ancient Egyptian mythology will play in the series.
The introduction of Khonshu, and Egyptian deities, already marks a huge shift for the MCU, which has previously only dealt in Norse gods. As it turns out, the decision to focus on the Egyptian aspects of Moon Knight's story was inspired by the personal experiences of Marvel head honcho Kevin Feige.
Kevin Feige wanted to capture the excitement of his childhood fascination with ancient Egypt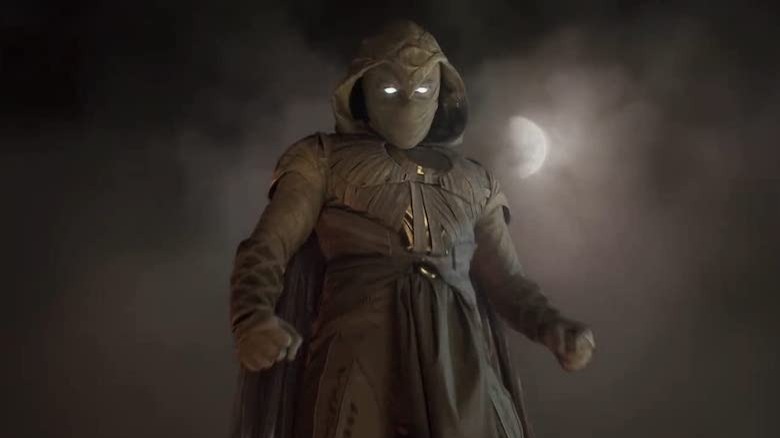 Marvel Studios/Disney+
No, Kevin Feige wasn't a caped crusader in his youth — that we know of — however, he was hugely interested in ancient Egyptian history. 
When speaking to Collider about developing "Moon Knight," executive producer Grant Curtis discussed what it was like working in the writing room, and how the team figured out their approach to a hero who has been portrayed in many fascinating ways in the comics. He explained that although they'd already figured out a few solid ideas, the writers hadn't found a core feeling or tone to tap into — until Kevin Feige shined the light. As Curtis explains, Feige offered guidance on the correct way to make Moon Knight stand out from other Marvel characters, by recalling an anecdote from his teenage years. Curtis explained, "[Feige] said 'hey, I absolutely remember being a kid in Brooklyn, and my parents putting me on a train into Manhattan, and standing in a line that wrapped around the block as I was waiting to get into the latest Egyptian art exhibit that was going through the country.'" 
Curtis went on to say that Feige's interest in Egyptian art and mythology helped the writers aim towards a unique atmosphere, saying that Feige told them, "'If we can grab onto that excitement I found as a kid with all those Egyptology aspects and the natural globetrotting narrative Moon Knight has specifically in his origin story, if we can lean into that, we have a series.'" 
Bringing a sense of exploration and adventure to the series definitely follows the path of Moon Knight's best comics adventures, and it'll help explain this complex character to new audiences. Let's just hope it's worth the wait.