The 13 Going On 30 Scene That Almost Made Mark Ruffalo Quit The Movie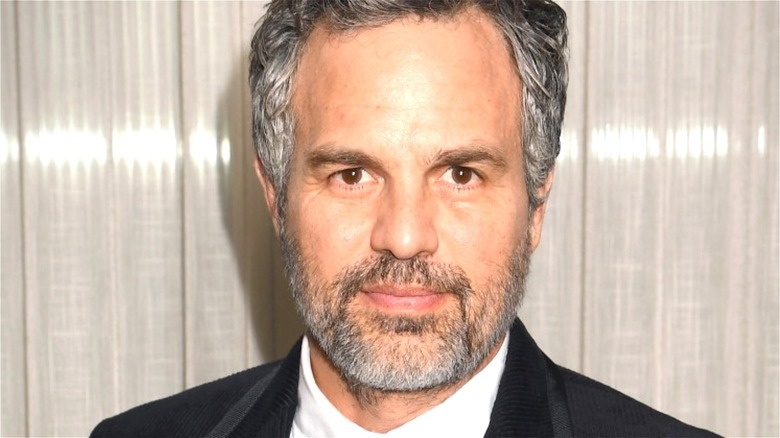 Dave J Hogan/Getty
Over the years, the early-aughts film "13 Going On 30" has become a staple of the romantic comedy genre. As one critic noted in 2019, "It did okay at the box office, but earned a second life as a sleepover favorite" (via AV Club). The movie follows protagonist Jenna Rink (Jennifer Garner), an insecure 13-year-old who suddenly finds her birthday wish fully realized: She wakes up in the future as the 30-year-old version of herself. To Jenna's delight, she discovers that she has a highly successful job in New York City at Poise fashion magazine. As she strives to make the most of her newfound adulthood, she reunites with her childhood best friend, Matty Flamhaff (Mark Ruffalo).
Throughout the movie, Ruffalo shines as Jenna's kindhearted love interest, effectively "establishing romantic-comedy leading-man credentials" (via Variety). His character, an understated, funny photographer, helps Jenna with a key marketing photoshoot for Poise. Recently, fan-favorite moments from the movie have popped up on social media platforms like TikTok and YouTube. Ariana Grande famously recreated an iconic scene from the film in her music video "Thank U, Next" in 2018. Two years later, Christa Allen, the actress who played the teenage Jenna, reenacted Jennifer Garner's role on TikTok, including her earnest conversations with Ruffalo's Matty (via PopBuzz).
In light of the movie's resurgence, it may be difficult to believe that there were certain parts of "13 Going on 30" that almost didn't reach the big screen. One scene even supposedly left Ruffalo debating whether or not to leave the entire production.
Ruffalo didn't want to dance in the movie
In one climactic "13 Going On 30" scene, Jenna eagerly arrives at a work party, only to discover a large, empty dance floor. Her coworkers nonchalantly stand around, refusing to engage with the music. Determined to make the most of the situation, Jenna requests that the DJ play Michael Jackson's "Thriller." Soon after, she encourages the recalcitrant Matty to join her, culminating in the duo leading a rendition of the "Thriller" dance in front of an enthusiastic crowd.
In a video for theSkimm, Jennifer Garner revealed that Mark Ruffalo initially struggled with rehearsals for the famed routine. Unlike the actress, he didn't have a childhood background in dance and found practices stressful. Laughing, Garner added, "He came in and he hated the rehearsal process so much he almost dropped out." Luckily, any concerns regarding the scene have clearly dissipated. When People magazine shared Garner's story on an Instagram post, Ruffalo hopped into the comments, writing, "Matty had to be dragged out on that dance floor as well, poor guy. But all this time later he is grateful he did" (via ComicBook.com).
To the thrill of rom-com fans, Garner and Ruffalo reunited in the 2022 Netflix film "The Adam Project." While shooting, the two actors recreated the final scene from their 2004 movie on Instagram, showing Garner and Ruffalo once again curled up on a couch outside. Even after all these years, Jenna and Matty remain a top-tier rom-com couple.