What Young Jenna Has Been Up To Since 13 Going On 30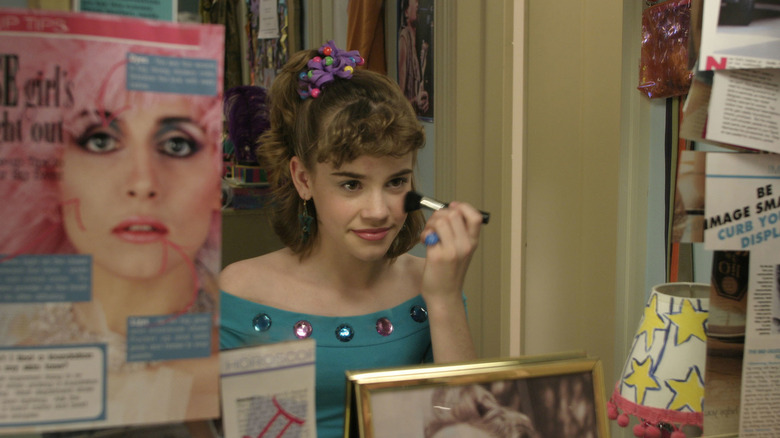 Columbia Pictures
In the 2004 film "13 Going on 30," young Jenna Rink (Christa B. Allen) makes a wish and wakes up to find it has come true. Overnight, 17 years have passed. Instead of being stuck in her humiliating life as a teenager, she's all grown up, a 30-year-old woman (Jennifer Garner) with a swank Manhattan apartment and a job at her favorite fashion magazine.
The role was a big break that launched Allen from commercials, student films, and voiceover work straight into the heart of Hollywood. "Time of my life. That was my first big Hollywood project," she said in College Magazine. "I didn't know what was going on around me, I was just there to have fun. At 12 years old, you just want to have fun, and so I did. It taught me a lot and gave me a good setup for the rest of my career."
These days, Allen is all grown up, and has built a Hollywood resume that her 12-year-old self would be proud of.
Allen's success continued as a teen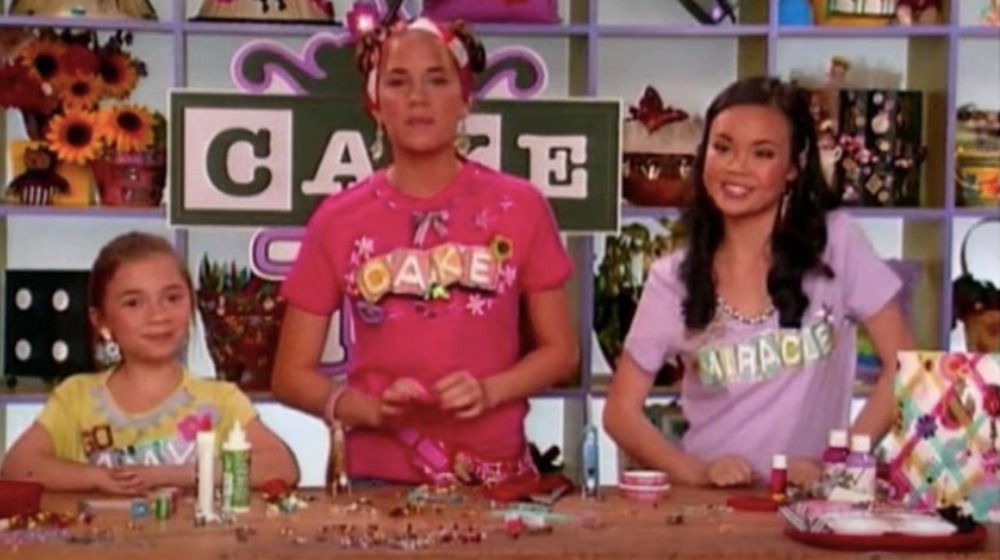 CBS
In sharp contrast to young Jenna Rink's reality, Christa B. Allen spent her teen years as a starlet with roles in several films and TV shows. In 2006, she landed the lead role in CBS's "Cake," playing the part of a girl who hosts a cable access show with two friends. While the sweet series lasted only one season, Allen went on to more guest spots, and in 2011, she was cast in a main role on the ABC drama "Revenge."
As Charlotte Clarke/Grayson, 19-year-old Allen took on significant acting challenges. Through four seasons, her complex character went through rehab, lost a pregnancy, and dealt with difficult family secrets. An actress determined to stay in the game, Allen appreciated the opportunity to work on the series.
"It's nice to be part of a show where I feel like we have a really collaborative environment," she told Refinery29. "I can always have input on the show and the character."
She also enjoyed playing Charlotte because she felt fans could appreciate the character's struggles.
"We're all people on this earth going through similar experiences. It's worth opening up to and realize we're all in the same boat together. We're not alone," she continued in College Magazine. "I think that's why people are drawn to 'Revenge.' There's a character and an experience that everyone can relate to."
She's never forgotten her early role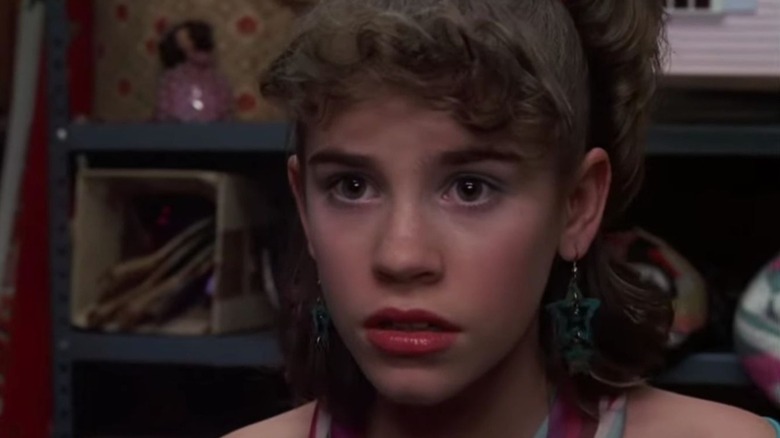 Columbia Pictures
Aside from "Revenge," Christa B. Allen snagged a recurring role on the sitcom "Baby Daddy." Borrowing plot elements from "Three Men and a Baby," the series focuses on the story of Ben (Jean-Luc Bilodeau) who raises his daughter with the help of his brother, Danny (Derek Theler), and friends, Riley (Chelsea Kane) and Tucker (Tahj Mowery). Allen joined the cast in Season 4, as Danny's corporate attorney girlfriend, Robyn. She went on to appear in several made-for-TV movies, proving her versatility with lead roles in TV films like the horror mystery "One of Us," and the thriller "Dying for a Baby."
Since "13 Going on 30," Allen has been told she's grown up to look like her original costar, Jennifer Garner. The actress even recreated some moments from the movie, dressing up as the older version of Jenna Rink. In 2020, she took to TikTok to recreate the "Thriller" scene, and in 2021, she used Instagram to respond to a hater's comment: "Stars in one movie, never lets you forget it."
"You know what? You are rude and mean and sloppy and frizzy. I don't like you at all," Allen quipped in the Instagram video, quoting one of her lines from the film. As she continues to add credits to her acting resume, Allen's adult roles prove a far cry from a 13-year-old who wants to be an adult, but she hasn't forgotten the angst-filled teenage character that launched her career.
She won an award for her work on Cake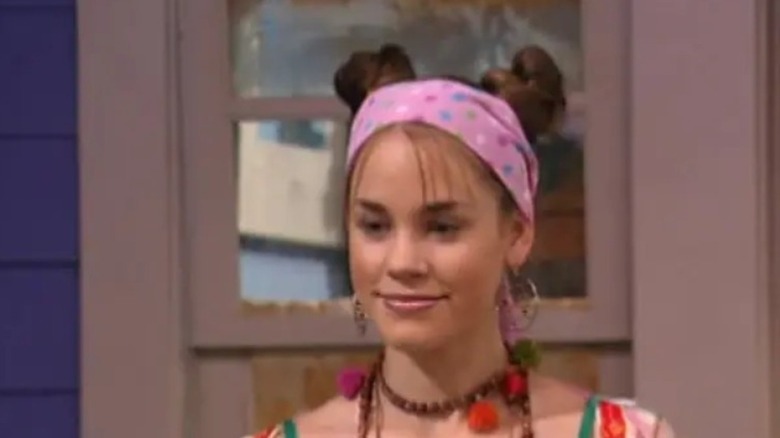 CBS
Despite the short-lived, one-and-done life of "Cake," Christa B. Allen was recognized for her stellar work on the TV sitcom. "Cake" marked Allen's first lead television role and along with "Dance, Dance, Dance!" was one of two live-action features in the CBS Saturday morning kid's lineup. The children's show centers on the titular teenage character, Cake (Allen), who, along with her best friend, Miracle (Anna Maria Perez de Tagle), and neighborhood kid Amy (Emily Everhard), hosts a public access arts and crafts television show. The show is shot in Cake's garage, encourages kids to use creativity in arts and crafts, and is directed by her friend, Benjamin (Keegan MacFaden).
Through its 13 episodes, the light, feel-good storylines of the sitcom offered fun fodder for creative kids. Many of the episodic plotlines center on silliness. For instance, the episode, "You Tell Her" centers solely on Miracle's need to take a shower. However, at times, the show's comedic themes and dialogue touched on deeper topics — victims of natural disasters, how to handle conflict, and goal-centered living all play a role in the overall plot. Allen's work on "Cake" marked her first lead television role, and she won a Young Artist Award for leading young actress (best performance in a TV series).
Allen played another young Jennifer Garner character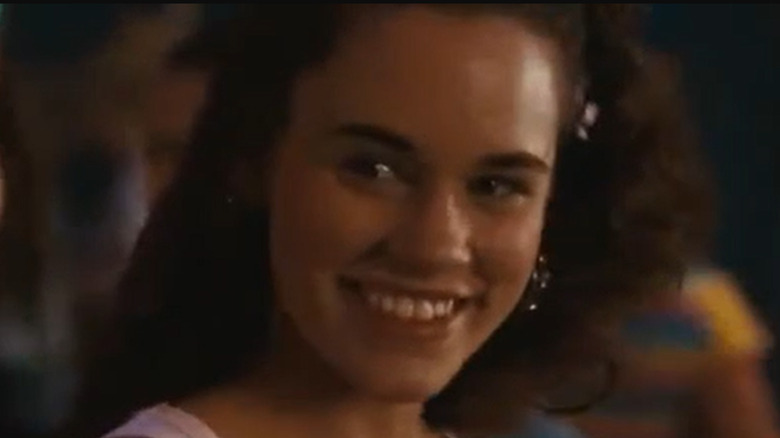 Warner Bros.
After portraying a young Jenna Rink in "13 Going on 30," Christa B. Allen stepped up to play a younger version of another Jennifer Garner character. In "Ghosts of Girlfriends Past," Allen channels her inner Garner in her role as the teenage Jenny Perrotti. Released five years after Allen and Garner's debut pairing, "Ghosts of Girlfriends Past" centers on Connor Mead (Matthew McConaughey), a womanizer haunted by his old romances. Connor and Jenny connect during their formative years, and by the end of the film, Connor realizes that adult Jenny (Garner), the "one who got away," is his true love.
Allen seems like an obvious choice to play the teenage Jenny, but her role came via Garner's recommendation. Allen told Entertainment Tonight, "I will just say that me playing her in 'Ghosts of Girlfriends Past' was a function of Jennifer speaking up, they were looking to cast the role and they were like, 'We don't know what to do. We're trying to find a younger you,' and Jen was like, 'Call up Christa. She's done this before and she's good at it." As an adult, Allen may have grown out of her ability to play a teenage version of Garner, but perhaps the actresses could play sisters in a future film.
She guest-starred on network hits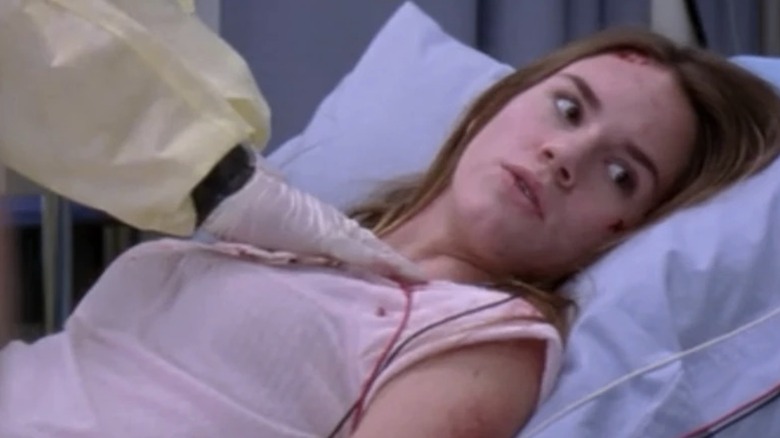 ABC
Between lead performances in television shows and made-for-TV movies, Christa B. Allen continued to hone her teenage acting chops in guest appearances on long-running hit TV series. From 2008 to 2010, she appeared in one-off character roles "Grey's Anatomy," "ER," "Cold Case," and "CSI: Crime Scene Investigation." In each of these dramas, Allen transformed into a girl in traumatic circumstances — she played a car accident victim, an assault victim, a former girlfriend of a murder victim, and a poison victim (respectively).
These tragic roles allowed the actress (who had appeared in comedies throughout her young career) to show off her dramatic skills. For example, in Season 5 of "Grey's Anatomy," she guest-starred as Holly Anderson, a teenager who was texting while driving, got into a severe accident, and later died. In Allen's limited scenes as Holly, her character arc gave her the opportunity to display a wide range of emotions. After her guest star appearances, Allen began to take on meatier roles, and shortly after her "Cold Case" appearance, landed lead character parts in the soapy TV movie "Deadly Sibling Rivalry" as Fiona, the daughter of Janna (Charisma Carpenter), who suspects her mother's coma was caused by her evil Aunt Callie (also played by Carpenter), and as Charlotte on "Revenge."
She played the queen of sin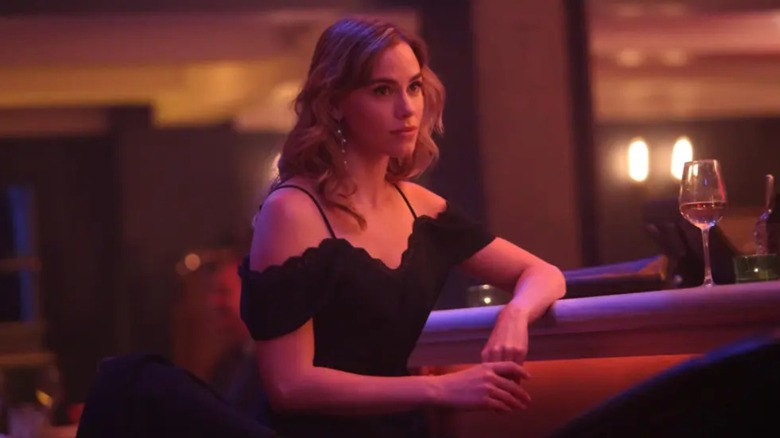 Lifetime
As an adult, Christa B. Allen has become a semi-regular staple of Lifetime TV movies. She's starred in multiple films for the cable channel, including "When Vows Break" and "Family of Lies." The actress took on the complex role of Posy Pinkerton in "Dangerous Seduction" (alternately known as "The Queen of Sin"). In the movie, Posy is a responsible engaged doctor who wants to let loose before she gets married. She has a chance encounter with the mysterious, charming Jack (Richard de Klerk) who convinces her to create an alter ego, and the "Queen of Sin" evolves. As the Queen of Sin, Posy explores her basest instincts but never truly gives in to them before finding a way back to her inherent goodness. She realizes that Jack is evil after he helps to kidnap her, but her feelings for him are complicated.
Allen embraces her role as the conflicted Posy and oozes authenticity despite an over-the-top storyline. Although Allen got her start in comedy, her adult roles have all been steeped in tragedy and drama. In an interview with Starry Constellation Magazine, Allen talked about her dramatic Lifetime roles and said, "I've been told I have resting sad face, so I think it just works. I'd love to do more comedy in the future."
Allen also starred in a movie about racial injustice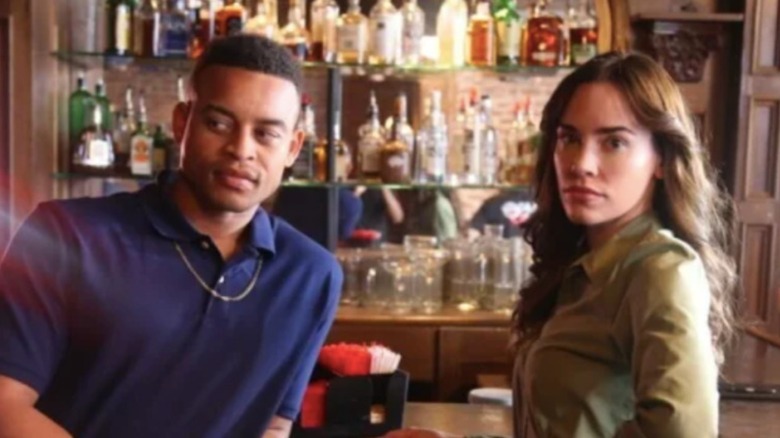 Lifetime
Christa B. Allen's roles in Lifetime movies aren't limited to soapy dramatic characters, as she shows off her acting chops in timely, layered roles, too. In 2021, she starred in the thought-provoking TV film, "The Fight That Never Ends." Allen portrayed Joanne Beck, a Jewish television producer who falls in love with Jay Hunter (Robert Ri'chard), a Black gang leader. Together they fight against racial hate and give back to their community. Set against the backdrop of 1990s South Central LA and the Rodney King riots, "The Fight That Never Ends" explores themes of interracial relationships, racial injustice, and how we can collectively combat hate and oppression to bring about equality.
Based on the real-life experiences of Joanne Beck and her fight for social reform, the movie asks hard questions of its audience that remain resonant today. Allen spoke with MediaVillage about the film and said, "I immediately loved the story and the character of Joanne so much, I would have done anything to play this role." She went on to explain the responsibility she felt to tell Joanne's story correctly and how the story proves that unlikely people can unite and positively impact the world. "There's a need for good leadership in the world today, and I hope that people are inspired by that aspect of the story. We're more powerful together," she shared.
She's still friends with Jennifer Garner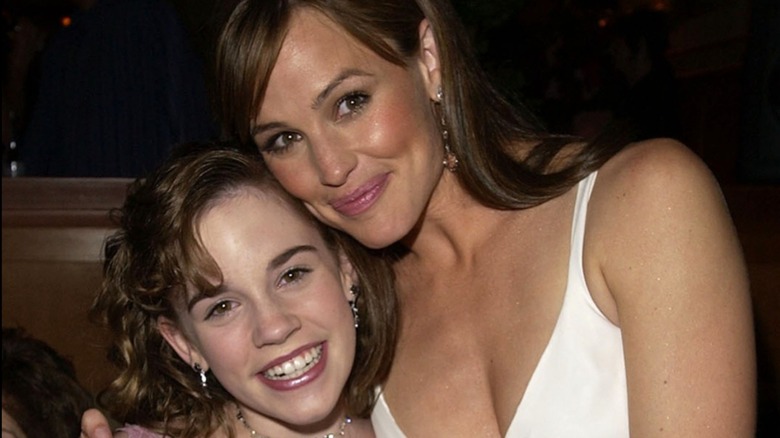 Michael Caulfield Archive/Getty Images
"13 Going On 30" gave Christa B. Allen her first major feature film role and a close relationship with Jennifer Garner. The seasoned actress took Allen under her wing and tried to impart the career lessons she'd learned through her years in Hollywood. Allen holds Garner in high regard and still remembers the wise advice her friend gave her. As she turned 30 herself, Allen reflected on her friendship with Garner and the valuable advice Garner shared with her.
In an interview with the Today Show, Allen shared that Garner encouraged her to live a life outside of the acting world and draw on her own experiences to inform the characters she plays. The actress also sang Garner's praises and gushed, "I think she has this persona of being very sweet, and kind, and welcoming, and she was that then, and she is that now." When Allen turned 30, Garner took the time to wish her a happy birthday in a since-deleted Instagram post (via Entertainment Tonight), and included a shout-out to Allen's portrayal as the teenage Jenna in their first film together.
Allen is a popular TikTok creator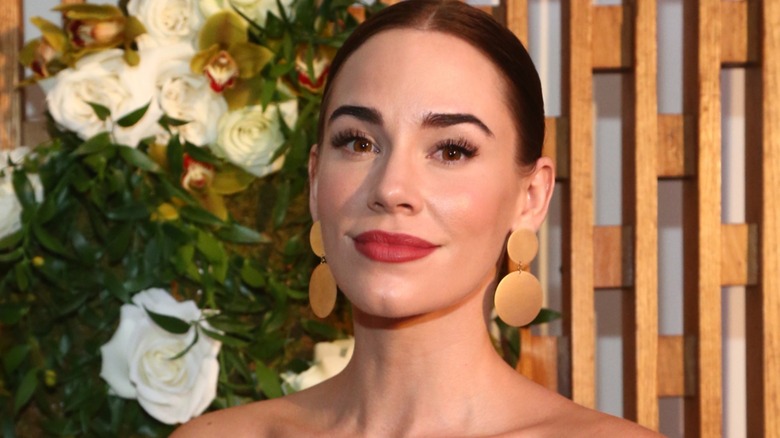 Tommaso Boddi/Getty Images
Although Christa B. Allen is active on Instagram and X, the platform formerly known as Twitter, TikTok has launched her into a new stratosphere as a social media content creator. Since launching her popular channel, Allen has amassed over 1.8 million followers and over 42 million likes on her TikTok account, as opposed to less than 100,000 followers on X and 518,000 followers on Instagram. According to Bustle, the actress began her TikTok channel in the thick of the COVID-19 pandemic shutdown and quickly gained a following by posting makeup tutorials and "13 Going on 30" inspired videos. In an interview about her newfound role as a beauty influencer, the actress told Allure, "I'm super nosy about anything to do with progress and innovation. If there's new technology, new developments in beauty, I'm just curious."
In 2022, Allen sparked a rumor mill when she posted a TikTok video of herself and rapper The Game kissing. Although the actress alluded to a relationship in the video's caption, The Game went on record with People and stated that the two shared mutual friends, but were never romantically involved. In 2022, Create & Cultivate named Allen as one of the top 10 content creators to follow. The honor was bestowed on 10 women who use their unique voices and perspectives as social influencers.
She was initially left out of the Revenge reunion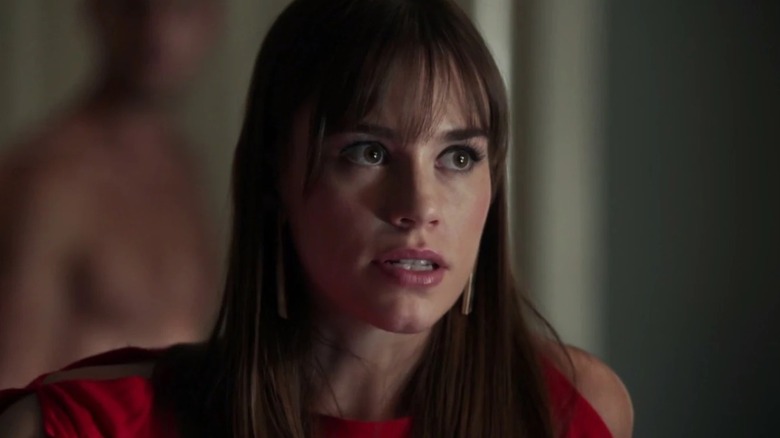 ABC
For the entire four-season run of "Revenge," Christa B. Allen portrayed Charlotte Clark (originally known as Charlotte Grayson). A socialite and heiress, Charlotte stands out from the corrupt and power-hungry Grayson clan with her honesty and compassion. Although the nighttime soap opera's storylines don't typically center on Charlotte, her character remains pivotal to the character arcs of Amanda (Emily VanCamp) and the Grayson family. Allen's debut as Charlotte begins in the Season 1 pilot episode, and her last appearance as the character comes in the Season 4 finale, "Two Graves."
As Allen played an integral role on the show, she should have been included in any organized reunion of the "Revenge" cast and crew. Unfortunately, when a virtual reunion was planned for February 2021, Allen claimed she wasn't invited to participate. In January 2021, the actress wrote a since-deleted Instagram post (via US Weekly) about her exclusion that said, "I'm getting a lot of DMs about the Revenge virtual reunion happening on February 6th. Of course I would've loved to be there with you all, but as per usual I was not invited." In an interview with E! News, the reunion's organizer and founder of Winklepicker Entertainment, Mark Wright, blamed the limitations of the event's hosting platform and said that they'd extended the number of participants who could join and included Allen in the extended invite.
She's a singer-songwriter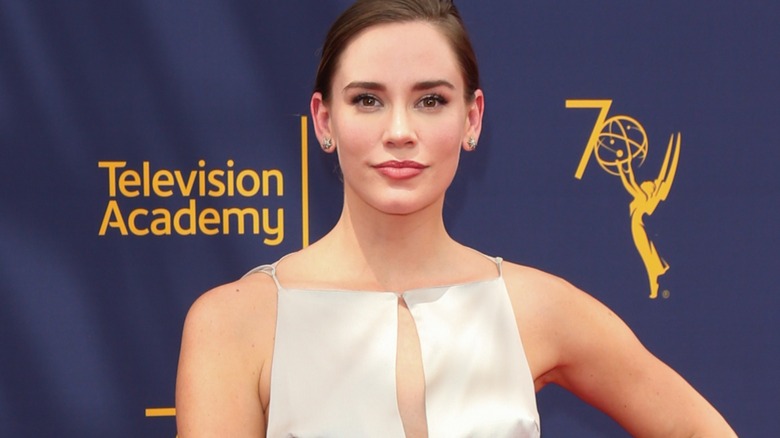 Paul Archuleta/Getty Images
Along with her steady acting career and sizable social media following, Christa B. Allen can add singer-songwriter to her impressive resume. In 2018, Allen joined then-boyfriend and songwriter Johnny What in the studio to record music. Although Allen hadn't pursued a music career before, What, a member of the alternative pop trio Bråves (a band that famously declines to show their faces in videos or photos) is also a music producer who has previously worked with bands such as Fitz and the Tantrums and Walk the Moon. The couple decided to collaborate, and under the moniker Pour Vous laid down tracks that reflect love and relationship issues.
Allen's lead vocals on the band's singles exude an ethereal quality reminiscent of Portishead's Beth Gibbons. In an interview with Lapalme, she discussed her transition from acting to singing, and said, "With acting, you can't get anything done with less than 30 people minimum. There are a lot more hoops to jump through. So music is really satisfying in that way — it's like instant gratification." Allen and What released each recorded track as a single rather than a full EP or full-length album, and told Billboard that their relationship provided the framework for the songs that they co-wrote. In 2018, Pour Vous released six tracks, but there's no word on whether or not Allen and What will collaborate again.

Allen joined the Hallmark Christmas family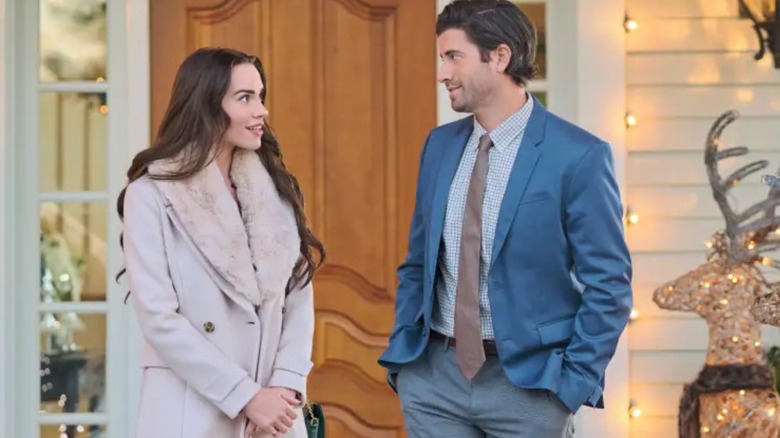 Hallmark Channel
Christa B. Allen first appeared on the Hallmark Channel in the 2009 TV movie, "Chasing a Dream" alongside the late Treat Williams, a frequent Hallmark movie lead. However, it wasn't until the 2021 film, "Christmas for Keeps" that Allen joined the Hallmark Christmas family. The channel's feel-good, formulaic TV Christmas films have long included TV and film stars as cast members, including Lacey Chabert, Danica McKellar, and LeeAnn Rimes, so Allen joins auspicious ranks.
In "Christmas for Keeps," she portrays Avery Taylor, a woman who, along with her old high school group of friends, returns to her small town to celebrate the life of Mr. Massey (Everick Golding), their former drama teacher who died unexpectedly. Avery and her friends sponsor a toy drive in Mr. Massey's honor. As is to be expected in a Hallmark Christmas movie, the spirit of Christmas infuses them all, and Avery and her childhood best friend, Ben Tillman (Ryan Rottman) reconnect and fall in love. Although the storyline of "Christmas for Keeps" is predictable, Allen infuses her performance with authenticity.
She moved to Miami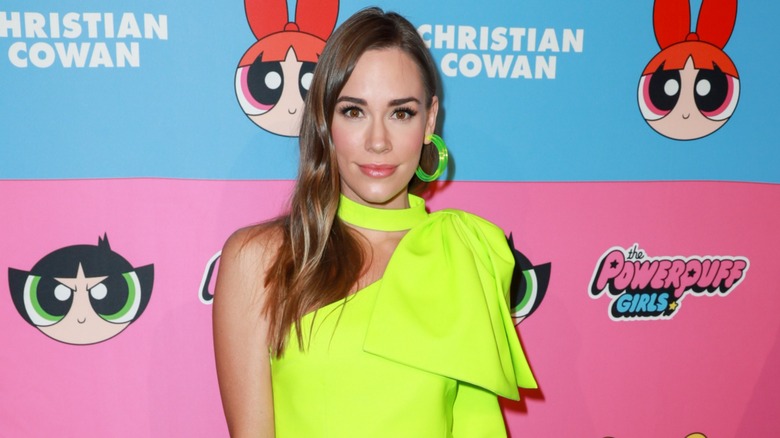 Rich Fury/Getty Images
Many actors who want to work regularly in TV and film ensure that they live close to New York City or Los Angeles, as most studio lots and production houses are located in either city. However, Christa B. Allen chose to escape the limelight of Hollywood life and as an adult relocated to Miami. The actress told OceanDrive that "in Miami, we live and breathe joie de vivre. We dance, eat, and soak up the sunshine. It seems like small things, but it really means the most to me — so much of the enjoyment of life gets lost in the competitive nature of Los Angeles, and I needed a break."
The actress went on to explain that she'd never relocated from Southern California — she grew up there and stayed through adulthood as she found steady acting work. She also expressed her gratitude for life, and for new experiences. Allen often showcases her life in Miami on her Instagram account and posts TikTok videos about her new home.
Allen keeps a playful outlook on life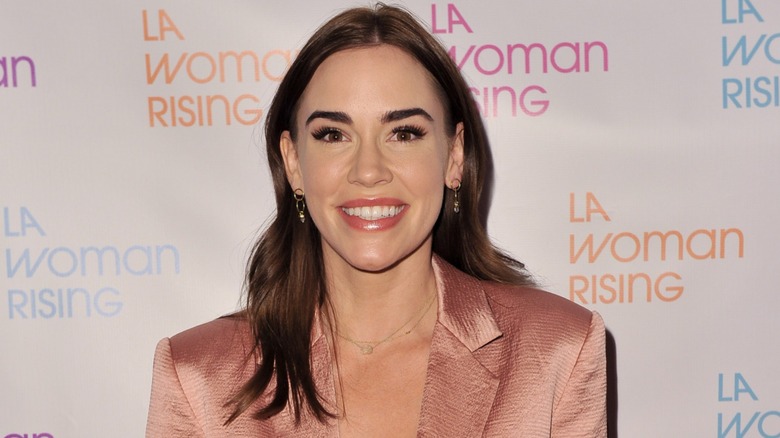 Allen Berezovsky/Getty Images
As a social media influencer, Christa B. Allen injects her perspective on life into her posts. Whether she's promoting a beauty product or sharing a humorous video, she shares positive messages, and the actress loves to take breaks from work to play. For instance, she captioned an Instagram photo with the following mission statement, "My wish for my life is that I never stop playing, no matter my age. creativity and learning happen in play. I will never let the opinions of others stop me from embracing the playful nature within that serves my highest growth."
Allen continues to explore and find her way through life without letting her acting career dictate her personal choices. In a podcast interview with Hey Now! Hey Now!, she shared that she thinks it's important to live without regrets, and she seems to take her own advice. After "13 Going on 30," she managed to avoid the publicized obstacles that befall some young performers, and as an adult, she still finds acting roles yet branches out into other forms of professional entertainment as well.