The Hitman's Bodyguard Impresses While Logan Lucky Crumbles At Weekend Box Office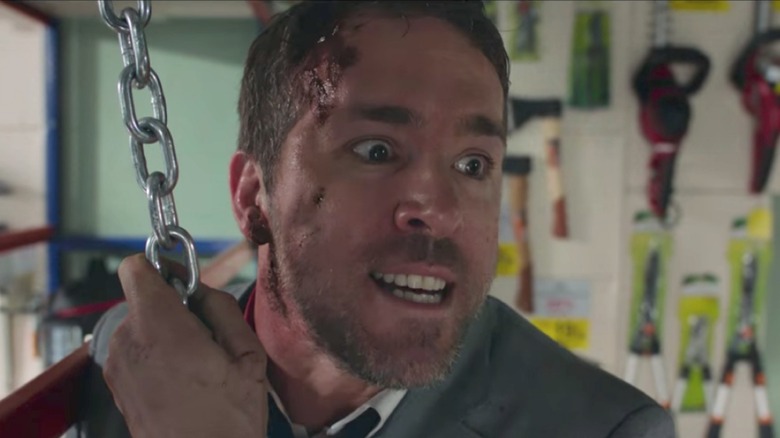 The Hitman's Bodyguard punched its way to the top of the box office this weekend, while Steven Soderbergh's experiment Logan Lucky failed to live up to its name. 
The Hitman's Bodyguard, which stars Ryan Reynolds as an executive protection agent tasked with protecting Samuel L. Jackson's hitman from a ruthless dictator played by Gary Oldman, was initially tracking for an $18 million opener, but that number was later bumped up to $20 million. The movie, which also stars Elodie Yung and Salma Hayek, ultimately ended up defying both of those expectations, bringing in a solid $21.6 million. This is good for first place and is a very solid showing for the action comedy, especially during a disappointing August. 
This is also impressive against mostly negative reviews, with the movie falling at just a 38 percent on Rotten Tomatoes. However, the film holds a B+ CinemaScore and a 75 percent audience score on the same platform, hinting that viewers responded better than critics. "The Hitman's Bodyguard is generating great word of mouth among moviegoers," Lionsgate's distribution president David Spitz told Variety. "It has a clear runway in the weeks ahead, and we expect it to play well right into September."
This weekend's other new wide release, Logan Lucky, was much less of a success story. Channing Tatum stars in the movie as Jimmy, a down on his luck former construction worker, who, after losing his job, decides to team with his brother Clyde (Adam Driver) to rob the Coca-Cola 600 race, the biggest race of the year at the Charlotte Motor Speedway. Daniel Craig, Katie Holmes, Riley Keough, and Hilary Swank are among the rest of the star-studded cast for the film, which was a favorite with critics, falling above a 90 percent on Rotten Tomatoes.
That stellar reception wasn't enough to push the movie to a big box office haul, though. The film brought in just over $8 million in its opening weekend, on the low end of expectations and a disappointing figure for Soderbergh's creative marketing strategy, which he mostly controlled himself. The movie also earned only a B CinemaScore and a 78 percent audience score on Rotten Tomatoes, suggesting audiences didn't necessarily love what they saw.
Last weekend's winner, Annabelle: Creation, took second place with an impressive $15.5 million. The movie, which recently helped push the Conjuring franchise past $1 billion worldwide, should continue to do well throughout the month, with positive reviews and a lack of horror competition likely pushing it to the top until Stephen King's IT hits theaters (likely in a record-breaking way) early next month.
The top five was filled out by Christopher Nolan's Dunkirk, continuing to show strong after over a month in theaters, and last weekend's animated disappointment The Nut Job 2: Nutty By Nature. The other notable story of the weekend is Jeremy Renner and Elizabeth Olsen's thriller Wind River breaking into the top ten despite playing in only 694 theaters. The movie's $3 million haul is good for a $4,359 per theater average.
You can view this weekend's full box office results (via Box Office Mojo) below. 
Top 10 Weekend Box Office Gross
1. The Hitman's Bodyguard: $21,600,000 (– percent), $21,600,000 Total Domestic Gross   
2. Annabelle: Creation: $15,500,000 (-55.7 percent), $64,044,221 Total Domestic Gross  
3. Logan Lucky: $8,050,182 (– percent), $8,050,182 Total Domestic Gross  
4. Dunkirk: $6,700,000 (-38.4 percent), $165,508,079 Total Domestic Gross  
5. The Nut Job 2: Nutty by Nature: $5,113,278 (-38.7 percent), $17,696,93 Total Domestic Gross  
6. The Emoji Movie: $4,350,000 (-32.6 percent), $71,767,352 Total Domestic Gross  
7. Spider-Man: Homecoming: $4,250,000 (-29.4 percent), $314,051,381 Total Domestic Gross  
8. Girls Trip: $3,844,030 (-40.6 percent), $103.986,175 Total Domestic Gross  
9. The Dark Tower: $3,720,000 (-52.4 percent), $41,604,378 Total Domestic Gross  
10. Wind River: $3,025,236 (+385.9 percent), $4,138,505 Total Domestic Gross