The Viral Theory That Could Prove Will Smith's Oscars Moment Was Staged
Silvia Elizabeth Pangaro/Shutterstock
Under normal circumstances, the day after the Oscars would entail discussions about whether the movie that won Best Picture was deserving of the award. Perhaps there would be a stunning upset to dissect or a long-overdue Oscar finally being awarded. 
However, last night's ceremony was anything but normal. 
While the ceremony started par the course with roasting and jokes that perhaps went too far, Chris Rock decided to up the ante. While presenting the award for Best Documentary Feature, he made a joke at Jada Pinkett Smith's expense, saying, "'G.I. Jane 2, can't wait to see it'" in reference to her shaved head, which is a result of alopecia. Will Smith then promptly walked on stage and smacked Chris Rock.
It may have elicited laughter from the audience initially, but it soon became all too clear this was no joke ... or was it? Some people on social media aren't convinced that the moment wasn't staged, and there's a good reason why the Oscars may have orchestrated such an event.
Many people on Twitter think the moment happened to boost ratings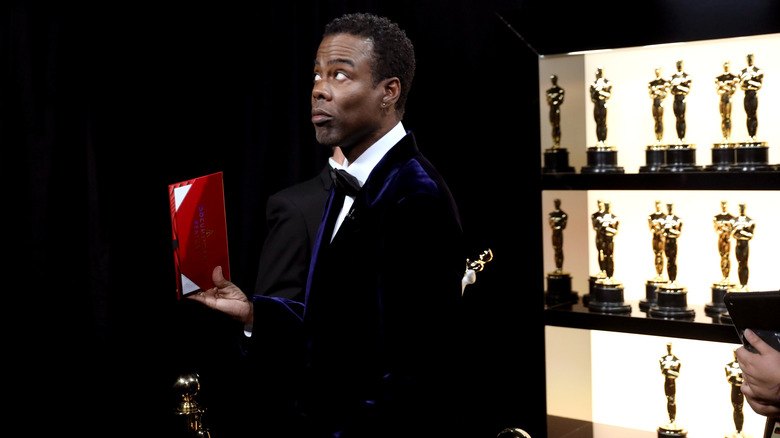 Handout/Getty Images
More likely than not, Will Smith's Oscars moment was genuine. As he shouted at Chris Rock, the emotion in his voice seemed to imply he was actually upset with the joke. Combine that with the fact he issued an apology during his acceptance speech for Best Actor for his work in "King Richard" instead of saying, "Hey, it was all a joke," it seems to add up to a human moment where Smith lost his cool. 
Still, there are always those who will look for conspiracies, and plenty of people on Twitter believe the moment was staged, all in an effort to boost the award show's ratings. Oscars ratings have slumped for years now, and there are those who think the show would go to extreme lengths to get more people to tune in. Twitter user @litcapital wrote, "All I'm saying is the Oscars was probably looking at the lowest ever ratings and had to cook up a viral moment." That sentiment was echoed by @hrkbenowen, who tweeted, "Did it ever occur to you that Will Smith assaulting Chris Rock could have been staged to increase the Oscars' low ratings?"
Hopefully, for next year's ceremony, the conversations the show inspires are about the movies themselves and not any scandalous moments.