The Two Iconic Comedians The Oscars In Memoriam Completely Forgot About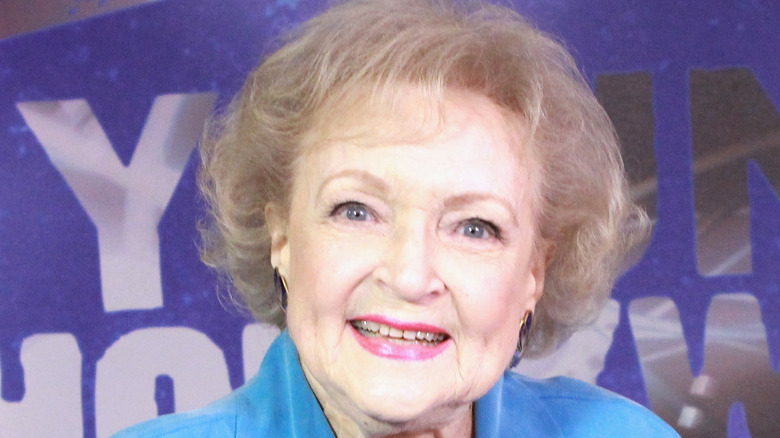 Young Hollywood/Getty Images
The In Memoriam segment of the 94th annual Academy Awards ceremony was a sad look back on the many talented people of Hollywood who have died within the last year. As always, this year's segment featured a long list of names, including everyone from directors like Peter Bogdanovich and Buddy Van Horn to actors like Norman Lloyd and Olympia Dukakis. 
While every person in the montage got at least a moment of remembrance, the late Sidney Poitier, Betty White, and Ivan Reitman all received extended, mournful dedications by notable stars who previously worked with the deceased artists. During the segment, Tyler Perry, Jamie Lee Curtis, and Bill Murray all appeared separately on stage to remember their respective friends.
However, as with nearly every year, the Academy also made a number of notable omissions, including two comedians who both sadly passed away within the last year. Of course, while most people on Twitter were busy buzzing about the Will Smith and Chris Rock incident, some fans were probably quite unhappy with these particular exclusions.
The Academy left out Bob Saget and Norm Macdonald
For reasons that are unclear, the Academy left out two of the last year's most notable deaths in the world of comedy. Unfortunately, neither "Full House" star Bob Saget, nor "SNL" star Norm Macdonald were included in the In Memoriam segment. Despite the fact that the actors and comedians both died within the last seven months, the Academy does not appear to have acknowledged their passings in the awards ceremony. 
Macdonald died at the age of 61 on September 14, 2021, nearly nine years after being diagnosed with leukemia. Despite the long amount of time between Macdonald's diagnosis and passing, his death came as a shock to much of the world. The former "Weekend Update" anchor chose not to share news of his health publicly, but did inform a few of his closest friends. Notably, this list of friends included Saget.
In the aftermath of Macdonald's death, Saget recorded a tearful, 37-minute remembrance of his longtime friend and shared it with his followers on YouTube. Sadly, Saget also died only a few months later. Saget died on January 9 at the age of 65, after suffering an accidental head injury in a Florida hotel. Upon his passing, many fans remembered Saget for his roles as Danny Tanner on "Full House" and as Old Ted Mosby on "How I Met Your Mother."
The snub of both performers is especially notable to fans not just because of the stature of Saget and Macdonald's work, but also because each performer made their own impact on the world of film throughout their legendary careers.
Both Saget and Macdonald had film careers
Although both Bob Saget and Norm Macdonald were best known for their work on TV and the stage, they do have film credits to their name. Macdonald was a regular of Adam Sandler movies, beginning with the classic 1995 comedy "Billy Madison." From there, he went on to appear in "Grown Ups," "Jack and Jill," and "The Ridiculous 6." Saget's own film career included small roles in movies like "Half Baked" and "Dumb and Dumberer: When Harry Met Lloyd." However, his most enduring film legacy may just be his work as a director. In addition to several documentaries and TV movies, Saget helmed the spoof film "Farce of the Penguins" and the indie comedy "Benjamin." 
Saget also directed Macdonald several times throughout both performers' careers. In the world of film, Macdonald starred in Saget's 1998 dark comedy "Dirty Work," about two down on their luck brothers who raise money for their father's heart surgery by performing unscrupulous acts of revenge for paying clients. While it's not necessarily the type of movie that is typically recognized at the Oscars, the fact that both performers did work in film makes it even tougher for fans to get over Saget and Macdonald's exclusion from the In Memorium segment.
"No Norm McDonald and Bob Saget it disrespectful. Crafting my strongly worded email to The Academy now," wrote Twitter user @Kait_Lately. They were one of many fans who noted the absence of either comedy icon at the 2022 Oscars ceremony. Twitter user @sydbox10 was no doubt echoing the befuddlement of many when they said, "Ummm where we're bob saget and norm McDonald in the Oscar's in memoriam?!??"
The absence of some notable dearly departed celebrities in the In Memorium segment is an Oscars tradition about as common as stunning gowns and surprise upsets, and this year, it was, unfortunately, Bob Saget and Norm Macdonald who missed the cut.