Why Thomas Rainwater From Yellowstone Looks So Familiar
Montana may look endless, but the characters of "Yellowstone" can't get enough of it, jockeying for possession over the Dutton family's Yellowstone cattle ranch. In one corner is Kevin Costner ("Dances with Wolves") as John Dutton, the landowner patriarch, in another is billionaire land developer Dan Jenkins (Danny Huston), and finally there's Chief Thomas Rainwater of the Broken Rock Indian Reservation. He wants to reclaim the land stolen from his people and isn't afraid of stealing some cows to do it, making him one of the most likable characters in "Yellowstone."
If he looks very familiar, that's because Rainwater is played by Gil Birmingham, who's been acting since the '80s. He's a favorite of "Yellowstone" co-creator Taylor Sheridan. In an interview with USA Today, Sheridan said, "I keep telling [Birmingham] I'm trying to make him too famous to take my calls. And we're getting there." In fact, the two of them have worked together before, so here's where you might recognize the talented actor from.
Gil Birmingham plays Jacob's dad in Twilight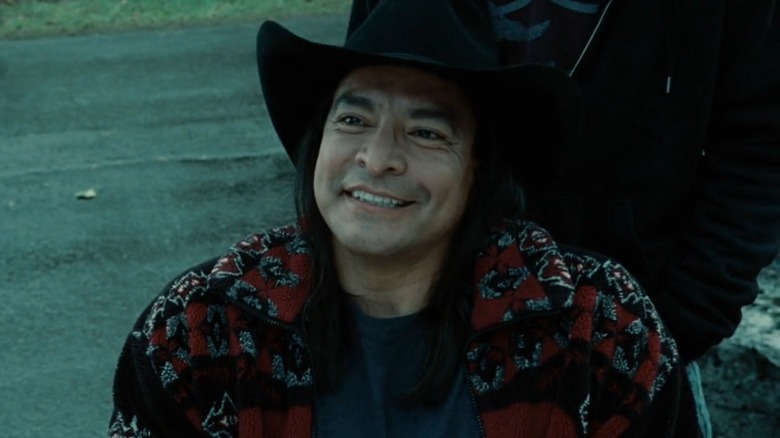 Summit Entertainment
Out of over 30 years of acting, Gil Birmingham probably got his biggest audience with "The Twilight Saga." He appears in the first four movies as Billy Black, the father of Bella Swan's (Kristen Stewart) werewolf love interest Jacob (Taylor Lautner), and council member of the Quileute Tribe. As the best friend of Bella's dad who has knowledge of vampires, Billy tries to persuade Bella to not date a Cullen. He fails, of course, and ends up attending Bella and Edward Cullen's (Robert Pattinson) wedding in "The Twilight Saga: Breaking Dawn – Part 1."
"The thing I try to bring out with Billy is that he is living with the history of the ancestors and has the larger universal view of what is going on," Birmingham told Peninsula Daily News. Billy himself never changes into a werewolf, but he passes it on to Jacob. "He sort of carries the key to the secret of the tribe," Birmingham said. However, since the "Twilight" series chooses the vampire over the werewolf, the movies don't delve too far into the reservation. "So, I think the [Native American] representation was a little less than I might have hoped for, as there was even more so in the books," Birmingham told Looper. "But I'm still happy to be a part of it."
He goes up against Frank Underwood in House of Cards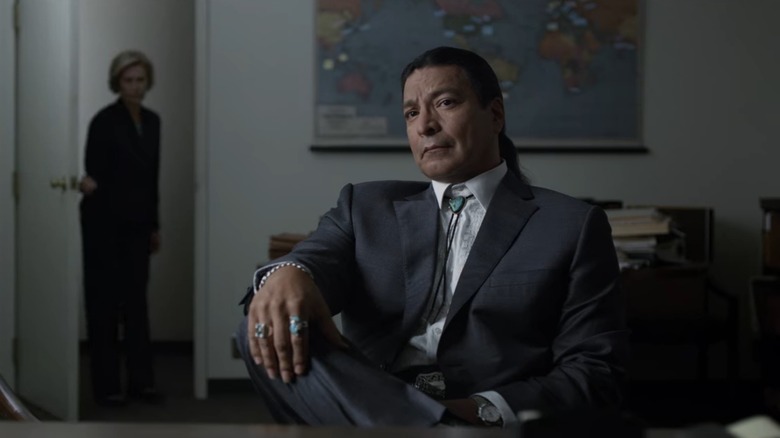 Netflix
After finishing up with "The Twilight Saga," Gil Birmingham found himself in another massively popular title, Netflix's political drama "House of Cards." Amidst the Underwoods' shady plots for power in the United States federal government, Birmingham comes into the latter half of Season 2 as the rich casino owner Daniel Lanagin. For four episodes, he's in the middle of the struggle between Frank Underwood (Kevin Spacey) and industrialist Raymond Tusk (Gerald McRaney). 
Lanagin's casino is used to launder money to whichever political party he and Tusk favor. This becomes a problem for Frank, as it's money coming from Chinese businessman Xander Feng (Terry Chen) that's going to the Republicans. Unwilling to give Frank what he wants, Lanagin faces off against him in several tense scenes. Ultimately, Lanagin's casino is key to the impeachment of the President and Underwood's rise to the office at the end of the season.
Birmingham teamed up with Jeff Bridges in Hell or High Water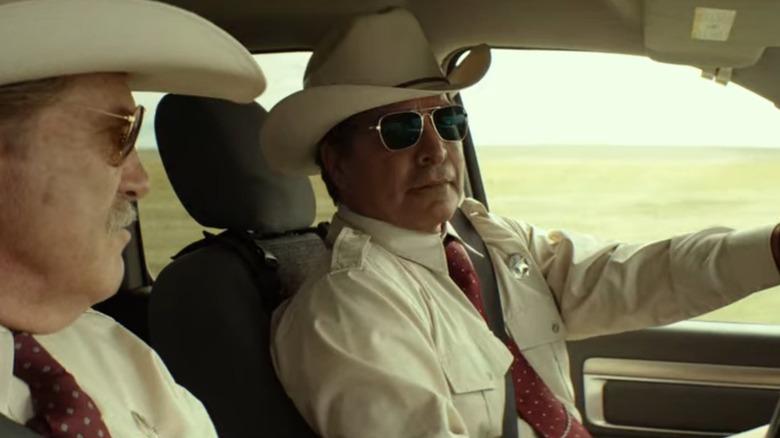 Lionsgate
Before "Yellowstone," Gil Birmingham worked with the show's co-creator Taylor Sheridan in the critically acclaimed film "Hell or High Water." He and Jeff Bridges play a pair of Texas Rangers pursuing bank-robbing brothers Toby and Tanner Howard, played by Chris Pine and Ben Foster, respectively. It's a role close to home for Birmingham, who was born in Texas and shares his Comanche heritage with his character, Alberto Parker. Portraying Native American characters with depth and not according to stereotypes is important to Birmingham. "I try to be honorable in my representation. I feel that responsibility," he told The Independent Critic. "If nothing else, if I can at least change or help change this ridiculous portrayal of the last 100 years then I'll be happy."
His character's partnership with Bridges' Marcus Hamilton is key to the movie. Birmingham told USA Today that they are "having a very difficult time telling each other how they've loved each other until something drastic happens. And that is really the condition of a lot of men, and their hesitancy or awkwardness to be able to express those kinds of things." Their characters are like family from working together so long, but off camera, Birmingham and Bridges connected over being musicians — Birmingham brought his guitar and they would jam together at the end of the day. "Every day, I was just pinching myself just thinking, 'I can't believe I'm doing a movie with just me and Jeff,'" Birmingham said (via The Independent Critic).
He's the father of an Indigenous woman who dies in Wind River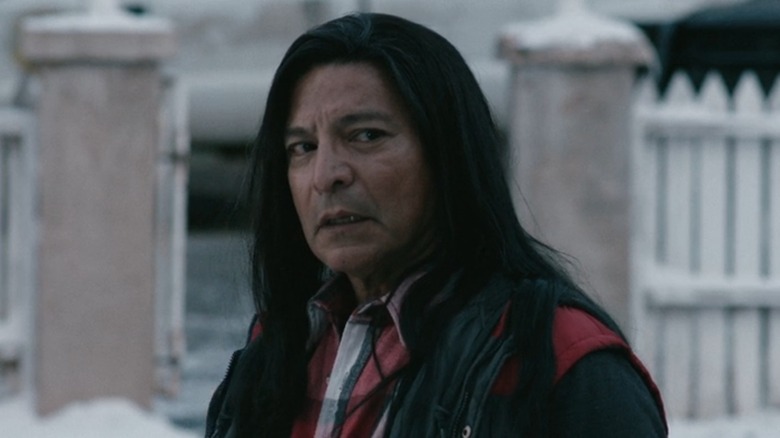 The Weinstein Company
Taylor Sheridan brought Gil Birmingham back for his next movie, 2017's "Wind River," which takes place in Wyoming, on the Wind River Indian Reservation. In the midst of winter, Jeremy Renner, playing U.S. Fish and Wildlife Service Agent Cory Lambert, and Elizabeth Olsen, as FBI Agent Jane Banner, investigate the death of a Native American woman named Natalie Hanson (Kelsey Asbille). Birmingham plays the young woman's father, Martin Hanson, who is a friend of Lambert's.
The film aims to shed light on a number of serious issues that disproportionately affect Indigenous women (and, generally, Indigenous youth) today. "My character portrayed the difficulty in trying to provide a better life for your children and your family," Birmingham told Indian Country Today. "Yet he has to watch them be swallowed up by the conditions and disillusionment and a fractured relationship between native tribes and the government."
Birmingham puts an emphasis on taking modern roles as opposed to ones showing historical Native Americans. "I think the importance of representation is for people to know that we're still here — there's 10 million of us still here — and to learn the history about what we've endured and what this country was really built on," he said to Looper. "But I think it's important that we be perceived as human beings and not as artifacts, or some marginal group that has no value." There's no doubt that he's been an important part of bringing accurate Indigenous representation to Hollywood with his diverse, modern roles.
If you're looking to see more Birmingham, and catch up on "Yellowstone," there are a couple of ways to stream the show.