How Frank Fritz's Antiquing Career Actually Began Before American Pickers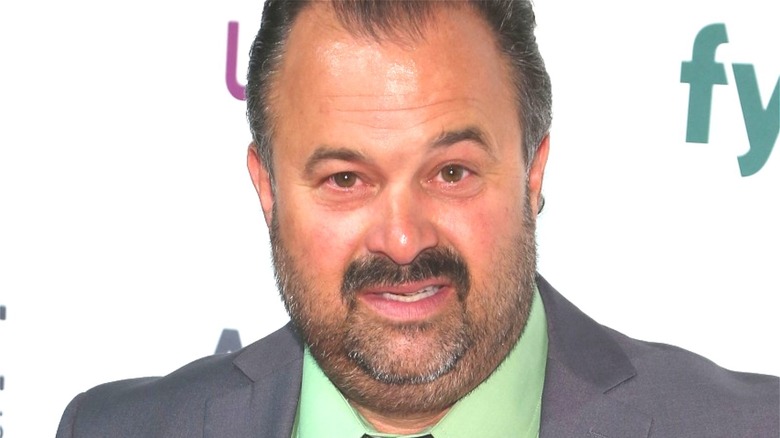 Taylor Hill/Getty Images
While his unceremonious, and very public departure from "American Pickers" has been a hot topic of late, Frank Fritz remains a part of the very fabric of History's hit reality series. Though he's no longer appearing on the beloved antiquing series, Fritz did, after all, spend the better part of the 2010s riding around with "American Pickers" star and creator Mike Wolfe searching for treasures in the backyards, barns, and garages of collectors throughout the land. Through the frequently aired reruns of the show's episodes, he sort of still is.
During his lengthy run on "American Pickers," Fritz actually appeared in more than 300 episodes. He also became a bit of a fan-favorite among series diehards who appreciated his laid-back, often playful candor as much as his seemingly boundless wealth of knowledge in virtually all aspects of the antiquing game. And even if Fritz and Wolfe aren't entirely simpatico these days, part of the fun of "American Pickers" was watching them play off each other as they haggled with potential sellers over everything from minor trinkets to legit historical relics. 
Of course, Fritz wasn't exactly learning on the job during his "American Pickers" tenure. And he had, in fact, already found some success in the antique game prior to his reality series breakout. Here's how Frank Fritz began his antiquing career.
Fritz owned his own antiques store long before his American Pickers days
Like his former co-star Mike Wolfe, Frank Fritz's affinity for collecting began at an early age. The antiques guru admitted as much to Sidewalks Entertainment in a 2014 interview, claiming he "collected all the staples when I was a kid, and it just escalated." As the story goes, Wolfe and Fritz became acquaintances when they were in middle school, bonding over their collecting habits. So when Wolfe was starting to pitch his concept for "American Pickers," he ultimately convinced his old pal to come along for the ride. 
It seems, however, that Fritz didn't initially try to make a living in the antique realm. Fritz instead spent a quarter of a century working as a Fire Inspector. During that time, he began collecting firehouse memorabilia, which he quickly found he could make real money flipping to other collectors. That led Fritz to believe he could actually make a living in the antiquing game. And soon after his days as a Fire Inspector ended, the future "American Picker" star decided to make an honest go of things in the antique world, opening Frank's Finds in Savanna, Illinois, in the early 2000s.
Fritz soon developed a solid reputation among collectors for tracking down hard-to-find antique toys and cars and was also well-respected for his knowledge of classic cars and motorcycles. And if you ever watched Fritz on "American Pickers," you know those skill sets helped make him an invaluable, though sadly not irreplaceable, member of the "Pickers" team.