Who Is The Strongest Magical Being Across All Of American Horror Story?
Since its premiere in 2011, each installment of the anthology series "American Horror Story" has introduced fans to a colorful range of heroes, villains, and everything in between. Each season of the show utilizes different aspects of the supernatural, the otherworldly, and the bizarre to create new stories, and the result is usually downright terrifying. The series also draws from real life — some of the characters on the show are based on actual people! 
For a show that's all about the art of the scare, each season of "American Horror Story" also does a great job of presenting the new cast of characters that populate each season. "American Horror Story" has featured a plethora of memorable characters over the course of its run, many of whom have some kind of supernatural or magical quality. Characters like ghostly maid Moira O'Hara (Frances Conroy and Alexandra Breckenridge) and the vampiric Countess (Lady Gaga) exist outside the realm of our reality. There is one such supernatural being from the series that fans have determined is the most powerful.
Michael Langdon is a formidable being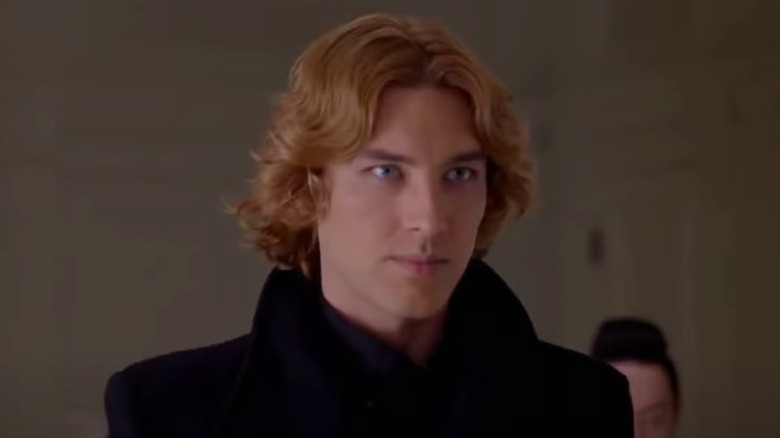 FX/YouTube
According to a poll on Reddit, Michael Langdon (Cody Fern) is the most powerful of all the magical characters in "American Horror Story" history, beating out other formidable beings like the deity Scathach (Lady Gaga) and witch Fiona Goode (Jessica Lange) to earn the top spot.
While Michael first appears in the show's inaugural season, he becomes a main player in Season 8, "American Horror Story: Apocalypse," which serves as a crossover between two previous seasons, "Murder House" and "Coven." Michael's eventual rise to power is hinted at in "Murder House." Michael is the Antichrist, an embodiment of evil conceived by mortal Vivian Harmon (Connie Britton) and ghost Tate Langdon (Evan Peters). Although Vivian ultimately succumbs to the pull of the Murder House, Michael survives. 
It's quickly very clear that Michael is no ordinary child, demonstrating a proclivity for violence and inherent magical abilities. As the Antichrist, Michael's strength is seemingly boundless, so it definitely makes sense that he could claim the top spot in this poll. Over the course of "Apocalypse," Michael demonstrates an incredible array of powers. He can raise the dead, free trapped souls, move objects with his mind, and commune with demonic forces. The list of his powers could go on and on. In the end, it took a lot of teamwork and collective sacrifice to stop Michael from ushering in the apocalypse.