Saul Goodman's Worst Moment In Better Call Saul Season 2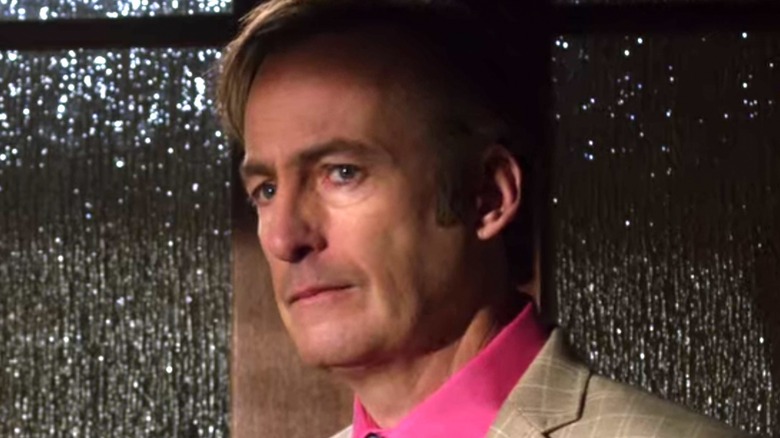 AMC
The last season of "Better Call Saul" is finally set to premiere on AMC on April 18. The "Breaking Bad" spin-off has had an impressive run already, racking up 39 Emmy nominations and providing Bob Odenkirk arguably his biggest and most layered part. The series has followed attorney Jimmy McGill (Odenkirk) and his journey to becoming the eccentric and morally dubious Saul Goodman, the tricky lawyer for Walter White's (Bryan Cranston) growing drug business. It has turned out to be a deeply personal and emotional journey, expanding on the world of "Breaking Bad" by showing the beginnings of characters like Mike (Jonathan Banks) and Gus Fring (Giancarlo Esposito). But mostly, the series has honed in on a character struggling to play by the rules when the rules seem to always keep him down, whether in business or his own family. 
It's safe to say Jimmy/Saul has had his share of low points in the show and moments where he's crossed more than a few ethical lines. He was particularly lost in Season 2 when he questioned even pursuing his legal career. His worst moment that season came right at the end. 
Saul Goodman's worst Season 2 moment is a family affair
Although Jimmy McGill's journey sees him wading into increasingly ethically troublesome waters, the character is balanced by his relationships with those closest to him. In the early seasons, this includes his friend and eventual love interest Kim Wexler (Rhea Seehorn), as well as his brother Chuck McGill (Michael McKean).
Anyone who has watched the series knows Chuck and Jimmy's relationship quickly devolves and it arguably crumbles into nothing in "Klick," the Season 2 finale. In the episode's final moments, Chuck says he is retiring due to a massive mistake he made on one of his accounts at work. Of course, viewers know that it was actually Jimmy who engineer this error in order to help Kim get ahead. Jimmy admits the truth to his brother, his every word slicing through what's left of the relationship.
Jimmy's betrayal of his brother is returned when he leaves and it's revealed Chuck recorded Jimmy's confession, something that will go on to create a major conflict for Jimmy's still young career in law. Chuck is arguably the last connection Jimmy has to his McGill name and this marked the beginning of the end for the two, with Jimmy going on to become more attached to his Saul Goodman way of doing business.