Bob Odenkirk Reveals The Most Brutal Part About Filming Better Call Saul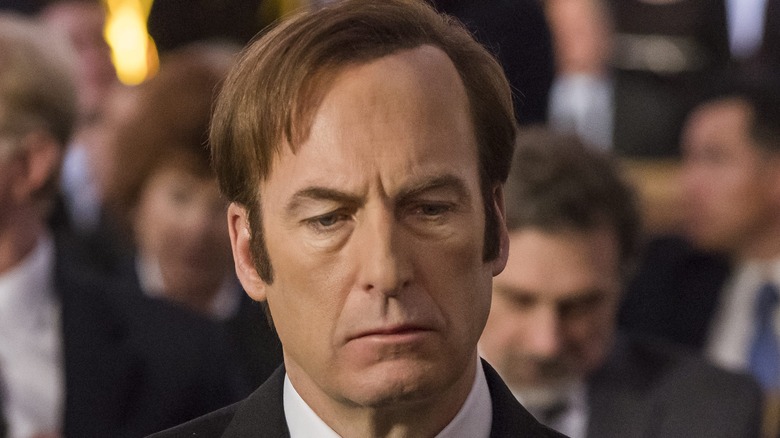 AMC
"Better Call Saul" had an immense legacy to live up to. "Breaking Bad" is widely considered one of the greatest TV shows of all time and for good reason. The show expertly blended multiple genres to become its own thing, and it's the rare show with a finale that gives fans precisely what they want while throwing a few surprises into the mix, too.
The bar was high for "Better Call Saul" to clear, but after five seasons of watching the transformation of Jimmy McGill (Bob Odenkirk) into Saul Goodman. There's only one more season left, but Odenkirk successfully transformed the jester of "Breaking Bad" into a dark prince who's more than capable of leading his own series. 
Odenkirk, who's mostly known for his comedic work, manages to bring real humanity to the scumbag lawyer, turning him into a true three-dimensional character. It turns out some of that darkness may have come from the actor's real-life experiences filming the show, as he explained in an interview that shooting "Better Call Saul" isn't always fun and giggles.
Early call times were brutal for Bob Odenkirk and the Better Call Saul crew
A potential IATSE strike made the general public aware of the sometimes disastrous conditions that exist on film sets. Crew members are often required to work long hours with minimal breaks in between shifts. Due to that and a plethora of other issues, a strike seemed inevitable until a deal was made to halt any suspension of filming temporarily. Amid those discussions, Bob Odenkirk revealed his own problems with long working hours in an interview, and it sounds like it made the "Better Call Saul" experience more brutal than it needed to be. 
Odenkirk elaborated how he would be told to arrive on set early to shoot some scenes, and he felt like he couldn't say, "No." He went on to say, "A couple of weeks into that, and I was getting really fatigued. And I lost my voice." He explained how his breaking point was how he was going to lose his 36-hour break over the weekend, and he just wasn't willing to give that up, especially when the crew was being put in the same predicament as him. 
Finally, he put his foot down and said he wasn't going to do it. It's an excellent example for other actors to follow because while they may feel exhausted, they at least have greater resources to work through the struggle. Crew members are often in more precarious predicaments, so hopefully, things will begin to change for the better in the entertainment industry.