Why Amber From Atlanta Looks So Familiar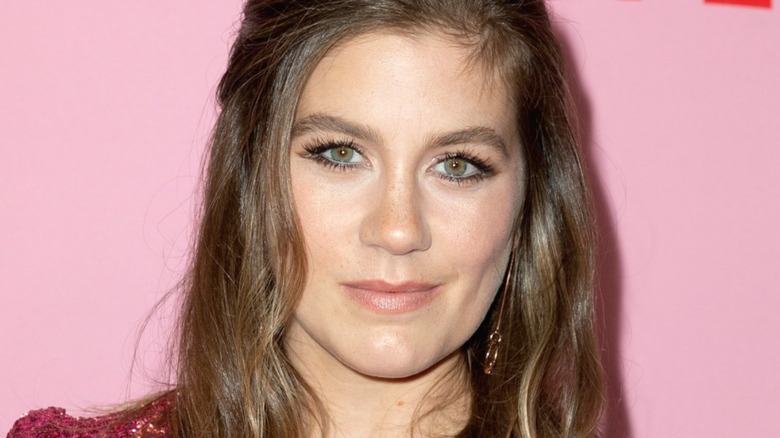 Ron Adar/Shutterstock
The music scene is a hard profession to break into. Musicians and lyricists often dream of making it big, and typically their lives are marked by struggles before any kind of breakthrough can occur. The popular comedy-drama "Atlanta" highlights this struggle in a self-reflective way. Currently in Season 3, "Atlanta" follows Earn Marks (Donald Glover), a college drop-out who dreams of stardom, but is generally broke and homeless throughout the series. Earn survives by living with his friends and ex-girlfriends, and his hopes of a better life rest on his cousin Alfred "Paper Boi" Miles' (Brian Tyree Henry) burgeoning rap career.
The Season 3 premiere is a departure from the normal story of "Atlanta," with the plot following a young boy named Loquareeous (Christopher Farrar). After experiencing a disturbing dream, Loquareeous wakes up in school and gets into a tussle with his uncle and mother in front of a teacher, which results in Child Protective Services getting involved. This sees Loquareeous being put in the care of two foster parents whose pleasant demeanor hides a subtle cruelty. One of these foster parents is played by Laura Dreyfuss in the role of Amber, but why does she look so familiar, and what else has she appeared in?
Dreyfuss' first major television appearance was on Glee
The first thing viewers may recognize Laura Dreyfuss from is her role as Madison McCarthy on the popular series "Glee." Starring Jane Lynch, Chris Colfer, Kevin McHale, and Matthew Morrison, "Glee" is about a school spirit club and show choir that enjoys performing musical numbers, while at the same time dealing with issues regarding relationships, identity, and acceptance.
Appearing in the final season of "Glee," Madison is one of the newest members of the New Direction Glee Club, alongside her twin brother, Mason (Billy Lewis Jr.). Madison's character is known for her energetic and positive demeanor, which makes her a valuable asset to New Direction, if not a little overwhelming at times due to her relentless and curious personality. Speaking with Interview Magazine, Dreyfuss said of her audition for the role, "The day of the presentation for the workshop, I was on a red-eye the night before coming back from L.A. I got in at 6 A.M., went to the rehearsal, and did the presentation. I felt like I was seeing double vision the whole day ... Then, about four or five days later, I found out that I had to move. They were giving me two days to move from New York to L.A. I was out there for about a year, which was cool."
Dreyfuss used her singing skills in The Marvelous Mrs. Maisel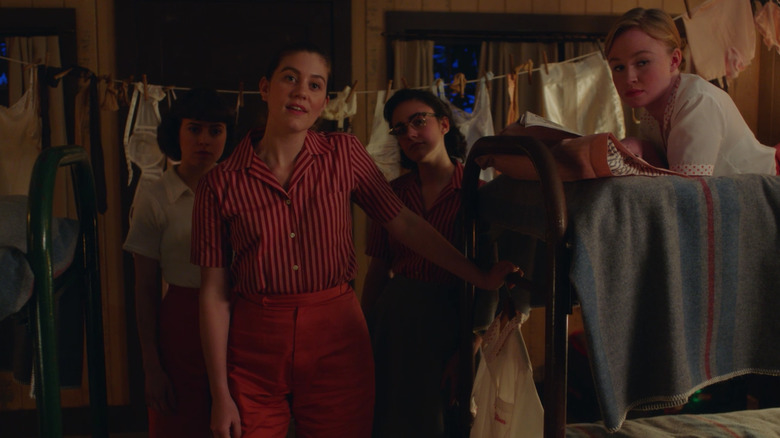 Amazon Prime Video
Laura Dreyfuss' next big role was that of a character named Deecy on the hilarious Amazon Prime Video show "The Marvelous Mrs. Maisel." Taking place in the 1950s, the series stars Rachel Brosnahan, Alex Borstein, Tony Shalhoub, Kevin Pollak, and Dreyfuss' former co-worker from "Glee," Jane Lynch. Brosnahan plays the titular Mrs. Maisel, a recently divorced housewife who discovers that she has an uncanny knack for stand-up comedy. Throughout the series, her career struggles and triumphs form the backbone of the narrative.
Dreyfuss' Deecy is utilized in two non-consecutive episodes from Season 2: "We're Going to the Catskills!" and "Let's Face the Music and Dance." Deecy is one of the singers at the Steiner Mountain Resort where the Maisel family is vacationing, and Dreyfuss once again taps into her musical skills and exceptionally bubbly personality. Although just appearing in a minor role on the show, Dreyfuss is likely immediately recognizable to fans of her earlier part in "Glee."
Dreyfuss is part of the main cast of Netflix's The Politician
Perhaps the biggest acting credit to Laura Dreyfuss' name thus far is in the Netflix show "The Politician," where she plays the role of McAfee Westbrook. Created by "American Horror Story" scribes Ryan Murphy and Brad Falchuk, "The Politician" follows Payton Hobart (Ben Platt), a dedicated young man who dreams of ascending to the highest political position in the United States, that of the president. The first season sees him running for class president, while the second season sees him run for New York State Senate, showing that his drive is propelling him towards his dream. 
Westbrook is one of Payton's friends and a major driver behind his ambition. She totally believes in him and, as his campaign manager, tries to direct his political campaigns in the most efficient way possible. When asked by Crookes Magazine about the comedic tone of "The Politician" and if it was fun working on set, Dreyfuss said, "Absolutely. Everyone in the cast has such a gift with humor. Again, the hardest thing was keeping a straight face while watching someone do their thing. So many suppressed giggles and belly laughs." 
Considering Dreyfuss' career thus far, there is a pretty good chance we will be seeing much more of her in the future.