The Defenders Could Break Binge-Watching Records For Netflix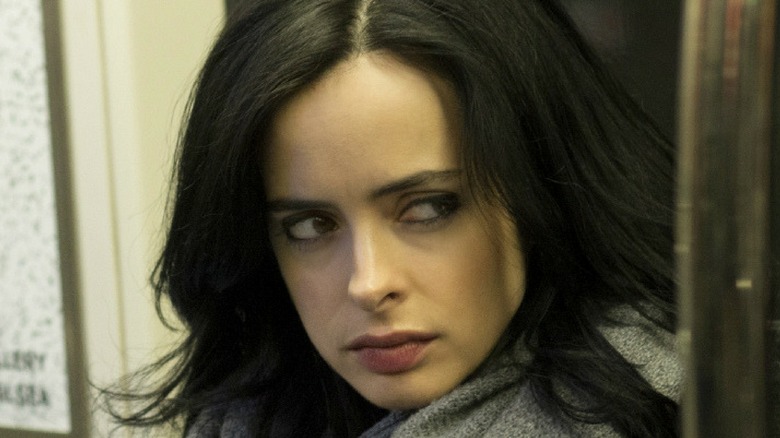 Have you already started your Defenders binge? You're definitely not alone. According to Variety, the don't call it a team-up superhero team-up is projected by some outside analysts to become one of Netflix's most binge-watched series yet.
This claim is based on data from marketing-analytics firm Jumpshot, who looked at Netflix's exclusive releases and how much they were binged in their first 30 days on the market. Of the streamer's recent releases, Daredevil season two, Jessica Jones, Luke Cage, and Iron Fist took four of the five top spots, with mega hit 13 Reasons Why filling out the elite group.
Daredevil season two saw the biggest viewership by far, with 13 Reasons Why in second place with 48 percent fewer viewers. The divisive Iron Fist took third place, despite being trashed by critics and embroiled in a white-washing controversy. (Previous analysis suggested that Iron Fist was the most-binged Netflix series of the year when it was released, with 54.7 percent of people who watched Iron Fist the day it premiered watched three or more episodes at a time, compared to the average Netflix binge rate of 46.9 percent.) Luke Cage and Jessica Jones were not far behind.
With the success of the individual series, it makes sense to assume that The Defenders will reach a similar level of cultural ubiquity. The series already has positive reviews, with critics particularly praising the performance of the big bad, Alexandra, played to perfection by SIgourney Weaver. The show also sees the long awaited meet ups of Marvel's street level heroes, with Matt Murdock (Charlie Cox), Jessica Jones (Krysten Ritter), Luke Cage (Mike Colter), and Danny Rand (Finn Jones) all teaming up to take Alexandra– and The Hand– down.
Still, even if The Defenders ends up being a success for Netflix, there's a chance that the team-up could never happen again. According to Marvel Television head Jeph Loeb, we'll have to wait to learn if the team-up will ever be repeated, as the company is currently busy focusing on second and third seasons of the characters' individual series, along with the upcoming The Punisher. Hopefully, though, if enough fans binge away, we could get another Defenders season at some point down the road.
Rosario Dawson, Jessica Henwick, Simone Missick, Elodie Yung, Scott Glenn, Rachael Taylor, Deborah Ann Woll, Carrie-Anne Moss, Elden Henson, and Eka Darville also appear in The Defenders. The show's eight episodes are available on Netflix now; once you've completed your binge, learn even more about the team by reading up on their untold truth.