Aaron And Adam Nee's Honest Reaction To Sandra Bullock's Hiring Them To Direct The Lost City - Exclusive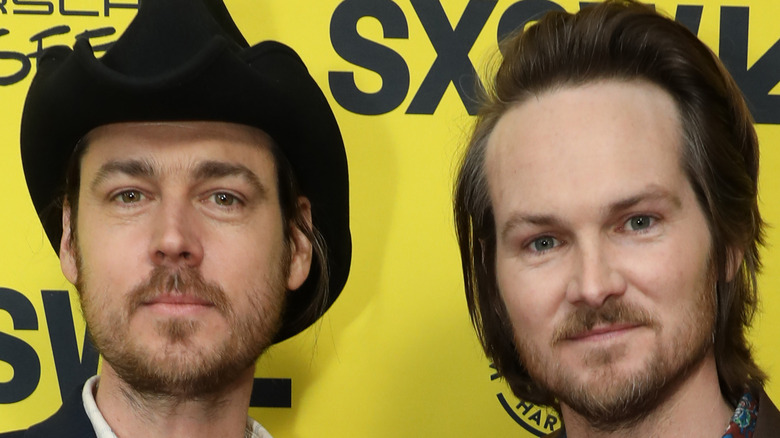 Sarah Kerver/Getty Images
Filmmaker brothers Aaron and Adam Nee have each spent more than 15 years in showbiz — Aaron Nee largely behind the camera. Adam Nee has mostly acted, appearing in two dozen films or series including guest roles on "CSI," "Law & Order," and "Drunk History." The Nee brothers, however, have always worked together when co-directing their films, including the comedy drama "The Last Romantic" in 2006, and the crime-comedy adventure "Band of Robbers" in 2015. Little did the Nees know, however, that the latter would come to attract the attention of a particular A-list star who wanted them to direct her romantic comedy adventure "The Lost City."
Now in theaters, "The Lost City" stars Sandra Bullock as Loretta Sage, a successful romance novelist drained of her passion after losing her husband. As an archeological student who never got to realize the dream of going on a grand adventure with her spouse, Sage instead informed her novels with her knowledge of ancient history. 
Sage's world of fiction gets quite real, though, when a crazy billionaire, Abigail Fairfax (Daniel Radcliffe) kidnaps and jets her off to a remote jungle that surrounds an ancient city. It's there where Fairfax is confident that Sage will decipher some clues and find the mythical "Crown of Fire," a priceless artifact she wrote about in her new novel, "The Lost City of D." Witnessing Sage's kidnapping, her novels' cover model, Alan Caprison (Channing Tatum) and a mercenary, Jack Trainer (Brad Pitt), spring into action to save the author from some dangerous people in an exotic but threatening landscape.
The Nees were shocked to learn of Bullock's interest in them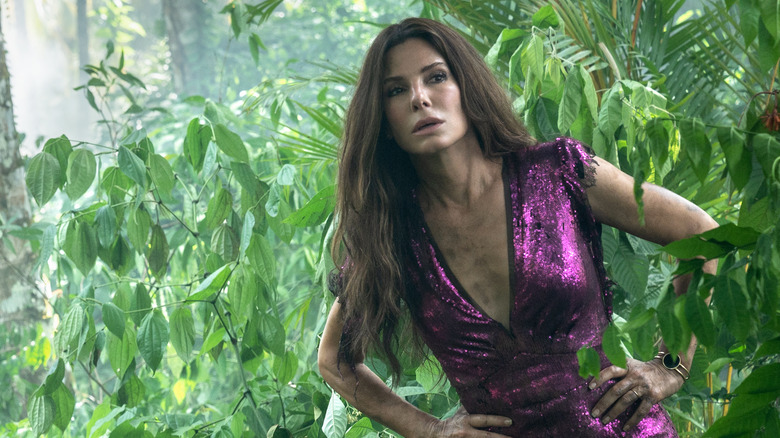 Paramount Pictures
Sandra Bullock, who also produces "The Lost City," became interested in hiring the brothers for her film after watching "Band of Robbers" — a unique tale that found Mark Twain's literary legends Tom Sawyer and Huck Finn as a pair of grown men still seeking treasure. The chance to bring their independent spirit to "The Lost City" naturally excited the siblings — that is, once they realized that Bullock's interest was indeed real and not a prank.
"That is what our reaction was. We initially heard about the film, heard that she was producing it and was going to be acting in it, and we were asked [if] we want to throw our hat in the ring," Aaron Nee, sitting with Adam Nee, told Looper in an exclusive interview. "We're like, 'That would be awesome, but we're not going to get this job.' Then we get a call saying, 'No, Sandy is asking to meet with you.' I'm like, 'Okay, we'll do it.' It was a whirlwind, it happened so fast that we met with her. We had a great meeting. It was clear that we shared a common vision for what we wanted this movie to be, and before we knew it, we were in the jungle shooting together."
The adventure kept getting bigger for the Nees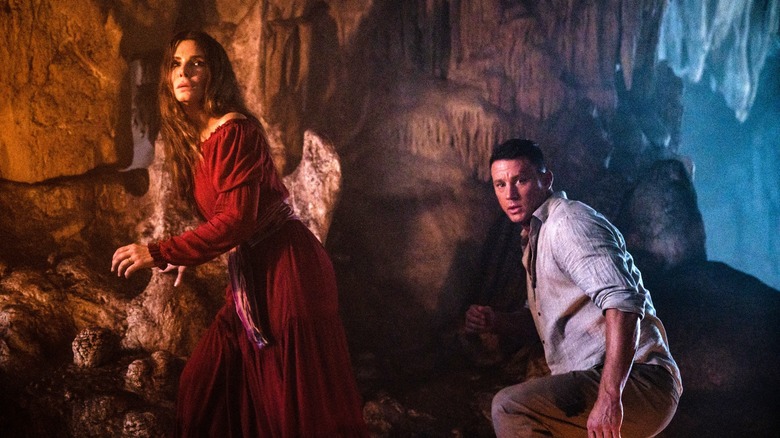 Paramount Pictures
The Nees discovered that directing Sandra Bullock in "The Lost City" was only the beginning of their surreal adventure, as names like Tatum, Radcliffe, Pitt, and many others began to turn up.
"I feel like it's going to take some time for us to really process the caliber of actors that we got to make a film with," Adam Nee enthused. "Sandy deserves a lot of credit because having her involved really makes people pay attention, but we got our first choice in every single role, and I think that's going to spoil us for the rest of our careers, to have this amazing diversity of different talents — Daniel as the villain ... Da'Vine Joy Randolph is incredible and carries this whole B plot. Patti Harrison is a comic assassin, Oscar Nunez, [who is] one of my favorite actors from television — to be able to have these people in our film, I still haven't come to terms with it."
"The Lost City" opens in theaters Friday, March 25.