The Harry Potter Character You Likely Forgot Peacemaker's Freddie Stroma Played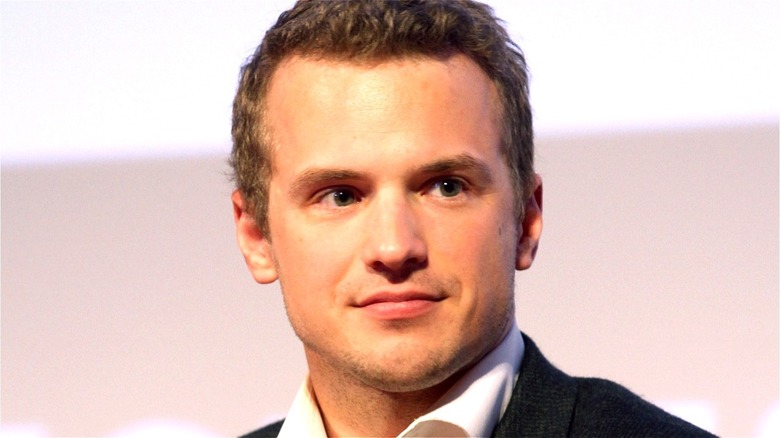 Sarah Kerver/Getty
In addition to a slew of established stars like Emma Thompson and Gary Oldman, the "Harry Potter" films are known to feature young actors who have gone on to have successful careers. Aside from the main trio of Daniel Radcliffe, Emma Watson, and Rupert Grint, plenty of the supporting actors playing their classmates have become busy with other projects in the entertainment industry. Robert Pattinson (who plays Cedric Diggory) comes to mind almost immediately, as he recently starred as Bruce Wayne-Batman in Matthew Reeves' "The Batman" and appeared in the Christopher Nolan time travel epic "Tenet" back in 2020. Although Pattinson is arguably one of the more successful young actors coming out of "Harry Potter," that's not to say others didn't also thrive as they grew older.
Tom Felton, who famously plays the role of Draco Malfoy, has appeared in a number of projects after his time with Radcliffe and the others, including a year-long stint on The CW's "The Flash." Evanna Lynch, who appears in the later "Harry Potter" films as the whimsical Luna Lovegood, went on to compete in "Dancing with the Stars" and plays Paisley Robertson in the BBC show "Silent Witness" (via IMDb). But even actors who only had small roles in "Harry Potter" have reappeared in popular movies and television in recent years, including in HBO Max's "Peacemaker" series.
Although John Cena was not involved with "Harry Potter," Adrian Chase-slash-Vigilante actor Freddie Stroma played someone from Gryffindor House during "Harry Potter and the Half-Blood Prince," "Harry Potter and the Deathly Hallows – Part 1," and "Harry Potter and the Deathly Hallows – Part 2." In fact, his character brought Grint's Ron Weasley a lot of trouble.
Freddie Stroma played Cormac McLaggen in the Harry Potter movies
One of Freddie Stroma's arguable breakout roles in the early 2000s was his time as Cormac McLaggen during "Harry Potter and the Half-Blood Prince." Although we would witness Stroma's Cormac in brief moments throughout the two "Deathly Hallows" films that would follow, audiences truly meet Cormac during "Half-Blood Prince." Cormac is likely what "Harry Potter" fans would consider the worst side of Gryffindor — he's arrogant and prideful, and he is very forward with his desire to date Emma Watson's Hermione Granger. Of course, this is much to the dismay of Rupert Grint's Ron Weasley, who hasn't really expressed his feelings for Hermione at this point in the series. McLaggen notably goes head-to-head with Ron during Quidditch tryouts and loses, thanks to Hermione's use of a spell that confuses him and causes him to move in the wrong direction.
Fans of the "Harry Potter" books know that McLaggen would go on to play Quidditch for a short time after Ron was poisoned, only to try too hard to assume the captain role held by Harry Potter, subsequently knocking Harry off of his broomstick and costing Gryffindor the match. McLaggen would, however, return to help during the Battle of Hogwarts and survive.
Stroma moved on to supporting roles in popular movies and shows after his time as Cormac, including appearances in "Pitch Perfect," "13 Hours," "Bridgerton," and a lead part as H.G. Wells in 2017's "Time After Time" (via IMDb). His time as Adrian Chase on "Peacemaker" is his most recent role to date, and with the show's renewal for Season 2 as of last month (via The Hollywood Reporter), fans are likely to see Stroma don the Vigilante gear again soon. We'll keep you posted.