Peacemaker's Freddie Stroma Describes The Unique Thrill Of Playing Vigilante In A James Gunn Project - Exclusive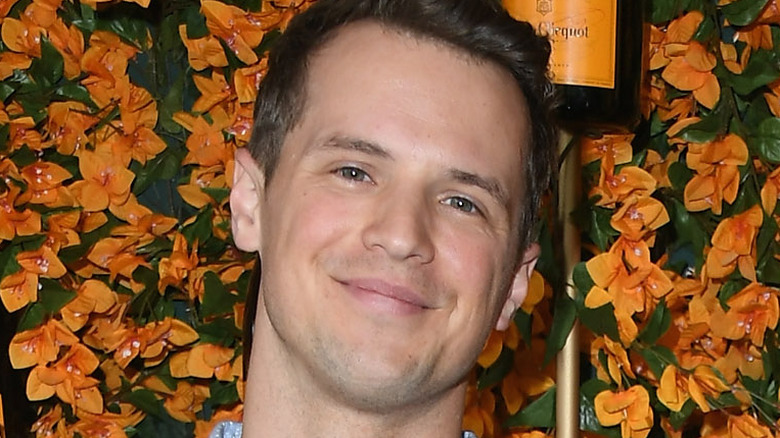 Jon Kopaloff/Getty Images
While Freddie Stroma is no stranger to fantasy projects — he played Cormac McLaggen in the last three "Harry Potter" films, after all — there was something extra magical about becoming Adrian Chase, aka Vigilante, in the smash HBO streaming TV show "Peacemaker." As the irreverent wannabe superhero sidekick to Peacemaker (played by John Cena), Stroma not only had the unique opportunity to realize a notable DC Comics character, he also had a chance to do so via the wondrous imagination of writer-director James Gunn.
With that, however, came a choice for how to read the character. To begin with, since Adrian Chase had a much different background in the comic book — he was a district attorney — Stroma said in an exclusive interview with Looper that, between the comics and Gunn, he looked to the latter for his eventual interpretation.
"I realized that there were no big similarities between Adrian Chase the DA [and] Adrian Chase the busboy. They were very different characters," Stroma explained. "Once you have [the scripts to] all the episodes ... I learned pretty quickly that there's no point trying to make him like that. [I thought], 'I'm going to make him what he is on these eight episodes,' and let James guide me into where we're going."
Stroma says working with Gunn on 'Peacemaker' brought him to 'another level'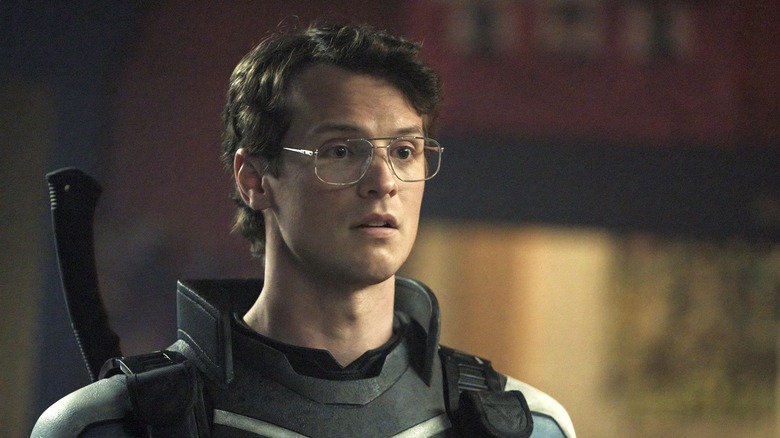 HBO Max
In addition to "The Suicide Squad" and its first spinoff series, "Peacemaker," writer-director James Gunn, of course, won acclaim for the first two volumes of the "Guardians of the Galaxy" movies. So, when actor Freddie Stroma learned that he'd be assuming the role of Vigilante in "Peacemaker" — and working with Gunn, no less — it was like a boyhood dream coming true.
"When they said this is a James Gunn project, you think, 'Oh, God, okay. Well, this is another level.' Being able to put on a superhero outfit for the first time was very, very cool, so even if it's hot and it gets a little sticky and it could be uncomfortable, you don't care because you're in a superhero outfit, and it's so cool," Stroma enthused in a recent Looper interview. "There was a moment on set where we were doing stunts ... and they were so good ... I was like, 'Oh yeah, this is another level.' This is not, 'Okay. Then we'll have a quick little fight scene.' When you see it, you go, 'Oh, okay. This is James Gunn level.'"
Stroma loves the unpredictability of Vigilante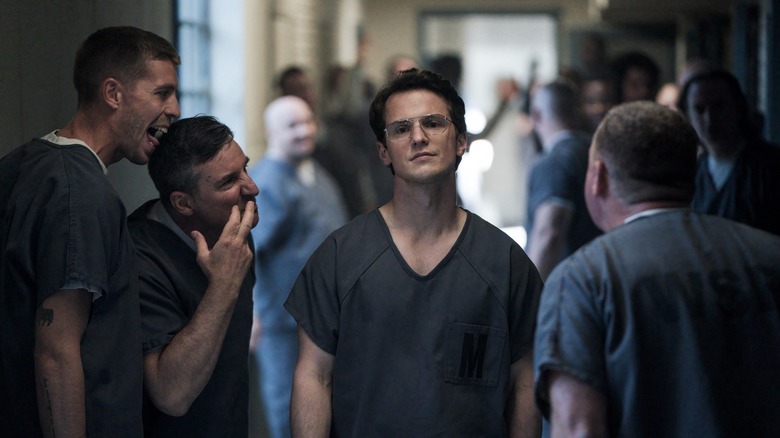 HBO Max
As fans of "Peacemaker" have found out throughout the series, Vigilante isn't exactly all who he seems. At the beginning, he comes off as a doofus tagalong whose serious aspirations to fight the bad guys seems foolhardy. Before too long, though, a scene where he lays waste to a group of bad guys in a jail lockup serves as a wakeup call that Vigilante truly does have the skills it takes to get the job done.
"It's a fun character in that sense, because it's one thing to play a character who looks tough, is tough, [and] talks tough. When it comes to a fight scene, as an audience member, you're not massively surprised by the fact that he'll then beat everyone up," actor Freddie Stroma told Looper. "It was nice to have this sense, when he is walking into [jail], that something's not right about the character at first. You see him walking down [between other inmates] and his head's somewhere else, but it looks like it's a lamb to the slaughter ... Then, all of a sudden [the scene] flips on its head, and you go, 'Oh, that's why he's so confident,' because he knew he was absolutely fine the entire time because he has those skills. It was a very well-written scene and a real joy to get to perform it."
All eight episodes of "Peacemaker" are streaming exclusively on HBO Max.