The Beloved Character Fans Want To See Featured More In Fantastic Beasts 3
Warner Bros.' upcoming Wizarding World installment, "Fantastic Beasts: The Secrets of Dumbledore," meets the franchise in a precarious spot. As reported by CNBC, the last film in the franchise, "The Crimes of Grindelwald," made less money globally than the first Newt Scamander (Eddie Redmayne) led film or any of the eight "Harry Potter" movies, and it was panned by critics and audiences alike. The film has a 36% critic rating on Rotten Tomatoes — likely a far cry from the reception Warner Bros. wants for its "Harry Potter" successor series.
The studio has made adjustments for the new movie. Screenwriter Steve Kloves, who adapted seven of the eight "Harry Potter" books into their feature-length screenplays, returns to co-write the script for "The Secrets of Dumbledore" with J.K. Rowling (via CNBC). Audiences are growing used to Mads Mikkelsen as principal villain Gellert Grindelwald following Johnny Depp's departure from the series, as well.
Additionally, producer David Heyman, who has produced every film in the Wizarding World franchise, admitted in February 2022 that they have not started writing the next movie yet — just two months ahead of the third film's release (via The Rowling Library). A hold on pre-production for the next movie at this stage seems odd, considering Rowling's 2016 assertion to Variety that the prequel series will include five feature-length films.
While fans simultaneously await the new movie and details on what comes next for "Fantastic Beasts," a number of diehards have noticed the conspicuous absence of one character from trailers and promotional material.
Fans have noticed Tina Goldstein's absence in marketing for the new film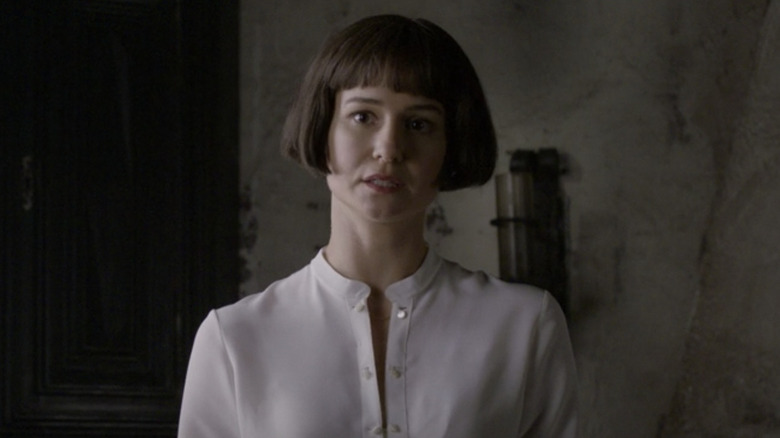 Warner Bros. Pictures
Fans have noticed that Tina Goldstein (Katherine Waterston) has not yet appeared in marketing materials for "Fantastic Beasts: The Secrets of Dumbledore" (via Digital Spy). Given Tina's significant role in the series' first two films, her absence is raising eyebrows.
The official movie website lists Waterston as part of the ensemble cast, but does not include Tina in individual character biographies. There appear to be two potential explanations for Waterston's absence; the actress appeared in a March 2021 video featuring actors describing their experiences contracting COVID-19, in which she said she "got [COVID-19] pretty bad" (via Yahoo! and the AP). It's unclear when Waterston may have been sick, but pandemic-era precautions and poor timing could potentially have held her out of key parts of production, which CinemaBlend reported resumed in September 2020 after an initial pandemic-related hiatus.
Another theory is that Waterston's involvement in the film may have decreased due to her vocal opposition to  J.K. Rowling's public history of transphobic rhetoric. Waterston made a point of affirming her support for trans women on social media in August 2020 in the wake of one of Rowling's public spats on the issue, and told The Independent in July 2021 that she felt it important to clarify her position given her role in Rowling's franchise.
It is also entirely possible that Tina's storyline in the new movie is too spoiler-filled to include in promotional material. Clarity may lie ahead: "Fantastic Beasts: The Secrets of Dumbledore" hits US theaters on April 15.