This Look At Chris Evans As Buzz Lightyear Is Out Of This World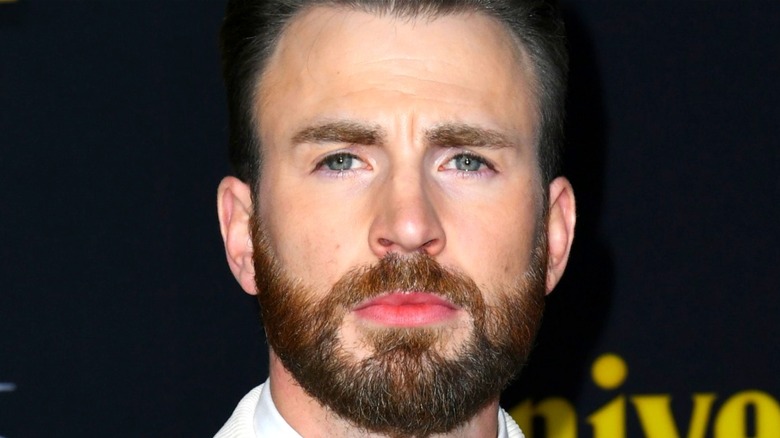 Jon Kopaloff/Getty
Chris Evans is on track to appear in another sci-fi franchise. Though he first made his superhero debut in 2005's "Fantastic Four" as the Human Torch, Evans didn't rise to superstardom until 2011, when he nabbed the role of Steve Rogers, a.k.a. Captain America, in the Marvel Cinematic Universe. 
Shortly after his debut as the star-spangled hero, Evans appeared in the crossover film "The Avengers," working alongside Earth's Mightiest Heroes. Evans continued to play Captain America throughout the decade, while also dabbling in dramatic performances like "Gifted." After he bid farewell to the MCU in 2019, the star appeared in Rian Johnson's murder mystery "Knives Out," which gained widespread critical acclaim, earning a 97% rating on Rotten Tomatoes.
Next up, the star will voice the "Toy Story" character Buzz Lightyear, previously voiced by Tim Allen, in the new film, "Lightyear," a prequel story based on the toy of the same name. While the Marvel star may be voicing the iconic lead character, he won't be providing his likeness. Seeing as the design of Lightyear has mostly been the same since the character first debuted in 1995, it doesn't make much sense to see the cosmic explorer get a new look, especially in what is ostensibly his origin story.
While it's arguable that "Lightyear" should've been Pixar's first foray into live-action, the company decided to stick to its animated roots and not create an animated Evans. Instead, a new fan art on Instagram imagines what the star would look like as a live-action Lightyear.
Evans looks perfect as a live-action Buzz Lightyear
Artist Nikolay Mochkin, known as ellejart on Instagram, has developed a significant following for their ability to create captivating works of art based on pre-existing characters, including hypothetical superhero scenarios and castings. While they mostly dabble in creating concept designs for superhero projects, one of their most popular pieces focuses on bringing Buzz Lightyear to life.
It's unlikely (though not impossible) that Chris Evans will ever take on the role of Lightyear for a live-action project, so Mochkin has provided a design on Instagram that allows audiences to imagine just that. The animated version of Lightyear waiting for take off is replaced with the face of a calm Evans, who is ready to shoot for the stars.
While Disney has been consistently remaking their animated classics with live-action hits, Pixar, owned by the house of mouse, hasn't yet dabbled in remakes. It remains to be seen if the company will ever consider a live-action take on "Toy Story," which, in turn, could potentially result in a "Lightyear" spin-off.