25 Movies Like Knives Out You Need To Watch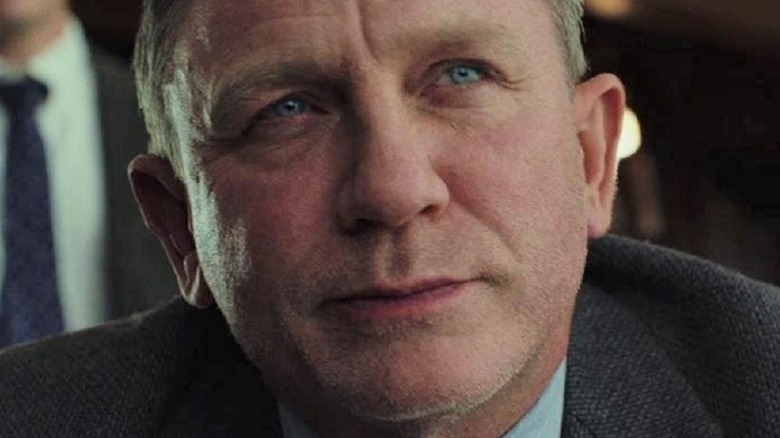 Lionsgate Films
Released in 2019, "Knives Out" wasn't a surprise, exactly. After all, writer-director Rian Johnson was coming off the financial and critical success of "The Last Jedi," the highest-grossing film of 2017. Additionally, it featured a murderers' row of talent, including Chris Evans, Michael Shannon, Jamie Lee Curtis, and Toni Collette. 
However, "Knives Out" still felt different, a breath of fresh air. Drawing inspiration from Agatha Christie-style whodunnits, the film follows Detective Benoit Blanc (Daniel Craig) as he tries to solve the murder of a wealthy mystery writer. In order to crack the case, he has to rely on his quick wits, Southern charm, and the help of Marta Cabrera (Ana de Armas), a nurse who may or may not be involved in the killing. And with a plot like that, "Knives Out" was a smash hit, with the film impressing both critics and viewers alike, earning eight times its production budget, and setting up a new franchise.
In other words, the 2019 caper was one of those films that almost immediately become part of our pop culture landscape. However, if you're hankering for more mysterious goodness — complete with twisty plots, ensemble casts, and grisly crimes — look no further. We've assembled a list of movies that "Knives Out" fans will definitely want to investigate.
Logan Lucky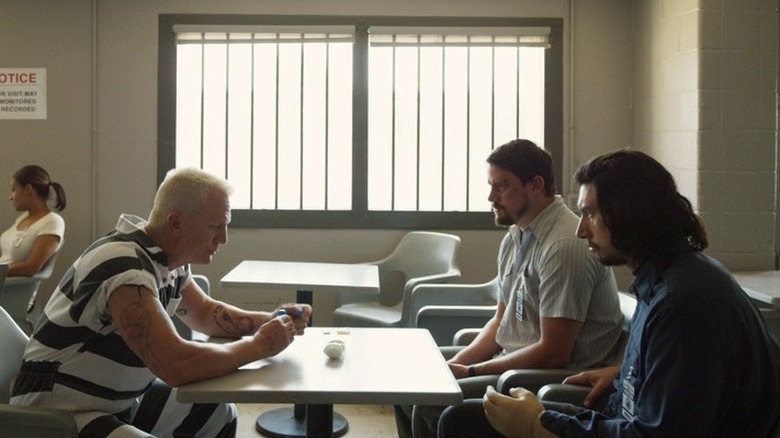 Warner Bros.
Clyde and Jimmy Logan (Adam Driver and Channing Tatum, respectively) are sick of their bad luck. Whether it's due to the war injury that cost Clyde a part of his arm or the ongoing difficulties Jimmy has navigating his relationship with his daughter and his ex-wife, the two feel like they're entitled to something good, finally.
To that end, they decide to rob Charlotte Motor Speedway, utilizing Jimmy's inside knowledge of the place. Of course, complications quickly pile up, including a prison riot, a dogged FBI agent (Hilary Swank), a children's pageant, and an arrogant British race car driver (Seth MacFarlane). What once seemed a difficult but definitely do-able heist spins out of control, threatening the freedom of the brothers and their accomplices.
In some ways, "Logan Lucky" is like a spiritual warm-up for "Knives Out." After over a decade playing James Bond — with only serious, often dour films in between — Daniel Craig as a comedic actor was not at the top of anyone's mind. However, his turn as the bleach blond, Southern-accented explosives enthusiast Joe Bang did much to change that. If you think Benoit Blanc's accent in "Knives Out" is a silly delight, wait until you hear Craig go even more over the top here. It's a delight.
And Then There Were None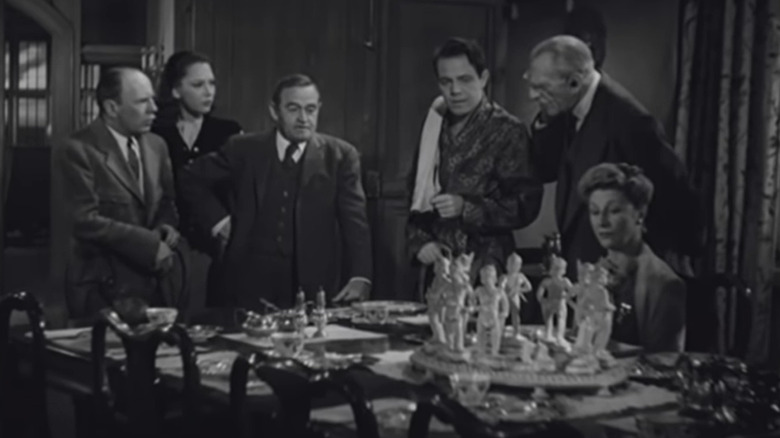 20th Century Fox
Based on the novel by Agatha Christie, "And Then There Were None" follows an assemblage of eight strangers lured to an island near Devon, England. The first evening of their stay, the group learns that while they might not know each other, they haven't been randomly selected either. Instead, each has an alleged history of criminal activity — histories they've seemingly outrun until this moment. However, the threat of exposure pales in comparison to the looming threat of death. One by one, the guests begin to die under unusual circumstances. Can those who remain figure out who's killing them and survive until transport arrives three days later?
"And Then There Were None" gives "Knives Out" fans a whole lot to enjoy, including an ensemble cast, a locked-room mystery, and the sense that no one is safe until the killer is caught. Fans of Rian Johnson's film will undoubtedly recognize this movie — and its famed source material — as the granddaddy of some of the mystery genre's most pleasing tropes.
A Simple Favor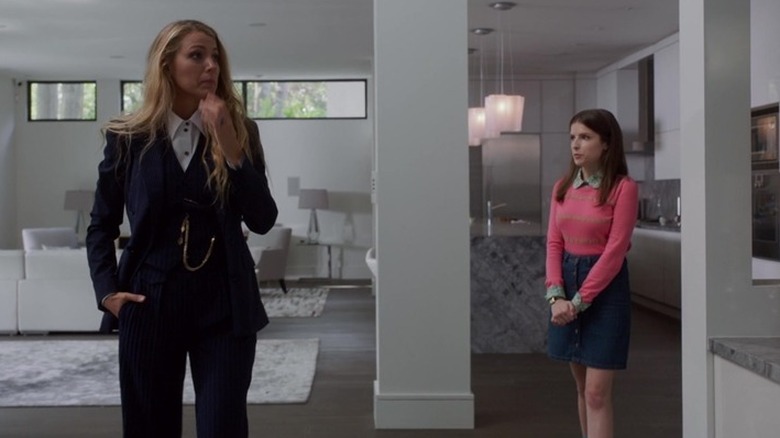 Lionsgate Films
Samantha Smothers (Anna Kendrick) is the kind of mom who gives average parents the hives. Despite being a widow, she finds the time to be the perfect classroom volunteer, runs a successful crafting and recipe vlog, has boundless energy, and seemingly never loses her temper. By contrast, Emily Nelson (Blake Lively) treats motherhood with vague disinterest. She loves her child, certainly, but feels no reason to pretend that she isn't the same hard-charging, martini-loving, foul-mouthed person she's always been.
The two barely seem to exist in the same orbit, and yet a friendship grows between them as their two sons start to hang out. So when Emily seemingly disappears, Samantha just can't let it go. She turns her attention — and her vlog — over to the case. She proves a canny investigator and soon is knee-deep in a mystery far bigger than a simple missing person case. But complicating matters is her burgeoning romance with Emily's husband, Sean (Henry Golding), who may well be why Emily can't be found. With its unconventional investigator and twisting plotting, "A Simple Favor" is an undeniably compelling film to provide some "Knives Out"-esque delights.
Deathtrap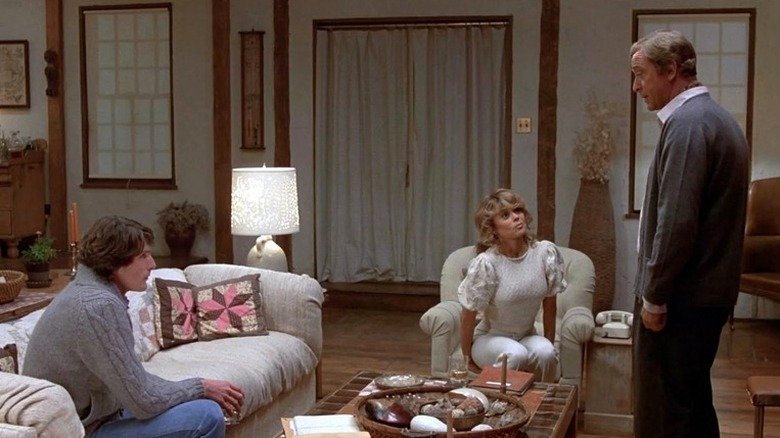 Warner Bros.
In "Deathtrap," Sidney (Michael Caine) is a well-known and respected playwright who's in a bit of a slump. At the same time, his student, Clifford (Christopher Reeve), has written a play that Sidney regards as nearly perfect. Starved for a hit of his own, the established writer enlists his wife, Myra (Dyan Cannon), in a plot to kill Clifford and claim the play as Sidney's work. The unexpected arrival of a psychic (Irene Worth) complicates the plot, and soon, all sorts of twists and double-crosses began to pile up — so much so that what's really happening becomes difficult to discern. It all leads to a wonderfully meta third act and ends with an all-time climax that would surprise even today's filmgoer.
Like the patriarch Harlan Thrombey (Christopher Plummer) and his mansion in "Knives Out," Sidney's home is an homage to his previous works, filled with weapons and other objects — some props, some very real. Additionally, both "Deathtrap" and "Knives Out" share a plotline about who owns artistic works and what someone will do to ensure their sense of ownership is respected.
Bad Times at the El Royale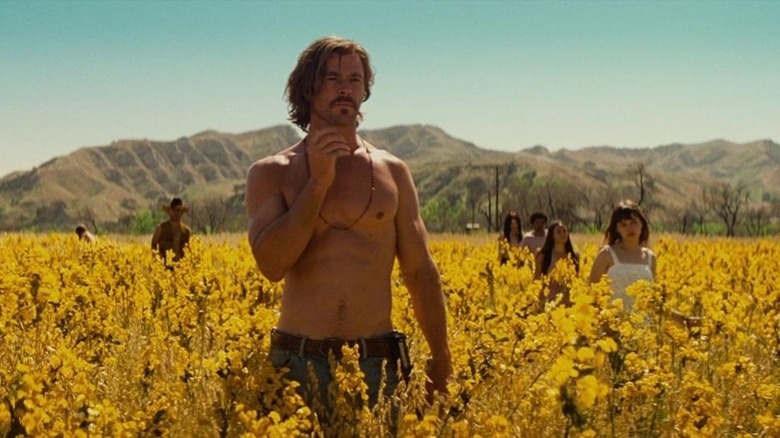 Twentieth Century Fox
Sometimes you can have an ensemble, murders, and mysteries, and it still not be an ensemble murder mystery. "Bad Times at the El Royale" is one such film.
Unfolding one night at a formerly glamorous hotel that lies directly on the state line between California and Nevada, "Bad Times" starts quietly enough with the arrival of several guests. Vain blowhard Laramie Seymour Sullivan (Jon Hamm), aspiring singer Darlene Sweet (Cynthia Erivo), spacey Father Daniel Flynn (Jeff Bridges), and very angry Emily Summerspring (Dakota Johnson) are all waiting on the affectless bellhop/jack of all trades Miles Miller (Lewis Pullman) to come out from the backroom to check them in.
But as the evening progresses, several guests reveal they have some very strange motives for showing up at the hotel — motives that go way beyond just getting some rest. Then, as a storm rolls in and charismatic cult leader Billy Lee (Chris Hemsworth) sets his sights on the hotel, what once seemed destined to be an awkward night in a place past its prime gets deadly very quickly.
Who Framed Roger Rabbit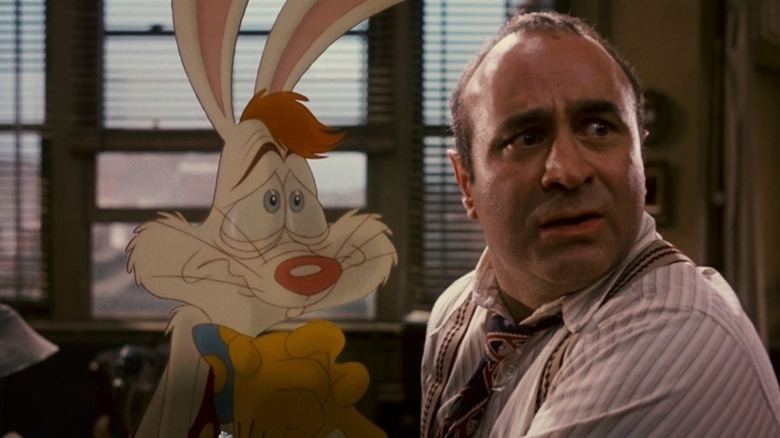 Buena Vista Pictures Distribution
Part of the fun in "Knives Out" is the pairing of the experienced Benoit Blanc with the possibly naïve patsy/possibly accidental murderer Marta Cabrera. "Who Framed Roger Rabbit" has that dynamic as well. Kind of. Except the character who may be a naïve innocent or a killer is a cartoon rabbit.
In a version of 1947 Los Angeles where the animated characters we know and love are just as much actors as Gary Cooper and Ingrid Bergman, broken private investigator Eddie Valiant (Bob Hoskins) takes a job following star-on-a-slump Roger Rabbit (Charles Fleischer). However, what was supposed to be a simple surveillance gig seems to turn up evidence that Jessica (Kathleen Turner), Roger's wife, is cheating on him. Worse, the guy she seems to be with winds up dead.
Despite Eddie's hatred of toons and the evidence that points to Roger, the PI agrees to try and prove the rabbit's innocence. In doing so, the two stumble into what can perhaps be best described as "Chinatown for the animated set."
The Last of Sheila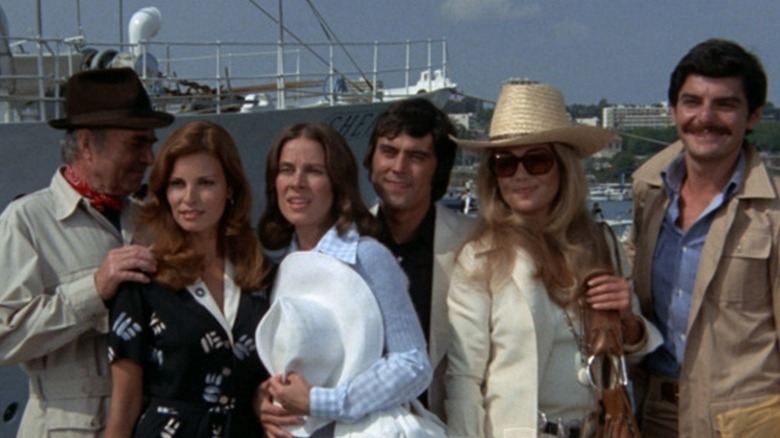 Warner Bros.
Cited by Rian Johnson as an inspiration for both "Knives Out" and "Knives Out 2," "The Last of Sheila" was Stephen Sondheim's single foray into cinematic screenwriting, as he was one part of the script-writing team. As for the plot, seven old friends get together for a week-long cruise. The titular Sheila (Yvonne Romain) was killed in a hit and run accident a year earlier. So the group is getting back together to both distract themselves from and commemorate the anniversary of her passing.
A huge game fan, Sheila's husband, Clinton (James Coburn) devises a "gossip game" in honor of Sheila, as she was a gossip columnist. Each friend is given a card with "fake" gossip, and they have to spend the trip protecting their secret while attempting to figure out the secrets of the other guests.
But when the first secret is revealed, the guests begin to suspect Clinton isn't using fake gossip at all. Before they can confront him, though, his body is discovered onshore. Similar to "And Then There Were None," the friends become both prime suspects and possible next victims as they start to drop one after the other. Can they figure out who's killing them while not trusting each other? With Clinton already dead, who could it possibly be?
The Nice Guys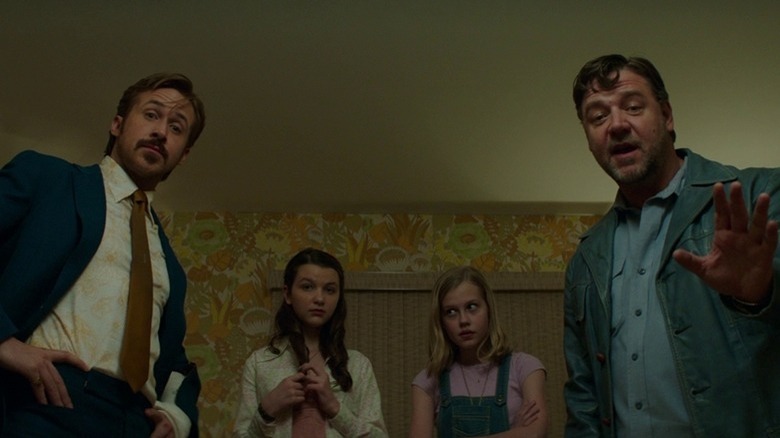 Warner Bros.
Jackson Healy (Russell Crowe) and Holland March (Ryan Gosling) are both private investigators but cut from a decidedly different cloth. Healy is all physical intimidation, while March comes across as more of a sweet-talking con artist. Regardless, neither is having a great time as of late. Perhaps that's why they agree to team up despite their differences when they end up crossing paths. After Healy breaks March's arm, that is.
The case that brings them together soon spirals out of control, touching aspects of the auto industry, the adult film industry, and the Department of Justice. As the interested parties mount, Healy and March become increasingly in danger of becoming the prime suspects in a murder themselves.
Besides boasting another odd couple team-up, "The Nice Guys" shares "Knives Out" gift for gab, albeit with a very different style, and an ending that brings a kind of justice while pointing a finger at large systemic problems, like corporate malfeasance and the disproportionate power of the wealthy.
Laura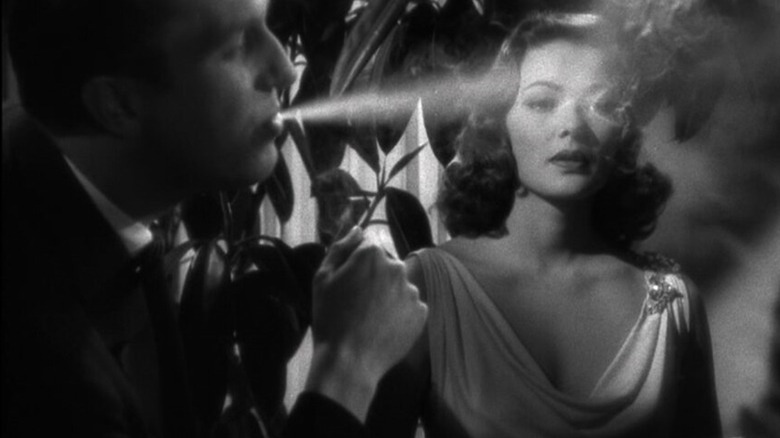 20th Century Fox
If the mystery is the specific draw of "Knives Out," "Laura" is sure to scratch that itch. Selected by AFI as one of the 10 best mystery films, the movie follows the murder investigation of Laura Hunt (Gene Tierney), who was shot in the face by an unknown assailant just outside her home.
NYPD Detective Mark McPherson (Dana Andrews) is given the case and throws himself into the work. Before long, he's becoming obsessed with the victim. At his fixation's most intense point, McPherson goes so far as to sleep in the crime scene next to a photo of Laura. While there, a late-night visitor awakens the detective, and he realizes he's investigating a very different crime than the one he should be.
Filmed in sumptuous black and white, "Laura" moves at a languid pace while still ratcheting up the tension. The mystery is unpredictable but never feels unrealistic or as though the filmmakers aren't playing fair with the audience. Laura, like "Knives Out" victim Harlan, is a fascinating figure. The versions of her presented by the people McPherson interrogates fully draw in the viewer. Soon, she's become as fascinating a case to solve as her murder.
Game Night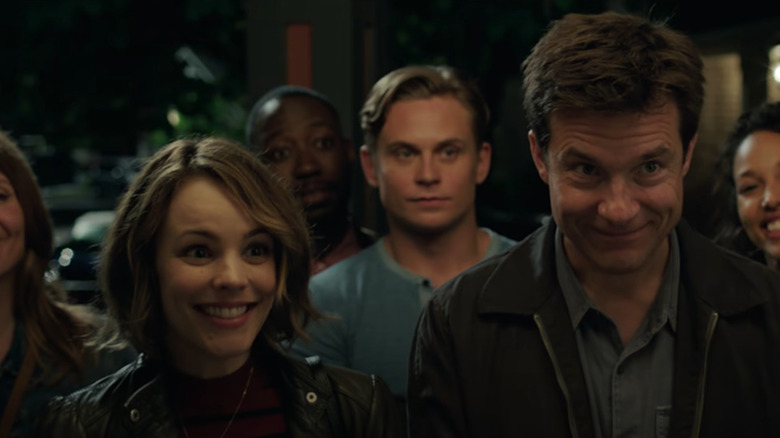 Warner Bros.
Not all ensemble mysteries have to be serious. "Knives Out," for instance, is frequently funny. Whether it's Daniel Craig's philosophical musings in that accent or Ana de Armas' vomiting tell, it's a film that knows how to go for a laugh. "Game Night" also knows how to find the laughter and does so with delightfully rapid intensity.
Not a murder mystery — although signs point to it becoming one at any moment — "Game Night" instead revolves around an intensely competitive couple, Max (Jason Bateman) and Anne (Rachel McAdams), and their friends — folks gathering together for a night of fun. But the dynamics are all thrown out of whack when Max's older brother, Brooks (Kyle Chandler), comes to town on business. Before long, he usurps the couple's weekly game night with the promise of the best game ever. However, that's when men suddenly break in and abduct him. Is there a serious crime happening here, or is this all part of the game? Well, our heroes will find out soon enough as the crazy night unfurls.
The ensemble has incredible chemistry with one another. Just as it's easy to buy the Thrombeys as a messy family rife with codependency and grudges, the relationship between Max, Anne, and their friends feels honest and lived-in. That makes the jokes land better and the plot tension feel that much more earned.
Brick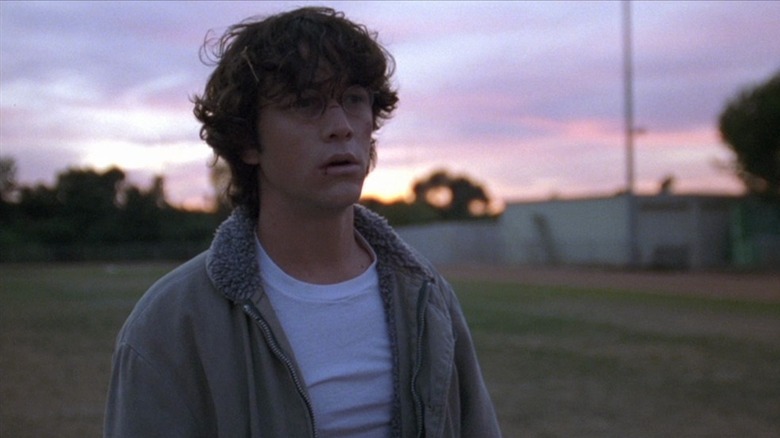 Focus Features
While you can't go wrong watching any of Rian Johnson's other feature films, "Brick" is a viewer's best bet for something that evokes "Knives Out." It revolves around a mystery — the murder of Emily Kostich (Emilie de Ravin) — and it features an unusual private detective with a distinct manner of speaking, Brendan Frye (Joseph Gordon-Levitt). Add in a distinct, compelling location — the local high school — and a cast of strange and fascinating characters, and you have something very different than "Knives" but also clearly of the same lineage.
If "Knives Out" is Johnson's take on a drawing-room mystery with elements of class consciousness mixed in, then "Brick" is his homage to noir films, only one that's set amongst teens. Like "Knives Out," it functions as both a highly enjoyable affirmation of the form and its deconstruction.
Johnson's first feature, it made an immediate impression. With a budget of $450,000, the film grossed an impressive $4 million. Critics fell pretty hard for the film as well, with its distinctive look and "high school kids talking like hard-boiled noir characters" dialogue. Needless to say, the combination put the writer-director on the map.
Murder by Death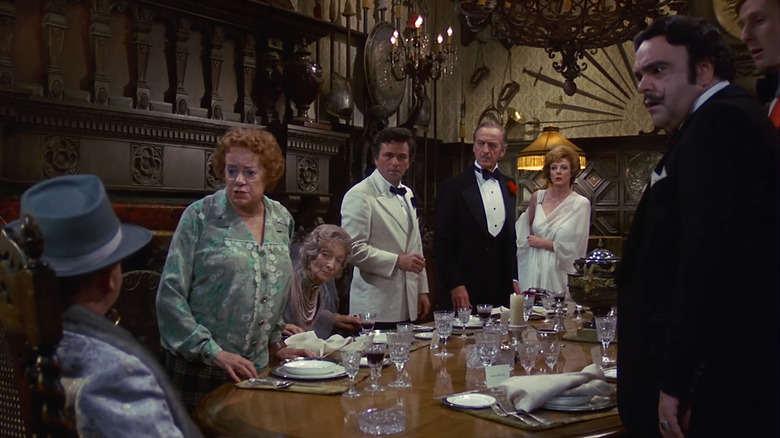 Columbia Pictures
If you loved "Knives Out" but wished it was much sillier and most of the characters were unconventional detectives, "Murder by Death" is absolutely the film for you.
Eccentric and rich Lionel Twain lures the supposed best detectives alive to his mansion. When they arrive, they're intentional analogs to characters like Miss Marple, Hercule Poirot, Sam Spade, and Nick and Nora Charles. And Twain has a challenge for these prestigious parodies — a murder will occur at midnight, and the detectives will have to the next day to solve it. If any of them do, they will receive $1 million. However, this goes rapidly awry as a victim shows up before midnight ... and a second sometime after. Stuck inside Twain's clockwork mansion, the detectives must face mortal peril and solve the mystery before they end up dead too.
A critique of detective stories dressed as a send-up, "Murder by Death" takes the genre to task for lazy twists, last-minute surprise characters, and mysteries constructed to be unsolvable by the viewer or reader. However, it does so while still giving viewers an excellent version of the exact thing it's criticizing and making its pokes and prods not just insightful but very funny.
Ready or Not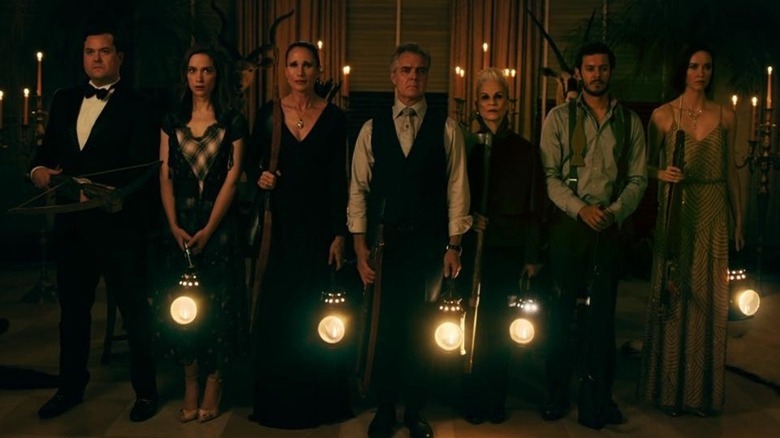 Fox Searchlight Pictures
Grace (Samantha Weaving) has just married into the Le Domas family, a clan made famous and rich by their game-making company. A former foster child, she's both thrilled and deeply anxious about finding inclusion with them, hungry to be part of a family.
After the wedding and the reception, the family gets together for a final welcoming ceremony for Grace. The rules are simple. The "prospective" new family member must draw a card from a box gifted to the Le Domases by a man they credit with their good fortune. On the card is the name of a game. The family then plays the game together, and at the end, the new person is officially part of the Le Domas clan. However, one card, the "hide and seek" card, requires Grace not just to play but survive the family's attempts to hunt and kill her throughout the night. That, of course, is the card that's drawn.
Darkly funny and often bloody, "Ready or Not" is a metaphor with multiple layers. It's about what the wealthy will do to maintain their money and status and how "protectiveness" breeds sociopathy. It's a tale of the difficulty in joining a family via marriage and feeling accepted with they have years of traditions, secrets, and in-jokes designed to rebuff outsiders. But looking beyond metaphor, it's also just a terrifically fun survival film that evokes the likes of "The Most Dangerous Game" and "Die Hard."
Rope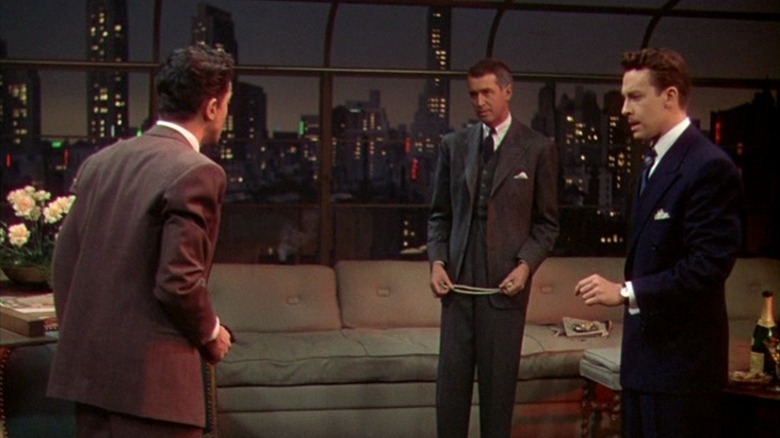 Warner Bros.
Take the villain of "Knives Out" — callow, self-involved Ransom (Chris Evans) — and give him a partner and an even deeper sociopathic streak, and you might end up with Brandon Shaw (John Dall) and Phillip Morgan (Farley Granger), the killers in "Rope."
Convinced of their own superiority, the two decide to "scientifically" demonstrate that concept by committing a murder and getting away with it. In fact, Brandon and Phillip even host a dinner party after selecting and strangling a classmate to death. They place the victim's body in a chest in the center of the room, which they also use to serve finger foods to their guests. But among the partygoers is their housemaster from boarding school, Rupert Caldwell (Jimmy Stewart), and as the night goes on and Rupert grows suspicious, things start getting tense — with one of the killers enjoying the night and the other starting to lose his nerve.
Besides the draw of the plot, "Rope" is worth a look for how director Alfred Hitchcock lets the story unfold in what feels like a single long take. It all contributes to a thrilling tale and one of the most chilling dinner parties every portrayed on-screen.
Murder on the Orient Express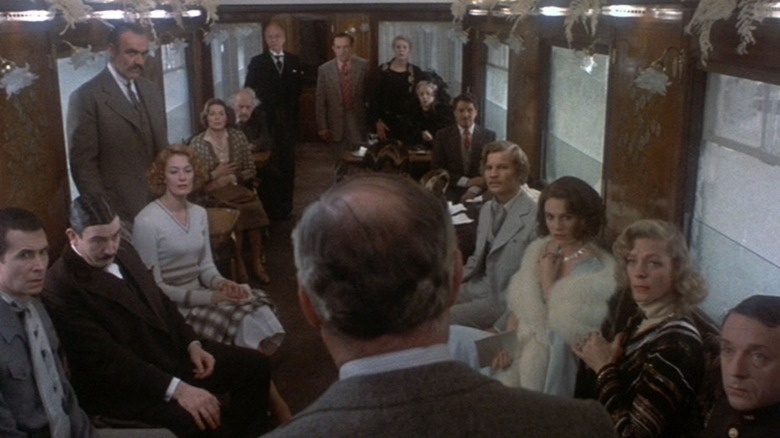 Anglo-EMI Film Distributors
Directed by the great Sidney Lumet, 1974's "Murder on the Orient Express" is one of the all-time best Agatha Christie adaptations. Faithful to the source material without being slavish, this is a well-plotted, gorgeously designed and costumed film that's fully stocked with stars, including Albert Finney, Lauren Bacall, Sean Connery, Vanessa Redgrave, and Anthony Perkins. In other words, this "Express" is darn near perfect.
One of Rian Johnson's cited inspirations, "Murder on the Orient Express" tells the story of a killing on the famed commuter train that detective Hercules Poirot (Finney) also happens to be riding. Investigating the murder turns up evidence that somehow both indicts and exonerates every passenger on the train. When the locomotive runs aground in a snowdrift, Poirot has only the time it takes to free the train to reveal the truth.
As with "Knives Out," the extensive ensemble cast allows for wonderful character interactions, plenty of suspects, and several red herrings. Christie's beloved creation, Poirot, is a definite predecessor to Benoit Blanc as well. Granted, the new Kenneth Branagh-directed adaptation will do in a pinch, but it isn't as entertaining or as well done as the '74 version.
The Long Goodbye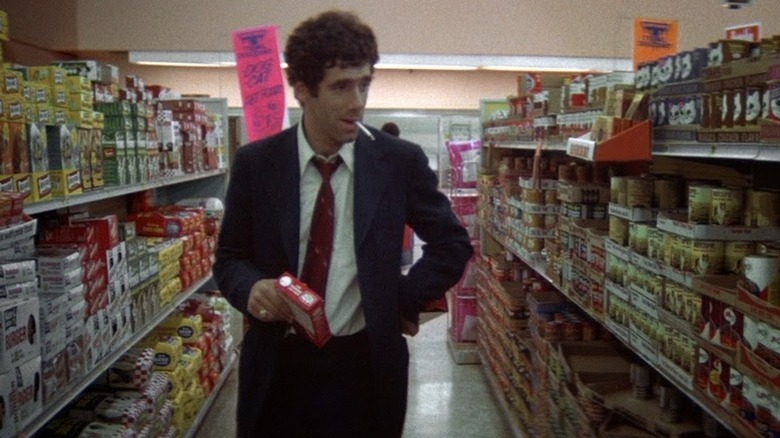 United Artists
While initially met with boos and hisses, "The Long Goodbye" is a film whose reputation has grown significantly over time. 
An auteur-driven detective film, this one with Robert Altman at the helm, "Goodbye" was a broad adaptation of the Raymond Chandler novel of the same name. Moved from its 1950s roots to the then modern 1970s, Elliot Gould's Philip Marlowe nonetheless talks as if he's still in those immediate post-war years. It helps the film feel both surreal and timeless. Like Benoit Blanc, Marlowe frequently presents as either distracted or unintelligent, and like Blanc, the film's end reveals just how badly others were misjudging and underestimating him.
The plot centers on the murder of the wife of Marlowe's friend, Terry (Jim Bouton), followed soon after by Terry's suicide. When another case of Marlowe's seems to connect to the deaths of Terry and his wife, Marlowe can't let it go. However, gangsters, the Mexican police, and mysterious hit and run all do their best to suggest that he really should stop digging. However, the true prize of the film is the opening sequence in which Marlowe tries to buy cat food. It's impossible to explain its perfection and must be seen to be understood.
The Great Mouse Detective
Walt Disney Animation Studios
Sometimes you just really need to see a mouse with a magnifying glass solve a mystery.
A forgotten gem of the Disney catalog, "The Great Mouse Detective" is well worth a watch even if you aren't searching for movies like "Knives Out." Based on a children's novel, "Basil of Baker Street" by Eve Titus, "Mouse Detective" focuses on Basil (Barrie Ingham), a Sherlock Holmes-esque rodent. When first approached by young Olivia (Susanne Pollatschek) after her father's been kidnapped, Basil can't be bothered with the case. However, as she continues her story, the abductor's description suggests the involvement of master criminal Ratigan (Vincent Price), prompting Basil to take the case.
A surprising complex plot follows involving the use of animatronics, a monstrous cat, and a dirigible, all of which leads up to the film's very action-oriented finale. While perhaps not as directly connected to "Knives Out" at first glance as other films on the list, the improbable partnership between Basil and Dr. David Q. Dawson (Val Bettin) does evoke Blanc and Marta's collaboration. In addition, the complexity of the animated plot is a sort of "kids' first 'Knives Out'" in terms of storytelling.
The Mirror Crack'd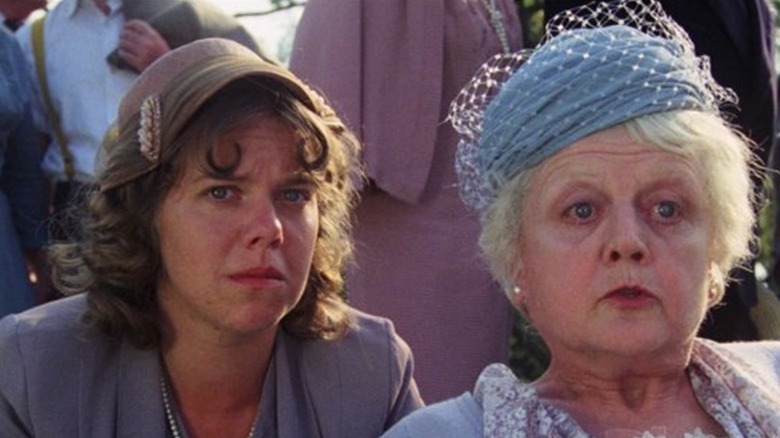 Columbia-Warner Distributors
One of Agatha Christie's most significant characters, Miss Marple, was brought to life in 1980 by Angela Lansbury in "The Mirror Crack'd." While many other depictions of Marple tended to portray her as older, slower, and perhaps a bit doddering, Lansbury chose to make her sharp of wit and quick of tongue. As a result, her interpretation stands out and makes her feel like the sort of detective who could keep up with Benoit Blanc.
Apparently inspired by a rather tragic story from actress Gene Tierney's life, the central mystery of "Crack'd" revolves around actress Marina Gregg-Rudd (Elizabeth Taylor). While at a social function, a fan, Heather Babcock (Maureen Bennett), drinks a cocktail intended for Gregg-Rudd and dies almost immediately. Further investigation reveals someone has been sending death threats to the actress for some time. Who wants her dead and why? And did Babcock have anything to do with it, or was she just in the wrong place at the wrong time?
As with Blanc, Marple is an interloper. She's a seemingly average woman disrupting the lives of rich and famous individuals in her search for the truth. The interactions between this sharp-tongued British woman and these well-pampered American actors give the film a nice kick.
Crooked House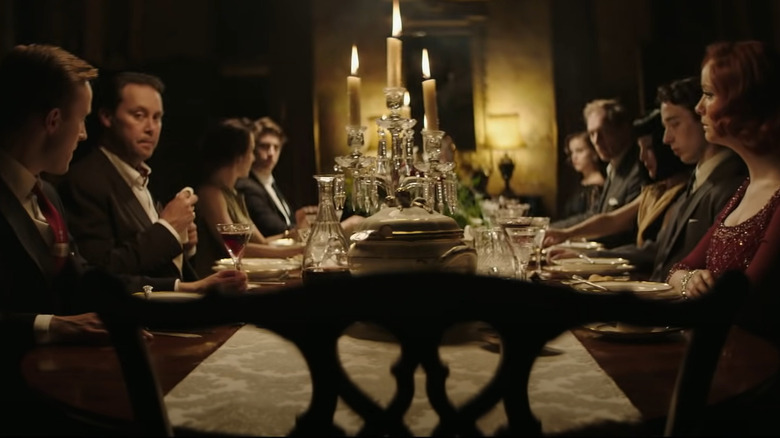 Vertical Entertainment
A sprawling manor home, a wealthy multi-generational idiosyncratic family, and a dead patriarch whose death involves, in part, mixed-up medications? No, we're not talking about "Knives Out." We're talking about "Crooked House."
When Aristide Leonides (Gino Picciano) dies, his granddaughter, Sophia (Stefanie Martini), is convinced that not only was it murder but that it was likely murder committed by a member of the family. She hires Charles Hayward (Max Irons), with whom she had a brief affair, to investigate. While evidence makes it clear that Aristide's second much younger wife, Brenda (Christina Hendricks), and her lover are the likely murderers, Charles remains unconvinced. Even his skepticism can't prepare him for the truth, though.
Another way this film mirrors "Knives Out" is the sheer number of recognizable actors. In addition to Hendricks, the cast boasts Glenn Close, Terence Stamp, Gillian Anderson, and Julian Sands. While not yet a name, Honor Kneafsey is excellent as youngest granddaughter Josephine, the family spy who mocks Charles' inability to solve the crime with the kind of infuriating tone only a 12-year-old can pull off.
It's a Mad, Mad, Mad, Mad World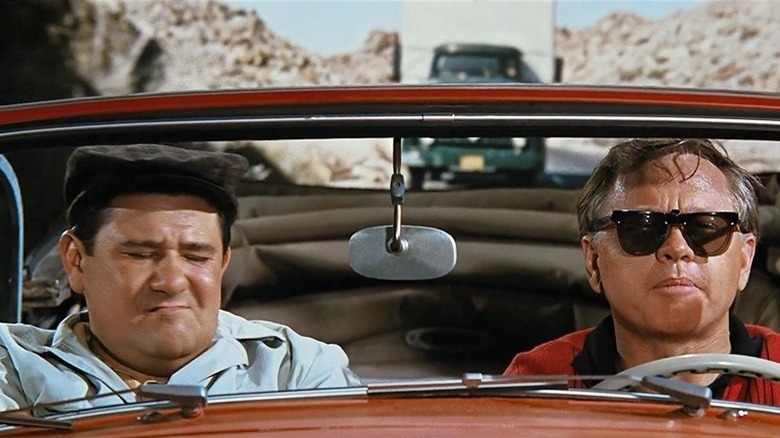 United Artists
When a convicted robber, Smiler Grogan (Jimmy Durante), slips police custody, he ends up in a wreck on the side of the highway. Several drivers — played by comedy luminaries such as Buddy Hackett, Milton Berle, Jonathan Winters, and Sid Caesar — jump out of their cars and try to help. Alas, Grogan's injuries are too severe. However, before he dies, he tells them all of a fortune buried in a state park. Unable to come to any kind of agreement, these formerly good Samaritans decide that instead of splitting the money, they should race for it, all or nothing. Chaotic hilarity ensues.
"Mad World" makes the list because of how it works its large ensemble cast — including players like Ethel Merman and Mickey Rooney and cameos from everyone imaginable (Jerry Lewis, the Three Stooges, Buster Keaton, you name it) — to create chaos and complexity. However, it also shares with "Knives Out" a perspective on how money can make people behave in bizarre and dangerous ways, even if they easily could survive on what they already have or, perhaps, even less.
The Zero Effect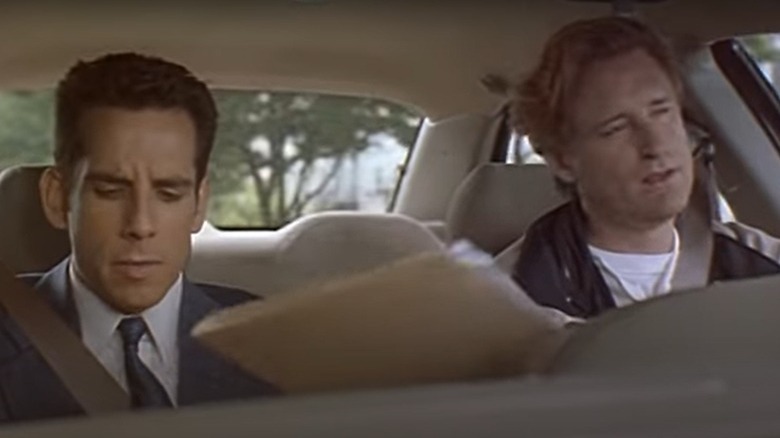 Columbia Pictures
Daryl Zero (Bill Pullman) is the single greatest living detective, but no one knows it due to an arms-length collection of bad habits, terrible opinions, and disorders. Well, no one knows except perhaps his assistant/hype man, Steve Arlo (Ben Stiller), and even he's not always convinced. Nonetheless, millionaire Gregory Stark (Ryan O'Neal) finds and hires the deeply paranoid Zero. Ostensibly, the job is for the detective to unearth Stark's missing keys. But, of course, in the manner of these things, it turns out to be far more complex than that.
Pullman is as good as he's ever been as Zero. His collection of tics, triggers, and truly selfish behaviors is the sort of thing that could go way over the top or ridiculous, and yet he manages to walk the line perfectly throughout. It's also a treat to see Stiller as a character actor again. And while romantic, Zero's relationship with a blackmailing suspect evokes some of the same feelings as Benoit Blanc's protectiveness towards Marta as both detectives seemingly shelve objectivity out of empathy, even as it seems clear both are guilty.
Clue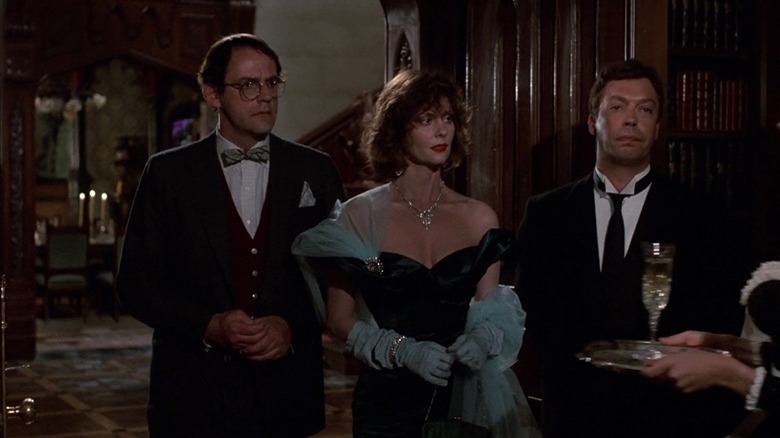 Paramount
In one of the all-time great comedies, six D.C. area residents are lured to a mansion in New England, given pseudonyms in place of their real names, and introduced to the man blackmailing them all, Mr. Boddy (Lee Ving). Unfortunately, when he suggests one of them kill the butler Wadsworth (Tim Curry) to curry (no pun intended) favor, it's Boddy himself who ends up dead.
The guests, plus Wadsworth and Yvette the maid (Colleen Camp), attempt to figure out who committed the crime while a random visitors arrive to interrupt them. Soon, a whole stack of corpses join Boddy's, making for one memorable and macabre evening. The only thing that piles up faster than dead bodies are the laughs. In addition to Curry, the cast features experienced comic actors like Madeline Kahn, Michael McKean, Martin Mull, and Christopher Lloyd.
Finally, in the film's best trick, "Clue" offers three different endings. Back in the day, depending on which theater you saw it in, you'd see a different ending. If you wanted all three, you'd have to hunt down the proper theaters and rewatch the film. When the movie made its way to television and home video, it was the first opportunity to see all three endings at once, presented one after the other, with "ending #3" designated the true ending.
Arsenic and Old Lace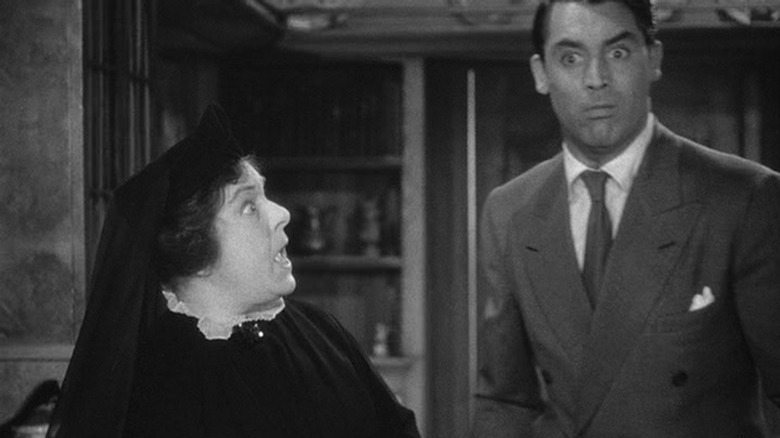 Warner Bros.
All Mortimer Brewster (Cary Grant) wants is to marry Elaine (Priscilla Lane) and take her on a honeymoon. Instead, he finds himself surrounded by murderers, all of whom happen to be related to him.
It begins with an unidentified corpse sitting in a window seat ... and that's when he discovers his aunts (Josephine Hull and Jean Adair) are the ones responsible. Moreover, it wasn't the first time, and if all goes according to plan, it won't be the last. If that wasn't enough to handle, Mortimer's brother, Jonathan (Raymond Massey), shows up with a body of his own he's looking to hide. Also, he'd like to make Mortimer his next victim.
Mortimer is a sort of anti-Benoit Blanc. He has no interest in mysteries and no desire to uncover the truth, yet he can't stop doing it. The Brewsters also mirror the Thrombeys — both present as affluent, successful families (the Brewster house is cited repeatedly as the nicest on the block) but are rotten inside. The difference is the Thrombeys are more corrupt and entitled, with only one murderer in their midst. The Brewsters, by comparison, are a much friendlier lot with almost all being a collection of various kinds of murderers.
Sleuth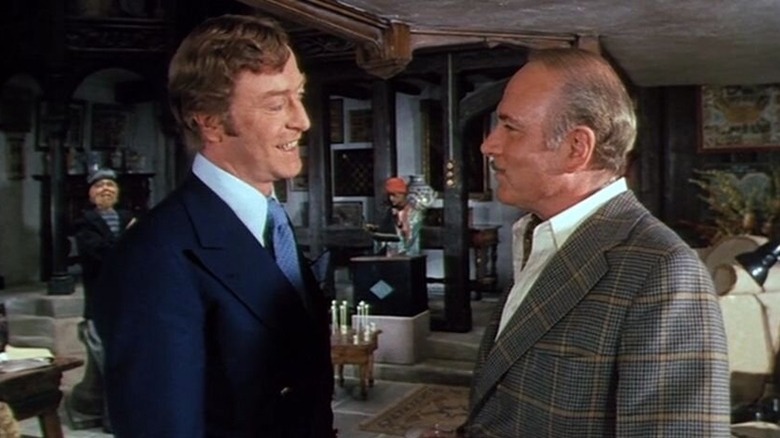 20th Century Fox
Andrew Wyke (Laurence Olivier) and Milo Tindle (Michael Caine) have something in common: Wyke's wife, Marguerite. Andrew's married to her, and Milo's sleeping with her. So Wyke proposes a deal — he'll let Marguerite go if Milo will steal some jewelry from his home so Andrew can collect the insurance money. Once that happens, Milo returns the jewelry, and Andrew dissolves his marriage. Milo agrees ... only to realize, too late, that Wyke is lying and uses Milo's "theft" as an excuse to shoot him dead.
It seems like the perfect crime until an Inspector Doppler (Alec Cawthorne) shows up a few days later with a seemingly impossible ability to find clues. Does Andrew have a chance of thinking his way out of this jam?
Like Harlan, Andrew is a thriller writer by trade. However, his temperament is closer to Michael Caine's Sidney from "Deathtrap," another writer willing to kill just to come out on top. The fun of "Sleuth" is watching the overmatched Andrew repeatedly think he's won, only to be outsmarted by someone else. He would be like Ransom if Ransom wasn't so quick to accept that he was caught. Also, eagle-eyed "Knives Out" fans will notice that Rian Johnson paid homage to "Sleuth" by using one of its most memorable props – Jolly Jack Tar the Jovial Sailor.
Gosford Park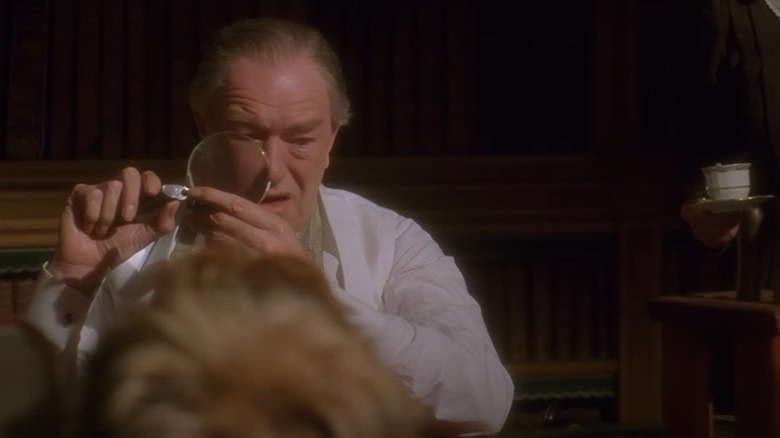 USA Films
An upstairs-downstairs comedy of classes meets an Agatha Christie-style whodunnit, "Gosford Park" proved director Robert Altman's second-most successful film, and there's a good reason why. "Gosford Park" outdoes even "Knives Out" with the size and depth of its cast. Helen Mirren, Clive Owen, Michael Gabon, and Kristin Scott Thomas are only five of a cast that includes at least twice as many well-known actors in crucial roles.
As for the plot, when Sir William McCordle (Gambon) is discovered seemingly stabbed to death, it triggers a flood of revealed truths, including his multiple affairs, the possibility of illegitimate children, an impostor in the house, and more. Unlike "Knives Out," though, this story has no master detective nor a competent sidekick. Instead, it has Inspector Thompson (Stephen Fry) immediately in over his head, who doesn't seem even remotely up to the locked-room mystery in his lap.
Smart, incredibly well-directed, and as comedically dark as any entry on this list, "Gosford Park" is a must-see.