How Much An American Chopper Bike Really Costs
For nearly two decades, the Discovery Channel's "American Chopper" series provided some of the nicest and most sought-after motorcycle builds the world has ever seen, but have you ever wondered how much one of those bad boys actually costs?
From 2003 to 2020, Paul Teutul Sr. and Paul Teutul Jr. churned out countless chopper-style bikes for both celebrities and everyday folk. Their builds were extravagant, pricey, and some could say over-the-top. They almost never left a customer feeling disappointed, or at least that's what viewers saw. We already know that "American Chopper" was one of television's biggest reality shows during its heyday, with millions of people tuning in every episode. It's also obvious that Junior and Senior make a lot of bread on their custom-made works of road art, judging from both of their net worths. So what would likely be a rough estimate for how much the two were charging for each one of their choppers?
Average cost of each American Chopper bike ranges between $50K to $100K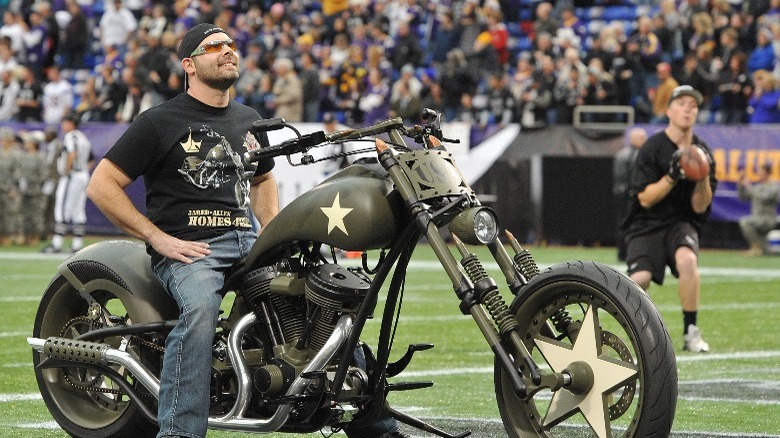 Tom Dahlin/Getty Images
According to a report from Top Gear, motorcycle builds commissioned through Orange County Choppers and Paul Junior Designs have ranged between $50,000 to $100,000 depending on what work needs to be done to the bikes.
As most people know, "American Chopper" was a show that specialized in giving people one-of-a-kind rides that had various emotional connections to them or themes of some sort that related to a person or an organization they were related with. Some of the most famous builds in OCC history include the Anti-Venom bike, the Cadillac, the Eragon dragon bike, and the wheelchair-friendly Christopher Reeve, which held a special place in the show's heart.
"There were a lot of things about that bike that were experimental," Paul Sr. explained to Entertainment Weekly in 2011. "You needed a ramp; you couldn't have a clutch; you had to have a hand brake. But the end result is that someone who is a paraplegic could get on that bike by themselves."