Lost City's Da'Vine Joy Randolph, Oscar Nunez, And Patti Harrison On Working With Sandra Bullock - Exclusive Interview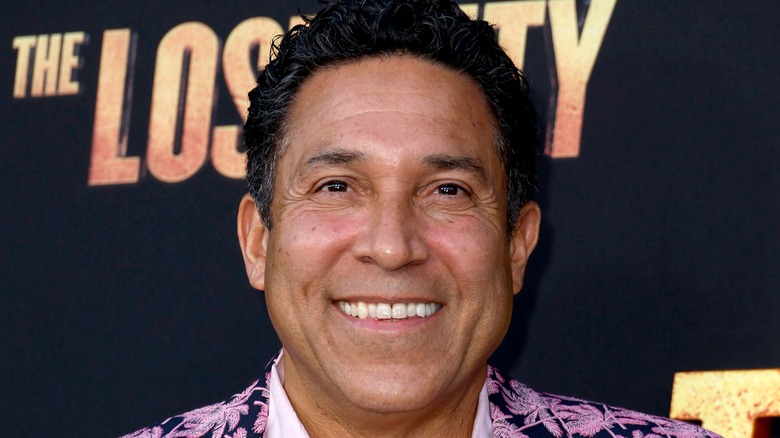 Frazer Harrison/Getty Images
Sandra Bullock, Channing Tatum, and Daniel Radcliffe are about to take moviegoers on a wild ride with the new romantic adventure comedy "The Lost City" — and helping the trio provide laughs along the way are the wonderfully funny Da'Vine Joy Randolph, Oscar Nunez, and Patti Harrison.
Comedy is part of Randolph's, Nunez's and Harrison's respective pedigrees. Randolph's recent performances include a star-making turn as Lady Reed opposite Eddie Murphy's Rudy Ray Moore in "Dolemite is My Name," while Nunez spent nine seasons playing Dunder Mifflin accountant Oscar Martinez on the classic sitcom "The Office." Harrison, meanwhile, has hopped back and forth from voice work in animation to live-action, with voice roles in such series as "Big Mouth" and "The Great North," and starring opposite Ed Helms in the comedy drama "Together Together."
In "The Lost City," opening in theaters tomorrow, Bullock stars as Loretta Sage, a successful romance novelist who is no longer passionate about her profession. Still suffering from the loss of her husband, Loretta laments that she never found her career path as an archaeologist, which she has compensated for by incorporating ancient history into her novels' storylines. Suddenly, Loretta finds adventure for real when an off-kilter billionaire, Abigail Fairfax (Radcliffe), kidnaps her and flies her off to a remote jungle that contains an ancient city within. It's there where Fairfax believes Loretta will be able to decipher the clues to find the priceless "Crown of Fire," which she wrote about in her new novel, "The Lost City of D."
Realizing Loretta is in danger, the Fabio-like cover model on all of her books, Alan Caprison (Tatum), sets off to rescue his friend, along with mercenary Jack Trainer (Brad Pitt). Meanwhile, Loretta's publicist and best friend, Beth (Randolph), springs into action to find Loretta, too, enlisting the aid of Oscar (Nunez), a cargo pilot who takes his pet goat everywhere. Back at home, Beth's hipster assistant, Allison (Harrison) is chronicling Loretta's wild happenings over social media.
In an exclusive interview with Looper, Randolph, Nunez and Harrison revealed some tales of their time in "The Lost City."
Da'Vine is her name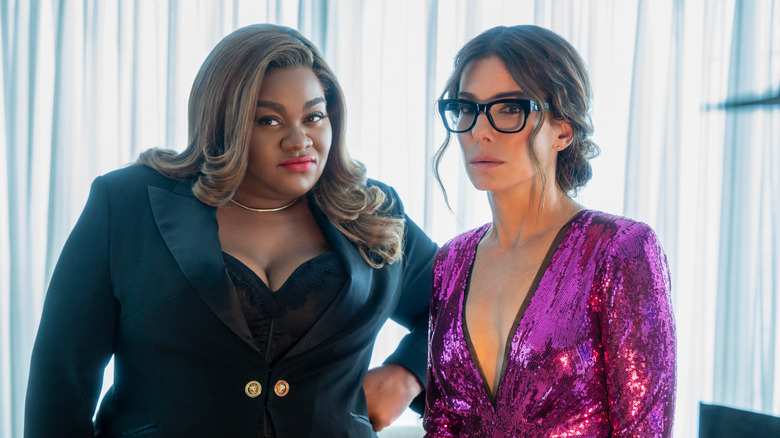 Paramount Pictures
Da'Vine, I absolutely loved your funny and poignant portrayal of Lady Reed in "Dolemite is My Name." Even though you've been around a while — going back to Oda Mae Brown in "Ghost" on Broadway — I am wondering how instrumental was your role in "Dolemite" to you landing this role in "The Lost City." Did Sandy bring you aboard specifically?
Randolph: I don't know if they were ... me being out there and in general, after "Dolemite," I think things changed in my career by working along someone as such as Eddie Murphy. That definitely helped, but I don't know. I think it was, we read the script and it was really amazing and I was super excited to be a part of it.
Nunez: [My 'Office' co-star] Craig [Robinson] was in that, wasn't he?
Randolph: Yeah. Craig was in that one.
Nunez: I know him!
Nunez is the foundation The Lost City was built on (kind of)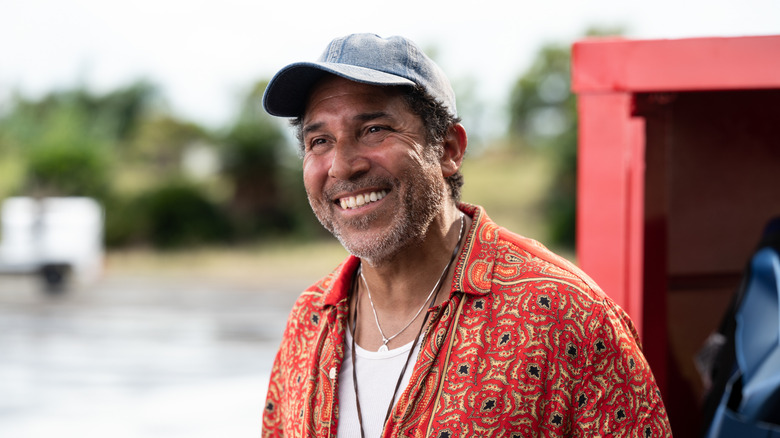 Paramount Pictures
Oscar, your work with Sandra dates back to 2009 with "The Proposal." How much did that role play in you getting this film? It's nice to know that, from what I understand, you were the first person cast in "The Lost City," and Sandra said you were the guy that she had in mind for Oscar right away. That has to be a great feeling, knowing that you've been on her radar all these years.
Nunez: Yes. She's wonderful. It's funny you said that because I didn't know about that, but now the rumors, I guess, are true. She said, "Are you available?" I said, "Yes." And then they took my character and built the entire movie. They placed everyone ... "Who can he balance off of ... You know Tom Cruise? 'No.' Brad Pitt?" They found people who [could work with me], and they built up on the foundation of a Christmas tree on the pole, and then it goes out and then it goes up to the pyramid. Patti's around here somewhere. Da'Vine is here and here's Sandra. Sure."
Harrison puts a hilarious spin on the dark side of social media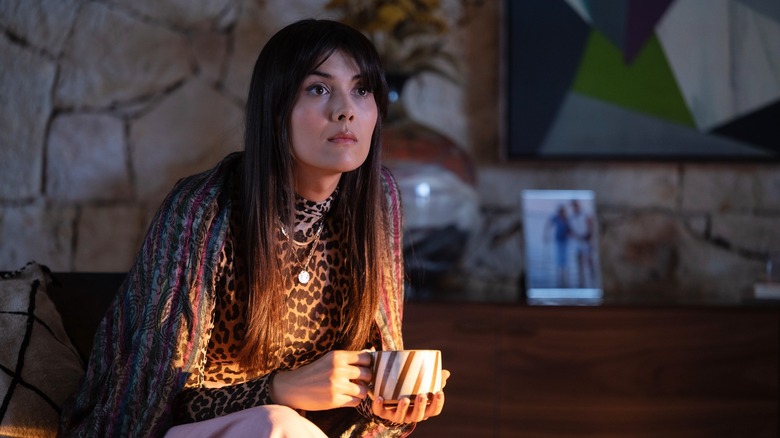 Paramount Pictures
Patti, you're so hilarious as the trying-so-hard-to-be-hip social media manager, Allison. How weird was it reading Allison's post out loud? Those posts, they sound too outlandish to be true, but in reality, we really do see those kinds of posts on social media. It's almost like experiencing comedy and tragedy at the same time.
Harrison: Social media has distorted everything in our society and in our world. So, to play a character who so strongly believes in social media as a valuable tool was a very dark, emotionally violent experience for me — and I'll never do it again ... I can never reenter that character. It was very Jokeresque experience, very [Val] Kilmer playing the guy from "The Doors." It was really hard.
Social media. It's a dark place. Our time is up—
Nunez: Wait, before we go, the goat was delicious!
Directed by Aaron Nee and Adam Nee, "The Lost City" opens in theaters Friday, March 25.
This interview was edited for clarity.