Joe Keery Spoiled Stranger Things Season 4's Ending For These Select People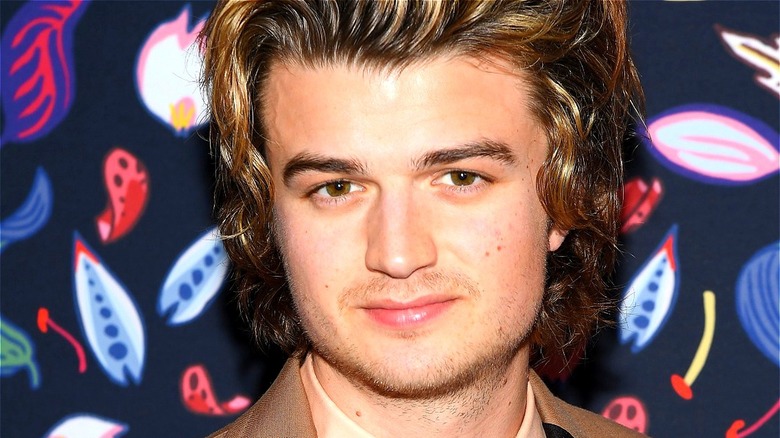 Pascal Le Segretain/Getty
Fans of Netflix's "Stranger Things" are eager to learn more about the upcoming fourth season of the critically acclaimed series (via Rotten Tomatoes). It's been nearly two years since the third season was released, but enthusiasm for the series doesn't appear to have been dampened even one little bit. Indeed, although the Netflix public relations machine has yet to push its "Stranger Things" promotion into high gear, "Stranger Things" fans have received a number of teases over the course of the last few years.
If you can believe it, we got our first look at Season 4 all the way back in February of 2020 (via YouTube)! In the time since, Netflix has been somewhat stingy with the trailers, only releasing a handful of teasers for now. All the same, the famous streamer has managed to keep fans hungry for more. Most recently, Netflix released a number of promotional stills that give fans an inside look at some of the darker elements expected in Season 4.
Of course, after so many delays as a result of the COVID-19 pandemic, we'd have to expect at least one cast member to leak a few details, right?
Joe Keery only spilled the beans to people he trusts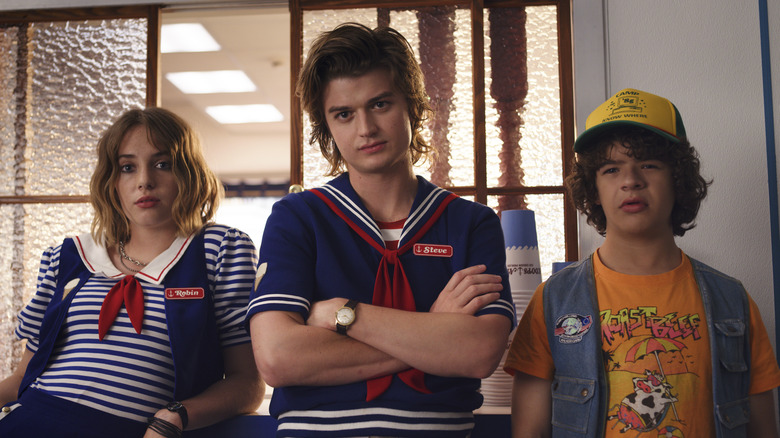 Netflix
During his August 2021 press tour for the theatrical release of "Free Guy," actor Joe Keery was forced to dodge repeated questions about "Stranger Things." Although eager journalists focused most of their questions on the project at hand, many also slipped in at least one question about the future of "Stranger Things." Of course, few of us could blame them, especially after a teaser trailer for Season 4 was conveniently released around the same time of the press tour (via YouTube).
In an interview with Digital Spy, "Stranger Things" actor Joe Keery responded confidently to a question about his ability to keep secrets, only to later point out an interesting weakness. "I'm a lockbox at this point," Keery said. "I am pretty good at not talking about stuff. I've learned quite well how to do that." 
Later, when asked if he has let any information about Season 4 of "Stranger Things" leak, he admitted that he has shared some information with a select number of people. "I've talked to maybe certain people in my life about how things unfold, but people I trust, people I know won't spill the beans and get me in trouble," Keery said with a grin.
We think we speak for everyone when we also cheekily say, "You can trust us too, Joe."
"Stranger Things" Season 4, Part 1, the first five episodes of the season, will be released on Netflix on May 27. The four remaining episodes of Season 4 will follow on July 1 (via IMDb).