The Weird Al Star Wars Musical You'll Never Get To See Or Hear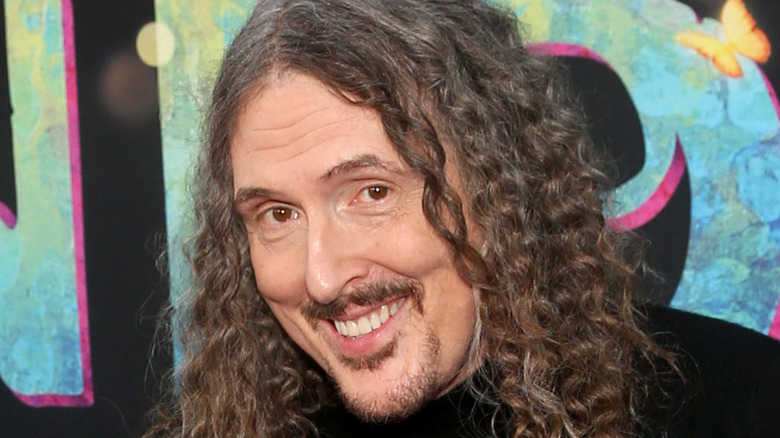 Jesse Grant/Getty Images
The history of entertainment is full of tantalizing what-ifs, projects that were conceived but never executed, dreams that existed had but were never fulfilled. Everyone's list of their favorite unrealized projects is unique, and it just might get longer once they learn about this locked-away project recently discussed by "Weird" Al Yankovic himself in a recent interview.
Yankovic is getting some much-deserved time in the public spotlight these days thanks to his upcoming Roku Channel biopic "Weird," which will star Daniel Radcliffe as the accordion-playing master. As the parody song whiz enters a new chapter of notoriety, that means a little bit of a press tour as he discusses this project and his work. One recent stop on that tour was an appearance on "The George Lucas Talk Show," a comedy interview series that stars Connor Ratliff ("The Marvelous Mrs. Maisel," "Search Party") as the "Star Wars" auteur (via YouTube).
Naturally, on an interview show with such an obvious connection to "Star Wars," Yankovic's own ties to the franchise — which go all the way back to his song "Yoda" released in 1985 — came up. And that line of discussion led to a pretty interesting revelation from the "UHF" star.
Yankovic shared new details about his canceled Star Wars musical
"Weird" Al Yankovic's public "Star Wars" fandom made him a natural fit for the cast of "Star Wars: Detours," the canceled animated series from the creators of "Robot Chicken" that was shelved indefinitely sometime before Disney acquired Lucasfilm. Yankovic voiced the droid 4-LOM on the show and, according to him, its proposed third season would have had a musical episode with songs by the songwriter himself.
It sounds like the fantasy of some over-caffeinated pop culture nerd possibly experiencing a mid-life crisis, but it actually came close — incredibly close — to happening. Yankovic told "The George Lucas Talk Show" that he actually completed around "half a dozen" songs for the "Star Wars" musical, which actually reached the recording stage before the project was axed from on high, a real-life Order 66 that destroyed the hopes and dreams of "Star Wars" novelty tune fans all over the galaxy.
"We were working on a 'Star Wars' musical, that was a third-season show, we were writing songs, and all of a sudden, it was like, 'This is not gonna happen,'" recalls Yankovic. When understandably pressed for additional details, he answered, "There were, gosh, at least a half a dozen or more songs as part of the musical and the various characters in the show. We actually recorded them singing their songs, and that was about a week before we found out that the show was not happening."
Whether or not these no-doubt precious recordings will ever be released to the public is anyone's guess at this point. For now, fans will just have to hope.