The Most Awkward On-Screen Love Scene In The Walking Dead
When you think of "The Walking Dead," you likely think of flesh-eating zombies and everyday people learning how to navigate the end of the world. However, the hit AMC series also focuses on the interpersonal relationships of its survivors. If you think dating in the modern world is difficult, imagine dating during the apocalypse.
Imagine being Rick Grimes (Andrew Lincoln) waking up from a coma to an apocalypse, then learning that your wife is having an affair with your best friend. Fortunately, not every romantic pairing on the show has been so toxic. There are the power couples of Rick and Michonne Grimes (Danai Gurira), Carol Peletier (Melissa McBride) and King Ezekiel (Khary Payton), and the ill-fated Maggie (Lauren Cohan) and Glenn Rhee (Steven Yeun).
These couples have proved that true love is possible in trying times, though not every duo on "The Walking Dead" is this lucky. Characters have witnessed their partners dying at the hands of a rival group, being torn apart by walkers, and some have even gotten caught up in love triangles.
Given all the love and heartbreak on "The Walking Dead," it's not surprising that awkward hookups still occur in this timeline. Fans agree that this encounter in Season 10 was beyond uncomfortable.
Fans were shocked by Negan and Alpha's 'crass' scene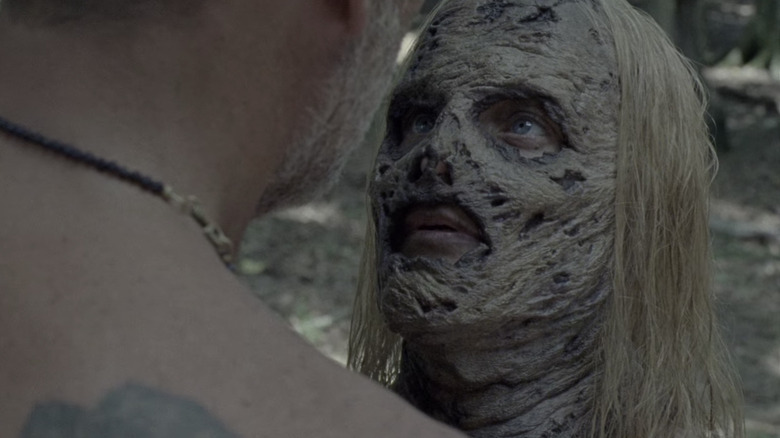 AMC
From headlines like "Fans grossed out by sex scene on 'The Walking Dead'" to Reddit posts diving into its "serious ick factor," the intimate scene between Negan (Jeffrey Dean Morgan) and Alpha (Samantha Morton) made a strong impression on viewers.
Episode 9, "Squeeze," saw Negan seemingly align himself with the Whisperers and their sadistic leader, Alpha. Toward the end of the episode, she leads him into a deserted part of the woods and orders him to strip. She also undresses—save for the mask of rotting flesh—and says that he is a "crass man" who deserves a "crass reward."
While the scene ends before showing too much, fans saw enough to agree that this was the most awkward hookup in the show's history.
"Alpha and Negan's sex scene is honestly the most shocking, horrifying, unbelievable, and gut wrenching scene in the entire show and likely the entire history of television if I'm honest," one fan wrote on the show's subreddit.
Another fan, u/maryssmith, broke down the scene and theorized that it was "intentional psychological manipulation" between two people committed to destroying one another.
Many fans agreed with this take but couldn't shake how uncomfortable it was to watch.