The Walking Dead Couple Fans Want To See More Of In Season 11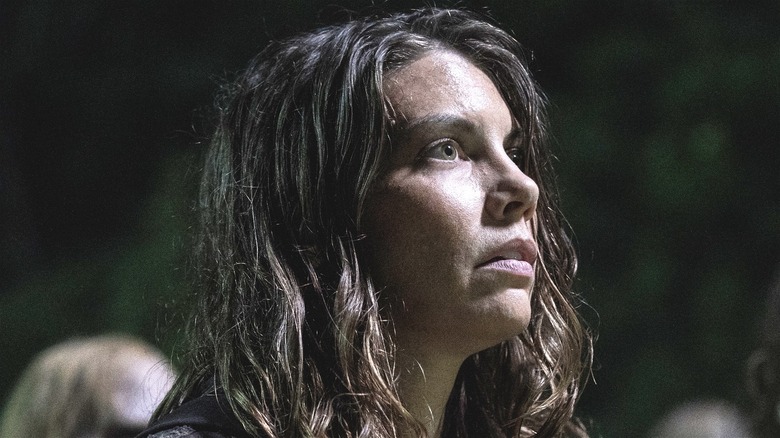 Josh Stringer/AMC
AMC's "The Walking Dead" has seen a lot of popular pairings come and go over eleven seasons. From Michonne (Danai Gurira) and Rick Grimes (Andrew Lincoln) to Daryl Dixon (Norman Reedus) and Leah (Lynn Collins), characters have loved and lost and loved again — when they aren't decapitating walkers and foraging for a way to survive the apocalypse. Whether you became emotionally enraptured by the tragic love story of Maggie (Lauren Cohan) and Glenn Rhee (Steven Yeun) or hoped that Lori Grimes (Sarah Wayne Callies) and Rick might end up back together somehow, if you're a fan of "The Walking Dead" you've likely rooted for at least one couple at one point during the show's long run.
As long as two characters look at each other with yearning in their eyes, there will be individuals who want them to get together romantically. So it is with these two characters, who are starting to stir up quite a following among the program's faithful. Which "TWD" pairing has fans excited — and hopeful that they'll get to see a lot more of them together in upcoming episodes?
People want more of Princess and Mercer together
Posting under a tweet of a gif of Princess (Paola Lázaro) and Mercer (Michael James Shaw) prepared to step arm-in-arm into the Commonwealth's fancy Halloween ball together during "New Haunts," which was labeled "New Haunts," "TWD" fans' seem completely on-board with the notion of the couple.
"Give us the endgame we deserve!" said @HannahMcDa5, who then added a Princess/Mercer fancam to their post. "it better be, the books have spoken," said @BoYoungGeo with a winky smiley face emoji, who added an image of a "The Walking Dead" comic book cover featuring Princess and Mercer together. This is a reference to the fact that, per Bustle, Princess and Mercer both survive the comic book series and end up together at its conclusion. One fan even floated a possible 'ship name for the twosome, "Mercess." 
Will the television versions of Princess and Mercer have an ending just as happy as their comics counterparts did? "The Walking Dead" fans will have to keep tuning in to find out.