The Eloise Moment That Went Too Far On Bridgerton Season 2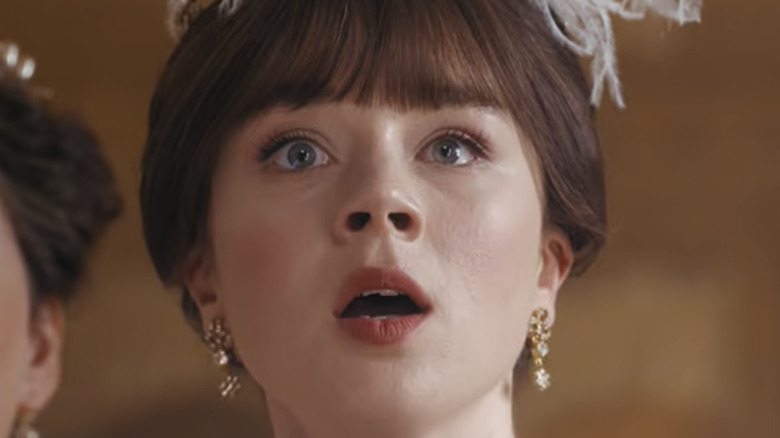 Netflix
Contains spoilers about "Bridgerton" Season 2. 
Season 2 of "Bridgerton" shines a brighter spotlight on fan-favorite Eloise (Claudia Jessie). Although the steamy romance between her older sister Daphne (Phoebe Dynevor) and the Duke of Hastings (Regé-Jean Page) was the focus of Season 1, Jessie's Eloise stole viewers' hearts as the intelligent, independent, sarcastic, and somewhat socially awkward burgeoning feminist. As the ton's social season kicks into high gear, Eloise finds herself an unenthusiastic participant in the festivities.
Eloise continues her investigation of Lady Whistledown and encounters a world outside the Ton inhabited by like-minded people who believe women are capable of more than the duties bestowed on them as wives and mothers. Eloise's activities and attraction to printer Theo Sharpe (Calam Lynch) create tension between herself and Penelope Featherington (Nicola Mary Coughlan) and embroil the second eldest Bridgerton daughter in a case of mistaken identity.
Arguably, nobody's life is turned upside down more by Penelope's Mrs. Whistledown (voiced by Julie Andrews) during Season 2 than Eloise, who finds herself at odds with Queen Charlotte (Golda Rosheuvel), with her reputation hanging in the balance and her burgeoning romance doomed to failure. In addition to balancing her familial and societal obligations with her heart's desires, Eloise learns a shocking secret that threatens to upend her life forever, culminating in a vicious showdown and an Eloise moment that goes too far.
Eloise's reaction to finding out the truth about Penelope goes too far on Bridgerton Season 2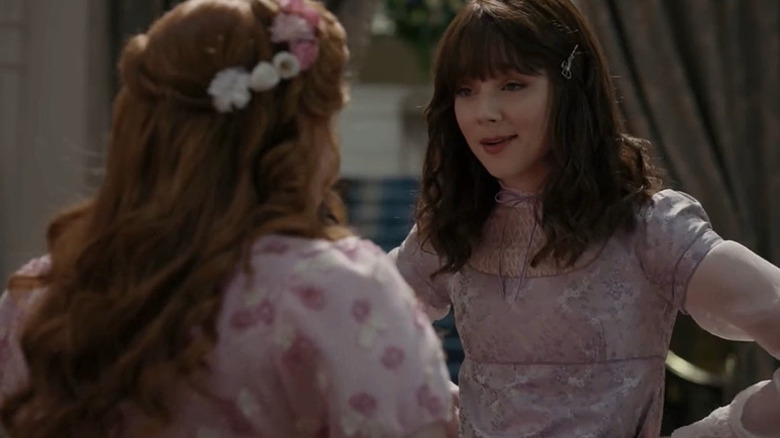 Netflix
In the Season 2 finale of "Bridgerton," all it takes is a snarky slip of the tongue for Penelope to reveal herself as Lady Whistledown to Eloise. Eloise confronts her best friend, and despite being proper ladies, things get pretty nasty between the two of them. To be fair, Eloise is an ardent supporter of Lady Whistledown's until she becomes the gossip columnist's number one target, making her anger a bit hypocritical. However, Penelope's lies are more egregious because she is a friend who uses her intimate relationship with Eloise only to betray her. Eloise's takedown of Penelope is deserved, but Eloise takes it too far when she calls Penelope an "insipid wallflower."
Regency-era mean girl Cressida Cowper (Jessica Madsen) uses these words to describe the youngest Featherington in Episode 1. Although Penelope assures Eloise there are benefits to not being seen, Penelope basks in the praise, proving she wants people to notice her, even if she can't take the credit. Eloise's insult validates Cressida's opinion and makes fans question if those thoughts may have been lingering in her mind all along. Penelope may be many things, but she's never intentionally cruel.
Cruelty can come easily to the Bridgertons illustrated, not just by Eloise but also by a thoughtless remark by Colin (Luke Newton) moments later that leads to the return of Lady Whistledown after a brief respite. With the loss of her two closest confidantes, will Eloise heed Madame Delacroix's (Kathryn Drysdale) advice that "women's ambitions" should have no limit?